Google Talk Optimized for iPhone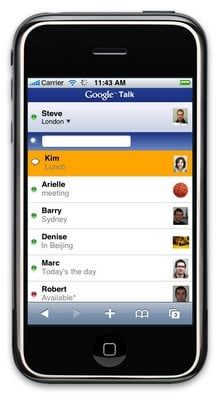 Although it seems pretty clear that there's going to be a native chat client for the iPhone 2.0 that will support Google Talk (with background alerts to boot!), there may be those that have a religious injunction against installing applications. There may also be those who don't intend to upgrade because they don't want to mess around with losing either their unlocked or jailbroken status. Whatever your reason for not using a native app, Google's got ya covered with an all new interface for Google Talk, fully optimized for Mobile Safari.
It's cool and all, but the moment you navigate away (or close) from Safari your status is set to unavailable. On the bright side, though, if you're a Google-holic it integrates nicely with your contacts and otherwise works exactly how you'd expect a Google Talk Client (inside a web browser) to work.
Just point your iPhone to http://www.google.com/talk to give it a shot.
Get the best of iMore in in your inbox, every day!
My old blackberry would allow my AIM chat to run even if I went to other functions on the phone. I would stay available and it would give me a nice small icon indicator if a new IM came in. Is there any chat app for the iPhone that can do the same?

Chat for Google Talk - iPhone app
Enjoy real-time chat from almost anywhere on your iPhone/iPod-Touch. Chat with friends and family using Google Chat - Take your instant messaging with you.
Download Now:http://itunes.apple.com/us/app/chat-for-google-talk/id407644858?mt=8
FEATURES:
✔ Emoticons that help you express yourself
✔ Easy to use and familiar interface
✔ Chat with friends and always be part of the conversation.
✔ See who's online with automatic availability update
✔ A fast and reliable messaging experience while you're on the go from your iPhone.
✔ Share your availability status with your contacts
✔ Notifications to tell you when you receive a new message
✔ Keeps you in touch with your IM contacts—no matter where you are or what you're doing
Thank you for signing up to iMore. You will receive a verification email shortly.
There was a problem. Please refresh the page and try again.