Google's excellent Gboard keyboard for iPhone lands in Australia, Canada, India, and the U.K.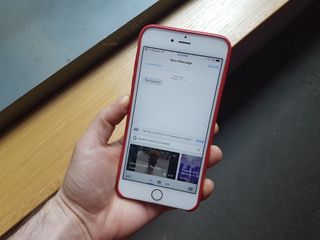 Before Gboard, I tried a number of third-party keyboards, from SwiftKey to Fleksy, on my iPhone 6s Plus, but none stuck the way Google's new entrant has.
That's because Gboard is not only a good keyboard — the fundamentals, such as touch-typing and glide-typing are sound — but having a Google search bar in any app, at any time, is a stroke of genius.
Today, Gboard expands to other countries, including Australia, Canada, India, and the U.K., to bring people beyond the continental United States into the fold. Like the default iOS keyboard, Gboard shows word suggestions atop the keys themselves. But to the very left of those suggestions is a small Google logo that, when tapped, opens a search bar that can be used information on practically anything. Results can then be copied and pasted into the text box.
Gboard can also search for images and GIFs, and there is a quick emoji search bar for finding the more obscure pictorials out there.
Gboard is available now from the App Store (opens in new tab).
Get the best of iMore in in your inbox, every day!
Daniel Bader is a Senior Editor at iMore, offering his Canadian analysis on Apple and its awesome products. In addition to writing and producing, Daniel regularly appears on Canadian networks CBC and CTV as a technology analyst.
I still haven't been able to get this keyboard working. Anyone else having issues? I'm using an iPhone 6s Plus on iOS 9.3.2. I enabled gboard and granted it full access. Whenever I hold the globe icon and select it, it immediately defaults to the stock iOS keyboard. Anyone know of a fix for this? Sent from the iMore App

Remove the stock keyboard and try?

I just tried searching for it and also hit the link in your article, but it says item is still not available! I will try again tomorrow! It might just be delayed in the canadian app store!

Excellent? This is buggy on my phone

Trying now... Is this better than Word Flow? Sent from the iMore App

Yep if you want alternative to stock this is the next best thing.

Typing this comment with new G board keyboard. Hello Swype, I have missed you. The track pad feature alone makes Apple Keyboard a contender IMO. So far so good. Sent from the iMore App

App actually not available in Canada wtf. Sent from the iMore App

This has easily become my favorite keyboard and has replaced the stock one. I do have the issue where it doesn't pop up at times but that's been with all third party keyboards. I assume that's an iOS thing. Sent from the iMore App

Just remove any other keyboards in the list, then it should always use your custom keyboard except in password fields and spotlight maybe

Already did that. So no keyboard at all will show. I'll have to close the app and go back in

I would use it more of it didn't keep correcting "the" to "there". Literally every time I try....SwiftKey doesn't seem to make the same mistake. Sent from the iMore App

Fab keyboard. Have been waiting for it since it was released in the US store! Hasn't disappointed so far and looking forward to using it. Sent from the iMore App

I'm in the UK by the way. Sent from the iMore App

They just had an update to improve performance, maybe all issues currently experienced. I actually like Gboard type correction better than iOS. If it auto corrects a word you don't want corrected, just backspace and it will revert to you original word typed Sent from the iMore App

I like the Google keyboard but I don't like the contrast on the on screen keys. It's hard for me to see them. Sent from the iMore App

Awesome so far!! Have found that you need to go into each individual WhatsApp conversation and set Gboard as the keyboard. Once it's done, it'll save it. Have missed swipe since moving to iPhone from android - swiftkey etc never quite cut it - this seems to so far. Sent from the iMore App

Not able to find in the Indian app store.

I use GBoard and the stock keyboard everyday depending on the situation. GBoard is my favorite 3rd party keyboard on iOS by far. Very useful and I have not had any issues with it so far, unlike other 3rd party keyboards. Sent from the iMore App

My eyes have adjusted to the contrast of GBoard and I'm loving Gboard. I'm curious as to when it will be available on Android. Sent from the iMore App

It's not available in India .... It said me to change the store... Why is that happening ?? Sent from the iMore App
Thank you for signing up to iMore. You will receive a verification email shortly.
There was a problem. Please refresh the page and try again.