Google's Gboard lets you launch a search right from your iPhone keyboard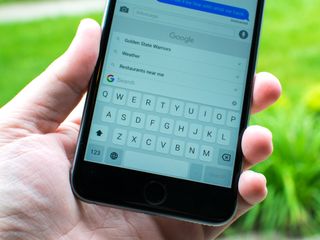 Google has released its own software keyboard for iPhone and iPad, Gboard. The keyboard allows you to perform a Google search without leaving the app you're in. Just tap the big "G" button in the upper left of the keyboard to start your search. Gboard also supports swipe-typing, like other keyboards such as Swype and SwiftKey.
Here are the big features you'll find in Gboard:
Search and send anything from Google:
Nearby stores and restaurants
Videos and images
Weather forecasts
News and articles
Sports scores
And anything else you'd search on Google
GIFs — Search GIFs for the best reaction
Emoji Search— Find the perfect emoji, faster
Glide Typing — Type faster by sliding your finger from letter to letter
You can find Gboard on the App Store now.
Joseph Keller is the former Editor in Chief of iMore. An Apple user for almost 20 years, he spends his time learning the ins and outs of iOS and macOS, always finding ways of getting the most out of his iPhone, iPad, Apple Watch, and Mac.
Nice! I tried finding it in the Canadian App Store, however, and it says it's not available for the Canadian Store! Hopefully that gets rectified soon as I'd like to try this out!

When I click on the link it just takes me to the Google apps page Sent from the iMore App

I love it. It's very well polished! Sent from the iMore App

I have to say google did a good job on this keyboard it really feels natural in hands and I like the features google search is built right in everything seems smooth but I always find myself going back to the iPhone default keyboard it's just perfect for me. Sent from the iMore App

I used to be in the same boat. I think this might be the first keyboard that will keep me away from Apples stock keyboard. So far I can't think of a single reason to go back. In fact I think I'll miss this one if I did, lol.

I like that it looks somewhat like the iphone keyboard to a stretch. I wish that Word Flow could look as good. lol.

Furthering the idea that a Google iPhone is not a bad idea. I like it. Sent from the iMore App

Omfg, when will these incessant, pointless keyboards stop.

Google keyboard is actually pretty good, smarter than the stock keyboard. reminds me of my Android days. always downloaded this keyboard Sent from the iMore App

Stfu little bitchboy
Typed on my Gboard little pussay

I am pretty impressed with this keyboard so far. I've been using Microsoft's Word Flow but I think the Google keyboard is a bit better. I'd still be using Apple's stock keyboard if it wasn't for lack of swipe typing, it's my preferred method of input.

That is the only thing keeping the default keyboard from being truly usable for myself.

Once Apple ads swipe gesturing to its keyboard it will be perfect and unmatched. I can't use these other ones because they don't have a voice to text button on there. That's a dealbreaker for me because I use voice to text so much. Sent from the iMore App

Eh...the mic icon at the top right of the keyboard is voice to text, friend. Posted via the iMore App for Android

Thanks Google for making it US-only! -.-

Wow it works so well. It even imports our keyboard shortcuts Sent from the iMore App

All I wanted from a keyboard (since my switch from Nexus 6P). Happy days!!

Wow wonderful awesome keyboard. Google rocks as usual with its apps and services. Replaced wordflow as my new daily iPhone keyboard. Add to that search within the keyboard, gif support etc. Apple should learn from Google and Microsoft on how to write great iOS apps. Sent from the iMore App

Does anyone else feel that Apple needs to step up their game on iOS? I think they need to.

Yep :) I bet the editors here don't think that !!! We need an article here to wake up Apple step up their **** game in all areas something like Walt Mossberg wrote a month or so back.

Here's one of the gripes I have. On iOS, you can swipe down on the home screen to access the search option. Many times I have done this to find an address in my contacts and sometimes it works, most of the time it doesn't. Apple's slogan, "It just works", is getting harder to say these days. I hope they announce some innovative features at WWDC. Not just news like, "Hey everyone, you can now lock your notes!"

Am I the only one it's not working for? I just downloaded it on iPhone 6s Plus on iOS 9.3.1. Whenever I select gboard as the keyboard after holding the globe icon, the keyboard vanishes for a second, then the stock iOS keyboard shows back up. Gboard is enabled in settings and I'm selecting it, but never sets itself as the keyboard after selecting it. Sent from the iMore App

Why must I allow all third party keyboards full access in order to use them. I especially don't trust google with that.

Nice. So far, so good. Sent from the iMore App

This goes to show that once again, Google

Using it now and you can really see where Apple's own keyboard is lacking. Hopefully Apple really pulls out the stops with iOS 10. Sent from the iMore App

Edit: wish there were a Night Mode or at least when accessing Spotlight search/responding to notifications change the keyboard to dark. Still great version 1 though Side note: iMore I really need you to get your commenting system under control in the app. Very sporadic in if it'll show recent comments or not.

Does no one else think Google will be tracking everything a user types using this keyboard? They certainly have the ability if they wanted too right?

Sure they do, just like Apple does. Posted via the iMore App for Android

And...? What do you think Google will do that Apple doesn't do when they collect your info? I spent over five years using multiple Android phones. My experience with Google products has only become better, not worse.

Who cares they all do. Time to take off your tinfoil hat sir.

The App Store description clearly states what you're sending to Google - search queries (every time you tap the G icon) and crash statistics - so if you're not happy with that then don't use it. FYI, Apple does the same thing for your Spotlight and Siri searches, and they're also sharing it with Microsoft (because Bing).

I like this keyboard. It's just too bad I can't use dictation and the 3d touch mouse cursor anymore.

That's why I always find myself back to apples keyboard.

Good stuff! Would like to have the ability of showing an emoji or pic of an item I type. Ex: instead of cat, I'd like a nice little pic of a cat like Touchpal does

NVM. You can do that just not with cat, but seems to work with other things. Found my new kb going forward.

This keyboard is incredible. Easily the best third party keyboard I've ever used. Google did a great job. Beautiful design, great text prediction and autocorrect and the search within the keyboard feature is the icing on the cake. They just gave me something I didn't know I wanted and now I don't think i'll be able to live without. Great job Google.

thanks for the heads up. I'm using Google Keyboard on my android tablet/phone. installing on the Air2 now and 6plus later! :)

I just can't use 3rd party keyboard JUST BECAUSE that animation when the keyboard popup in everytime you want to start typing... Just.. Can't Sent from the iMore App

This keyboard is great. Well done Google Sent from the iMore App

Love Gboard! Near perfect. Add voice to text and it will be. Thank you Google. Sent from the iMore App

This keyboard is so good I even removed the stock keyboards and went full board with this one. Sent from the iMore App
Thank you for signing up to iMore. You will receive a verification email shortly.
There was a problem. Please refresh the page and try again.