Great Scott! Eyes on the Grays Sports Almanac limited edition case for iPad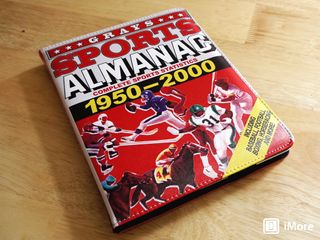 Being a huge Back To The Future nerd, as soon as I saw this, I had to have it. On the one hand, it's another iPad case. On the other hand it's so much more than just another iPad case. This one is fashioned after one of the key elements of Back To The Future II, the Grays Sports Almanac. In the movie, Old Biff used it to change his own future. This one just takes good care of your iPad.
The front and back covers are nicely padded, and when closed the whole thing is about as thick as a book. But much thicker than the book in the movie. And there's a spelling mistake on the spine. But that doesn't matter, not at all. Inside, a frame stitched to the main cover holds your iPad in nice and snug, and a pair of magnets on the top and bottom right corners hold the front cover closed.
I bought this because I'm a huge nerd for the movies, but it is also actually a pretty nice iPad case. At the moment this one is exclusive to Firebox (opens in new tab) here in the UK, though they will ship internationally. Price in local currency is £19.99, and I think worth every penny. There's a few more images for you below, but tell me, who wants one?
Get the best of iMore in your inbox, every day!
Amazing! I am definitely going to be getting myself one

Firebox tells me mine shipped yesterday, so should get it next week. Looking forward to it. Fun idea - thanks for bringing it to our attention Richard.

So... this is the coolest thing ever...

Awesome which iPad does it fit? Sent from the iMore App

2 and up :) Sent from the iMore App

I'd love an Air case like this.

I Want! Sent from the iMore App

Just ordered mine from www.lovegizmo.co.uk for my ipad and ipad mini, so excited feel like a kid again. Brings back so many good memories just looking at the case.