Hands-on with Apple CarPlay from Pioneer: Same great experience without a new car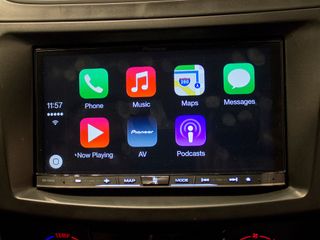 Apple CarPlay has been a real thing for a while now, though we're not yet seeing it actually out on the roads – incredibly expensive Ferraris not withstanding. Of course, for those of us who want the experience without buying a new vehicle, third party units are what we'll be looking at. Like this one from Pioneer. It isn't ready to hit the market just yet, but priced around €1000 it's a huge chunk of change less than a new car. And at IFA 2014 this past week in Berlin, we got to take a sneak peek at it.
The CarPlay part is the same system we've been seeing teased for months now, but it's always better to see it actually working in person. A few trade show related demo fails aside, it's really slick and it's really something that you could use with ease behind the wheel. Siri wasn't playing ball with the event Wifi, but we at least managed to get a look at how easy it is to send messages, choose music and activate navigation, all without needing to take your eyes off the road.
Pioneer also makes complete in-car entertainment systems, right down to producing fascias for the various different cars on the market to make their systems look like they were there out of the factory. The car we looked at was a Suzuki swift, but the installation was seamless. The unit we looked at is still at the high-end of the market, but it offers CarPlay at a fraction of the price of a new car, and it allows you to take it with you when you do eventually get some new wheels.
But enough talk, check out the video below for a full walkthrough.
Really shows you how absolutely terrible Pioneer's UI is. One of many reasons I dislike current in-car systems

Would there be an optional standalone (sim enabled) unit with iCloud integration (for non-iPhone users)? Does it require a hard line to the iPhone or was that just for charging? Third-party app integration?

CarPlay runs on the phone, not the headunit so you need the iPhone. Third party apps will be supported, though at this point it looks like specific Apple partners for now. Things like Spotify and iHeartRadio are already supported.

While I'm very interested in CarPlay I'm curious if we are going to see 3rd party apps on it. For instance, I would much rather use Waze than the Apple Maps. Same thing goes for using my own podcast app & not theirs.

I have an older Pioneer radio/navigation unit in my car. I would never buy another one from the company. They have an iPhone app you can use that will put your destinations into your iPhone contacts, and they will be pulled into the Pioneer unit when you start the car. It was a wonderful and useful app until they removed the search function from the app...

I really hope my future car won't have CarPlay or something similar pre-installed. I can't stand electronics in cars. It's enough trying to ignore my iPhone. It takes away the joy of driving. Kudos to Pioneer for making it possible to take it with you when trading cars.....that prevents potential data/privacy issues.

Seems an interesting start. In practice i'd like to see a real demo of the music player because that's what i'd be using along with 3rd party podcasting apps. Like how is navigation, scrolling, are the lists streamlined and easy to read at a glance in a car. How is the scrobbler because on the iphone it's very hard to use as it doesn't detect fingers well or scroll accurately. I use Downcast exclusively as my podcast app so is that gonna work? If i plug in my phone can i disable Carplay and use the other apps on the phone that are better through the line out? That's what i'm doing now. With the lightening port maybe that is irrelevant because i heard it doesn't have a line out or something. Regardless, the devil is in the details.

I don't like the fact that you have to physically plug the phone in. I already have bluetooth streaming in my car, and that does just about everything, and without plugging it in! It's not Siri, but I would find it annoying (which means I'll rarely use it), plugging in my phone every time I got in my car, just to hear Siri's sweet voice :)

Well...it'll also charge your iPhone, so it's not totally worthless ;-)

Ok....one big problem I've been stressing over. Where's the album artwork??? Ferarri, Mercedes & even Hyundai have it embedded into their own Carplay units. I thought it may have just been turned off for beta purposes, but every single Pioneer Carplay demo video I've pulled up seems to have the Album artwork missing. Im really crossing my fingers here. "Artwork" had better not be the one feature that couldn't make into the Pioneers units due to a minute hardware limitation. If so, i will be bummed out, possibly selling my AVIC-8000 NEX I bought two months ago thinking Carplay would run optimal. I hope I'm wrong and that everything will be fine.
Thank you for signing up to iMore. You will receive a verification email shortly.
There was a problem. Please refresh the page and try again.