Why your wallpapers look messed up on iOS 7, and how to fix them!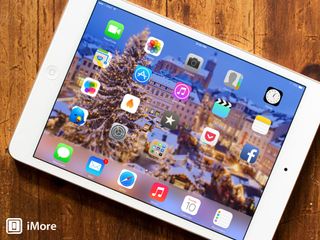 One of the things that's annoyed me most about iOS 7 is the way it handles wallpapers. iOS 7 only seems to want to position a background image one way, and no matter how hard you try, no matter how much you pinch or zoom, iOS 7 just snaps you wallpaper back in and, in some cases, makes it look ridiculous. So, I did some digging, and figured out why iOS 7 is messing up our wallpapers, and more importantly, how to fix it!
Why is iOS 7 stretching my wallpapers?
The issue seems to be more noticeable and prevalent on the iPad than it is the iPhone but the issue is definitely there on both. It seems as though iOS is now trying to find a happy medium between portrait and landscape mode. This means that iOS is automatically going to the resolution that it thinks is the best compromise resolution wise between portrait and landscape. This issue presents itself when you're attempting to use a photo that isn't exactly fit for the iPad or iPhone's native resolution. Since the iPad Lock screen and Home screen uses both orientations while the iPhone Home screen only uses portrait, that's why the problem is far more noticeable on iPad.
In previous versions of iOS, we could pinch and zoom as we'd like, even if it resulted in lower image quality. Apple has taken this option away in iOS 7, no matter how frustrating it is.
Aside from a happy compromise on resolution, iOS 7 automatically zooms images inwards is due to the parallax feature. Since tilting your iPhone or iPad re-adjusts the background in order to create the effect that the device moves with you, iOS has to take into account that the background has to have some padding on every side in order to do so.
This brings us to our first option to fix the problem...
Make sure your images are the right size
Since part of the reason iOS 7 is zooming in or out, particularly on the iPad, is due to creating a happy compromise, using the correct sized wallpaper should work just fine, especially if you've disabled the reduce motion effect like we explained above.
Here are the correct resolutions for iPhone, iPad, and iPod touch:
iPhone 5, iPhone 5s, iPod touch 5th gen - 1136 x 640
iPad Air, iPad 4, iPad 3, iPad mini with Retina display - 2048 x 1536
iPad 2, original iPad mini - 1028 x 768
iPhone 4S, iPhone 4 - 960 x 640
There's an app for that
A sharp developer out there who was obviously irritated with the issue just as much as the rest of us has made an app called Wallax, which attempts to remedy the issue. To better illustrate how well Wallax works, have a look at the photos above. I really liked the image but it didn't center nicely on my iPad, go figure. I fired up Wallax and centered it how I wanted and then added a nice blur effect. The difference is pretty large as you can see above. I wouldn't have used the image at all if it weren't for Wallax.
Not only can Wallax instantly crop and save images to the correct resolution, it also comes with customizable gradient and textured wallpapers. Even more, you can add bokeh, blur, and focus effects to images. Once you've created exactly what you want, you can export the image to your Camera Roll to apply as the perfect wallpaper.
Wallax is compatible with both iPhone and iPad.
Use the Reduce Motion setting in iOS 7
Since the root of a lot of these problems is the iOS 7 parallax effect, if nothing else works, and your wallpaper is more important to you than the fake-3D look, you can simply turn it off. Here's a link to our guide on turning off the Reduce Motion feature in iOS 7.
This fix seems to work more for iPhone owners than iPad owners. If you're still having the issue, continue on.
Need more help?
If you're still running into issues, our iMore forums are a great place to ask for help and to find answers to common questions. We even have a wallpaper and ringtone forum where you can share your creations as well as view other member's.
Master your iPhone in minutes
iMore offers spot-on advice and guidance from our team of experts, with decades of Apple device experience to lean on. Learn more with iMore!
iMore senior editor from 2011 to 2015.