Why your wallpapers look messed up on iOS 7, and how to fix them!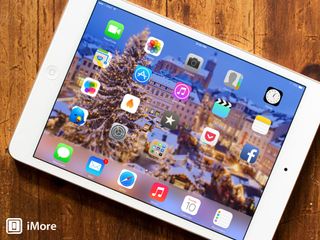 One of the things that's annoyed me most about iOS 7 is the way it handles wallpapers. iOS 7 only seems to want to position a background image one way, and no matter how hard you try, no matter how much you pinch or zoom, iOS 7 just snaps you wallpaper back in and, in some cases, makes it look ridiculous. So, I did some digging, and figured out why iOS 7 is messing up our wallpapers, and more importantly, how to fix it!
Why is iOS 7 stretching my wallpapers?
The issue seems to be more noticeable and prevalent on the iPad than it is the iPhone but the issue is definitely there on both. It seems as though iOS is now trying to find a happy medium between portrait and landscape mode. This means that iOS is automatically going to the resolution that it thinks is the best compromise resolution wise between portrait and landscape. This issue presents itself when you're attempting to use a photo that isn't exactly fit for the iPad or iPhone's native resolution. Since the iPad Lock screen and Home screen uses both orientations while the iPhone Home screen only uses portrait, that's why the problem is far more noticeable on iPad.
In previous versions of iOS, we could pinch and zoom as we'd like, even if it resulted in lower image quality. Apple has taken this option away in iOS 7, no matter how frustrating it is.
Aside from a happy compromise on resolution, iOS 7 automatically zooms images inwards is due to the parallax feature. Since tilting your iPhone or iPad re-adjusts the background in order to create the effect that the device moves with you, iOS has to take into account that the background has to have some padding on every side in order to do so.
This brings us to our first option to fix the problem...
Make sure your images are the right size
Since part of the reason iOS 7 is zooming in or out, particularly on the iPad, is due to creating a happy compromise, using the correct sized wallpaper should work just fine, especially if you've disabled the reduce motion effect like we explained above.
Here are the correct resolutions for iPhone, iPad, and iPod touch:
iPhone 5, iPhone 5s, iPod touch 5th gen - 1136 x 640
iPad Air, iPad 4, iPad 3, iPad mini with Retina display - 2048 x 1536
iPad 2, original iPad mini - 1028 x 768
iPhone 4S, iPhone 4 - 960 x 640
There's an app for that
A sharp developer out there who was obviously irritated with the issue just as much as the rest of us has made an app called Wallax, which attempts to remedy the issue. To better illustrate how well Wallax works, have a look at the photos above. I really liked the image but it didn't center nicely on my iPad, go figure. I fired up Wallax and centered it how I wanted and then added a nice blur effect. The difference is pretty large as you can see above. I wouldn't have used the image at all if it weren't for Wallax.
Not only can Wallax instantly crop and save images to the correct resolution, it also comes with customizable gradient and textured wallpapers. Even more, you can add bokeh, blur, and focus effects to images. Once you've created exactly what you want, you can export the image to your Camera Roll to apply as the perfect wallpaper.
Wallax is compatible with both iPhone and iPad.
Use the Reduce Motion setting in iOS 7
Since the root of a lot of these problems is the iOS 7 parallax effect, if nothing else works, and your wallpaper is more important to you than the fake-3D look, you can simply turn it off. Here's a link to our guide on turning off the Reduce Motion feature in iOS 7.
This fix seems to work more for iPhone owners than iPad owners. If you're still having the issue, continue on.
Need more help?
If you're still running into issues, our iMore forums are a great place to ask for help and to find answers to common questions. We even have a wallpaper and ringtone forum where you can share your creations as well as view other member's.
Get the best of iMore in your inbox, every day!
iMore senior editor from 2011 to 2015.
The dev did a great job with Wallax. There are some cool features like the blurring. I beat them to the App Store by a few days with Fix My Wallpaper. They have much better iPad support at the moment. I am working on that and will have an update soon. My take on it is different and adds nice gradient backgrounds and you can add multiple images. For a different take try my app: Fix My Wallpaper. https://itunes.apple.com/us/app/fix-my-wallpaper/id718000759?mt=8&at=10l3Vy Cheers!
@Scatabrain. P.S I am going to make my app free until the iPad version is ready to give people another choice. Going into itunes connect now...

Thanks!! Sent from the iMore App

I want your Christmas tree wallpaper for my iPad Air.. Where can I find it Ally?

Check below. Just linked it a few times :)

App called Wallpaper Fix does the same thing too. https://itunes.apple.com/us/app/wallpaper-fix-rotate-scale/id765059392?m... Wish I could keep the 3D icons affect but use the fade in and out affect that Reduce Motion brings.

Thanks!! Sent from the iMore App

Going to give it a try. Thanks! Sent from the iMore App

Here is another cool blurry generator! http://www.1iphone5wallpaper.com/blurred.php

Wallax is a very polarizing app; Just as many 5 star reviews as there are 1 star. On an unrelated note; what photo is that (with the snow)?

Here you go http://d.pr/i/4hB5

I just got the app, it seems to work fine for me. It isn't intuitive at first, but the more you play with it, you'll figure out the mechanics. Super helpful tip!

Allyson, you have great tip articles!!

Hopefully apple separates the option to reduce transitions and to turn off the paralax effect i like the transitions but dont like my wallpaper to be zoomed in

The way I "solved" the issue on my iPad was to find a picture I liked, and on my Mac, make a square 2048x2048 with the section I want focus on centered. Sent from the iMore App

Wallax worked great. Thanks ally! Sent from the iMore App

I'm surprised that iOS 7 doesn't natively blur or darken the wallpaper. If they actually applied their sample and user-submitted wallpaper, they would've seen that the text becomes unreadable and the icons/UI interfere with it.

2048x2048 wallpapers are best for iPad. At least before iOS 7. Since the wallpapers are now stretched with the parallax effect I wonder what the best resolution would be to keep it crisp looking.

First useful article I've read on in here in weeks!

Allyson, what part of Wallax did you use for your iPad example?

One workaround is to select the image via the Photos app then "Use as Wallpaper"... Still need to confirm this on a iPad though... Sent from the iMore App

No. Doesn't do anything different than the setting way does.

Ok. I paid for this app… but nothing changes. Using it makes absolutely no difference at all. Don't buy this app.

I'm going to go with user error as it's worked for me countless times and many others here.

Actually, it seems more a communication error. As it reads in the article it seems as though purchasing this app gives the user to resize their photo to the corresponding resolution per device and therefore not lose any element of the image to zoom/empty screen space, etc. In actuality, it seems that the app meets the user half way with the "blur" feature providing an alternative to black around an image. As I experienced the same issue, I would have to say this is likely not user error so much as presentation/clarity error. The app is a nice medium for those who do not wish to resize all of their photos in Photoshop. If you would like your image to fill the screen without zoom or negative space, I do not recommend this app. Try photoshop, photoshop elements, or any basic image editor via a desktop or laptop computer in order to resize to the desired specifications.

where can one get that awesome christmas tree wallpaper?

Here you go http://d.pr/i/4hB5

What that amazing winter wallpaper called

Excellent tip. Sent from the iMore App

For those asking for my wallpaper, here is a direct download link: http://d.pr/i/4hB5

Also what works is if you screen shot the picture because it somehow magically resizes it to fit as an iPhone wallpaper

Screen shot worked!! And it was free. Score !! Thank u!!

Thanks Vincent. Great tip!

Ok, I want to be very clear that my comments are about the iPhone 5 & iOS7 (not the 5S). Since iOS7 came out my iPhone 5 and millions of others are experiencing massive battery drain when trying to use even the most basic functions. When I say basic functions I mean - Voice, Text and Email. I bought an iPhone because I wanted the many advanced features it offered. I did not buy it and sign a multi-year carrier contract so that I could have Voice, Text, and Email only. Do I want to be followed? Ah, Yes I am talking about Location Services and more. Location Services are required for many apps. Not that any of this should matter but, when Apple does their big release to show all the amazing things their products can do...Well just call me silly because I expected to be able to do amazing things. The last thing I wanted to hear was that I need to reduce my expectation and start turning various setting on the phone OFF. My phone running iOS 6.x.x was working fine. Yes it worked fine until the day I upgraded to iOS7. Oh and Yes I have the Apple Care warranty so Yes, Apple agreed to swap out my phone. After my first swap still using iOS 6.x.x the phone started to shutdown. I tired everything short of CPR & shocking the stupid brick back into service. This problem was not related to iOS 7 or version 6.x.x but, a new, even more fun issue with defective hardware. I am now on my 4th phone running iOS 6.x.x at my demand and Yes Apple did give me a phone with the Old iOS. So as of today I am still waiting for Apple to contact me and tell me that their iOS 7 power drain issue has been fixed. Millions of phones equal billions of dollars so my best guess is that Apple would fix the problem or take the phone back and fix my contract with the carrier as well. Why would anyone want to buy an iPhone then not be able to use the cool new features as shown in June when iOS 7 was demo'd? Did any of you see the new race cars made by Anki Drive in the June demo? Well I purchased them for $199 and found the tech in the cars to be amazing for version 1. Then after just 2 races my iPhone was down to 24% of the battery left. Each race only runs minutes so it looked like a huge issue that I had no interest of investing in. Yes, I returned the cars. Yes, I contact AnkiDrive only to get the excuse that their phones, tablets etc did not show serious power drain after an entire day of racing. Further their tech sent me the same list of things to turn off as did Apple! Wow. So, you can buy the iPhone 5 and you will NOT be able to run all the features the company talks about...Well - unless you reduce your expectations and run them one at a time? Sure thing. I should mention that I did not download music or videos from iTunes as I was planning because the phone will lose power even faster. This has to be costing Apple big bucks from those of use who know what is really going on. I intend to give Apple until Jan 2, 2014 then I am going to demand a full refund. They had from June 2013 to get it right. That is when iOS 7 was demo'd and that is enough time to fix it. *footnote: I wrote this after a long day at work and ask you excuse my spelling. I just had to post on this site the fact that iOS 7 and millions of the iPhones are Defective / Not Ready for Primetime. Enjoy.

If you want your device to stop draining a lot of battery life, then go to settings, Background app Refresh and switch it to on.

I tried Wallex but didn't like the result. What worked for me was to open my photo in Photoshop - it was a high resolution photo - and saved it with a black border and without decreasing the resolution as normal for Internet photos. It was over 3 MBytes and IOS 7 didn't try to enlarge it on my iPad Air.

The app "Wallpaper Fix" solves the problem and is super simple! Youtube: https://www.youtube.com/watch?v=hm7Ja1_xym4
AppStore: https://itunes.apple.com/app/id765059392?mt=&at=10l3Vy best regards

This worked beautifully! So simple. Thank you for the tip.

That worked for me too thanks!

Your articles, tips and hints .... are .... well ... wait ... for .... it .... . the BEST! Thanks a lot.

Wish I discovered this article MONTHS ago. Thanks!

There is another app to fix wallpaper for iOS7. Very simple and its cheap also. Wallex lets you fix wallpaper for iOS7. https://itunes.apple.com/app/wallex-fix-wallpaper-for-ios7/id804506906?m...

I would really like to have the iphone wallpaper you used with the country road, fence and falling leaves. Thanks

Thanks, Wallex is really useful :)

Well this article bubbled back to the first page. Wallpaper is still broken on iPad, BTW. Requiring a 3rd party app = broken. I just use gradients now.

Why are all of these suggested apps PAID and NOT FREE?

I don't have an iPad (yet!) but I'm adding this article to my favorites. :)

i want ipad because i want to gift it to my brother because if i got it then my brother get happy his happiness fell me stronge....

Here is one more app to do this and more (including blur and tint and other effects) and make a collage of your photos too: http://olegklk.wix.com/wallpapermaker
and it's super cheap.

I downloaded iPhone 5s wallpapers from this website
http://waoweo.com/iphone-5s/wallpapers/

Any tips for iPhone 6 parallax wallpapers? Here is a link with the correct dimensions - http://www.iphone6wallpaper.com/iphone-6-wallpaper-sizes/

>> •iPad 2, original iPad mini - 1028 x 768 Um, incorrect. 1024, not 1028.

I was frustrated when my home screen photo wasn't what I wanted. Couldn't size it to my liking. The suggestion to take a screenshot proved to be a great solution. Free & Easy. Thanks!

If you download wallpapers from websites which as http://www.iphonewallpaper.co/ then they should be sized perfectly for your device.