Having trouble with iMessage or FaceTime? Here's the fix!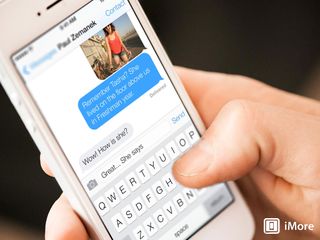 iMessage and FaceTime are wonderful, empowering, enabling technologies that... can frustrate the crap out of you at times. One of those times is when you update or restore your iPhone, iPod touch, or iPad to a new operating system - like millions of people just did with iOS 7 - and it stops working. If you're having trouble with iMessage or FaceTime, if they won't activate or simply won't work, here are some things you can try!
How to turn FaceTime or iMessage off and then back on in Settings
Launch Settings by tapping the icon on the Home screen
Scroll down to Messages or FaceTime
Toggle the switch from on (green) to off (white)
Wait a minute
Toggle the switch back to on (green)
Wait for it to re-activate
How to hard reboot your iPhone, iPod touch, or iPad
Make sure you're on Wi-Fi
Hold down both the Home button on the front, and the Sleep/Wake button on the top of your device
Wait for the Apple logo to appear
If it still doesn't work, repeat step 1 (turning FaceTime or iMessage off and on)
How to reset network settings
Launch Settings by tapping on the icon on the Home screen
Tap on General
Scroll all the way to the bottom and tap on Reset
Tap on Reset Network Settings
If it still doesn't work, repeat step 1, then step 2, above (Turning FaceTime or iMessage off and one, rebooting).
One of those, or a combination of them al, should get you going again. If it works for you, or if you find any other ways to trouble shoot, let us know in the comments!
Get the best of iMore in in your inbox, every day!
Rene Ritchie is one of the most respected Apple analysts in the business, reaching a combined audience of over 40 million readers a month. His YouTube channel, Vector, has over 90 thousand subscribers and 14 million views and his podcasts, including Debug, have been downloaded over 20 million times. He also regularly co-hosts MacBreak Weekly for the TWiT network and co-hosted CES Live! and Talk Mobile. Based in Montreal, Rene is a former director of product marketing, web developer, and graphic designer. He's authored several books and appeared on numerous television and radio segments to discuss Apple and the technology industry. When not working, he likes to cook, grapple, and spend time with his friends and family.
Hey Rene and iMore, When you upgrade to iOS7, you have to reset your network settings and have iMessage and FaceTime off in order to correct the issue. The upgrade simply doesn't recognize your previous iMessage and FaceTime settings because these features are unique to the software. To reset:
Tap Settings
Tap General
Tap Reset
Tap Reset Network Settings Confirm the changes and re-add your wi-fi password(s). When the device resets, make sure you make sure after re-adding your passwords, the iMessage and FaceTime is activated by tapping them in the setting app. Make sure they're on. You should be all set.

Thank you, that worked for me.

It worked for FaceTime but not for iMessage! My iMessage keeps saying a error occurred during activation retry - this has been going on for hours. Please help.

Debbie, Are you connected to Wi-Fi? Make sure that your connection is only wi-fi for these steps and try again. Make sure your cellular data is off because this can interfere with the steps above. To turn off cellular data: Tap settings
Tap cellular
Tap off cellular data With iOS 7, I'm noticing a lot of bugs with the GPS end of the software. The relationship between software and hardware are not working as well as they would with this update. Try these steps and we'll keep going back and forth if you like. It's a apple community here to help. Good luck and let me know.

I tried resetting the network several times and it is not working. I did try turning off the cellluar settings before i reset it but it always seems to be on once my phone restarts.

Why I can't use my facetime and imessage using cellular data? I can use it before but after upgrading to OS7 I can't use itna:-((

Attention everyone, Apple knows this is am issue with iOS 7 and will send an update as soon as possible with no timetable. When it's announced or you see your phone tell you there's an update, I highly suggest for people to upgrade through iTunes. The over the air updates do not fix the issues with the software and only patch key features. There are settings for iMessage and FaceTime that people used to have with iOS 6 but aren't seen in iOS 7. Downloading from iTunes will allow you to download the full software, not a patch. Even if the patch is 10MB, you want the whole update and the only way to get it it's trough iTunes. I've done it this way as well as countless others and we all have seen a major difference in delivery and usage with iOS 7. It's usable, but not getting the software via over the air.

Hi Johnny, I have tried all of the above fixes and they only work temporarily, a few hours later, the issues are back. Are you saying that if I plug my phone into to my itunes and do the full update, this should fix this??
So frustrating.

Hi jbirdbear
The answer to your question is because again, the iOS 7 is a complete overhaul on how everything works with your device from the battery calibration to how phone calls are delivered. You need to prepare your device for this in the proper way. The only way is to update your phone via iTunes. Since you are having issues, I would back up your data and start as a new phone especially for battery loss. For instance, when I upgraded to iOS 7, I calibrate my battery once a week to keep optimal life of the battery (Apple says once a month so you can buy a iPhone every two years, but if you do it every week, you can extend the life on the battery up to 3 years) and within two and a half hours, my phone was gone. Obviously it was a software problem so I had to back up my data and reset my iphone as new and read everything. It's hard and difficult, but well worth it. I can't tell you how much of a difference it has made. Try it, you won't regret it. Remember, to backup on your computer AND iCloud. When you have a new iphone set up, you can log onto iCloud and re add contacts and notes.
Photos will be re added through time or through iTunes. The difference between iOS 7 over the air and iOS 7 through iTunes is massive. The iOS 7 over the air weighs at 780MB I believe in and the iOS 7 through iTunes is 1.24 GB. The last update for iOS 7.0.1 was 21MB over the air and on iTunes was 1.19GB. There is a huge difference and why updating through iTunes has been and will always be the best of the best way to get your best software. The iTunes download is the complete software again with the fixes meanwhile the over the air download is the patch only, but the complete software. This makes a huge difference from like I said the battery calibration to phone call delivery. It's frustrating, but until in a perfect world, Apple makes software that can wow people like Steve Jobs did once upon a time, this is the only real way.

Hi, i've tried a total reset to my phone as new and have nothing work at all. All my software is up to date and i'm pretty well out of patience.

Josh, The best I can offer is to attend the issue with Apple Support. They can only diagnose the device to see if it is an issue with the Battery at all? As a matter of fact, this can be done over the phone by calling you and send a diagnostic text message to see if everything is running right.

This is happening to me now but Apple dont know whats happening i was wondering did u fix it?

Did you upgrade to the newest update to iOS? It's iOS 7.1.4. I would do a complete restore from iTunes and see if the problem will fix itself. It should be able to do so. Make sure you reset the network settings in order to get iMessage to work. As of now, apple doesn't have an issue with iMessage. Go to settings---->general----->reset--->network settings. I would do a complete restore though from iTunes as the software from iTunes is different from the patches sent from over the air. If you have any specific questions, let me know.

This worked for me. The general reset network settings did not work.... but after reading your post re: restore through itunes, that worked. I hadn't hard connected for a few weeks, and only did the upgrades over cell/wifi. I tried to fiddle with the imessage on and off, removed access accounts (ie phone, email), did the reset network, whole bunch of stuff that I found in the apple forums. I hard connected to my mac, backed up my phone, restored to factory, updated, and then checked imessage before reloading apps etc. Seems to work now. Knock on wood! (Love my apple)

In my iphone4s ios7, facetime is not appearing in the settings can you tell me the steps to turn on my facetime.

If you go to settings --- facetime -- and turn it on. If it is not working for you, you can easily reset your wireless settings. To do this, go to settings === general == reset network settings. At this point, you will to put back all passwords for wi-fi connectivity. You can try to turn on facetime to see if it appears on again. If this does not still work, turn off your phone, leave it off for 30 seconds, and turn it back on. You can always check to see if the Apple services are down 24-7 at: https://www.imore.com/e?link=https2F2Fc2F4... Right now, all systems are okay. Let me know if it works.

I'm not getting any error messages, just can't get any messages (text or iMessage) from one user... He can get mine, but I can't get his. I can get messages from others (iMessages and texts). This makes no sense. I've tried all of these things through this entire feed and nothing is working for me.

thank god for this website I had been trying to get my face time to work for two days and now it works perfectly thank you for the advice

Hey lizeth ramos here I have tried all of them but my problem is the password I put in the correct password but it says please check your connection

I followed the instructions listed above, but nada....
My Facetime and imessage both tell me to check my network connections...

Have you tried not having any wireless on? Put your phone on airplane mode and try the steps again. If it all fails, back up your data and completely restore your iPhone on iTunes. I had to do this as I had seen a big difference in performance and overall presentation when I got the ios7 update via iTunes. The over the air update was 780mb meanwhile, the iTunes downloaded iOS 7 was 1.19GB? That's a great difference and you'll notice the iMessage and FaceTime to work just fine after that. This works well and I hope it helps those who still can't get it to work. Apple messed up badly with this update because it changes all the settings from iOS 6 to unnoticed on iOS 7. Having problems with battery life? You'll definitely need to calibrate the battery in order for the battery and software to work harmoniously together. To do that, completely use the power on your iPhone and charge the iPhone without interruptions. Once done, press the power and home button at once to reset the iPhone to completely the calibration.

This is what worked to get mine going again. Thanks!

I tried to reset the network but it asks for a four digit password

Is it a passcode that you used to unlock your phone? That's the only four digit password it would ask before any changes can be made. It has to be the passcode you use to unlock your phone if you have that enabled on your device.

Correction it did work eventually :-)

Great to hear. If you find with iOS 7 a battery drain, back up your data and reset your iphone as new. You can put your content back, but when you download ios 7 again, do this through iTunes. Have the iphone plugged into your computer and do it from there. This should help.

Weird. My iMessage in the settings says that its activated when i turn it off and then back on but my imessages still wont go through. it just sits there and never sends. I eventually have to hold down on it and force it as a text. I have done all of the above and nothing changes it. =\

I'm in the same boat as you. Can receive iMessage fine, but sending has been a real problem. If I reboot my phone, and try to re-send, they'll send just fine, but at some point they stop working and I have to either reboot again or force-send-as-text.

Have you reset your network settings? This is a great way to get things going well. Go to settings
Tap general
Tap reset
Tap reset network settings. This should calibrate the problems you might have with iMessage.

I can't used my imessage and facetime using cellular data after updating os 7..Why?

Have you done the "hard reboot" by holding down the power (top) button and the home (bottom) button at the same time?

Will this retain text message history?

I have tried all of your suggestions. I only have a problem with turning a conversation back to iMessage from text and nothing works. All other conversations are the same. We both have iPhones. My friend is also having trouble with iMessage not sending anything.

The best I can offer is do definitely do a complete hard refresh of your iPhone or call AppleCare to determine what's going on. There was an outage yesterday affecting users of iMessage. Did you download iOS 7 from over the air? If you did, you've been infected with the bug I believe is present with users who do their update over the air. To fix this, you have to reset your iPhone and download iOS 7 from iTunes and install from there. Of course back up your data on your computer and iCloud. Try this and I'm really sure this will work.

This worked for me, thank you, Johnny!

I can you facetime and imessage using wifi but if I use the cellular data I can't use it....unlike before I can use it both wifi and cellular data...after upgrading Os7 it's not working in cellular data:-(

how long does it take???????????????????????????????

This worked for me as well. Thanks for your help.

I have the new iPhone 5s with iOS 7.1 which I bought 4 weeks ago and working perfectly. Yesterday my FaceTime wouldn't link me through to who I was calling - rang, then began connecting but once, where the conversation would start and you could see the person, the call was cut! Now every time I FaceTime the same happens again.
I have tried everything! The Double Holding top and Menu button rest;
The Rest of the Network Settings - Turning off and on again after each new attempt and even rest the entire phone Hard Start, no change! THEN! I remembered! I tried to FaceTime with my last years module iPad and nope! same thing... Checked my phone to check if my Number had be cut off, Nope!
SO my iPhone and iPad faceTime does not work so it is not the actual device reference the BUG on iar download of updates as this began to not work before I updated the iPhone and the iPad is still on the old iOS7 Everything I can think of and so far took from this site to try has failed so what better to do then ask you guys to help me?
Can you Please! I have a new born and work away and this is the only means to see her - I think/know... that there is someone that can help? another reason why it won't connect?

All 3 options gone through, iPhone 4 still refuses to activate iMessages (just keep getting messages starting REG-RESP...)

Wait until midnight and download BBM Sent from the iMore App

Mostly the above should work but I also had to go a bit furhter and did the following to solve the issue
- connect in iTunes
- in the Summary page click on "Back Up Now"
- after the back up click on "Restore iPhone" to download and install a fresh copy of iOS 7.
- when completed it will ask to "Set up as New or Restore from Backup" pick "Restore from Backup" and choose the fresh backup you just made before.
- once the backup is loaded iTunes will sync everything else.
This worked on an iPhone and iPad mini for me.

I tried most of the posted recommendations on this site and others, with no success. The one that finally worked was the one described by sb0611. Thanks!

Sadly even this didn't help, so I started to wonder if there was something wrong with my sim card... So switching for other sim, TADA. Activated under 20sec, so clearly I need new sim card now.

Thank you so much!! This has really helped me out! I tried everything

Your solution worked for me - thanks sb0611. I love you clever people, thanks for sharing your smartness!

Can I do this on my iPad or do I need a computer?

I'm having the same issue, are you with O2? I've had about 20 of them texts now.

Back up your phone to iTunes and restore it, it worked for me and it makes your phone a lot less cluttered as well. All your pictures, music and app information will be saved in the back up so no worries! Just make sure that once it restores to click "restore from backup" so it loads all your stuff for you:p

And the best option is, go and get BBM4All ;)

I also have an issue with my contacts - as I was adding a new contact and noticed in categories iphone dose not show. I thought this is the new version but all my friends have iphone as a category and customs . Due to this my iMessage is not working

I have the iPhone 4s and I just installed ios 7 yesterday morning and I can't get my iMessage or FaceTime to work either. It won't even let me log in with my Apple ID and use iMessage that way. I can log into apple anywhere else like the App Store for example but this iMessage deal has me completely stumped and kinda frustrated. I tried doing the hard reboot, I tried turning iMessage off then back on, I tried resetting network settings, nothing has worked. I don't have the internet so I'm not sure if I can do the back up thing or not. I got on Apple support and they say on there to wait 24 hours for I messaging and FaceTime to activate and they said if you turn them off and back on then it has to start all over. So I'm not sure if I need to wait a little longer or if this new software has some bugs. I never had any issues with this phone I've had it for 2 years and it's been the best phone ever but this new software really screwed things up

I fixed this for a customer earlier. I tried all of the steps, but here's what finally did it:
Back up phone on iTunes
Turn off FaceTime and iMessage
Erase all content and settings
(Settings-general-reset-erase all content)
Then set up as new phone
Activate iMessage with Apple ID
Then restored all old info. It's lengthy but it seems to have success on other sites as well Sent from the iMore App

I have worked out that the hidden text character was being stripped, and causing the messages to arrive as standard texts, this made me think of things intercepting the texts, the only think on my phone was the TUGO software from 02, so I went onto the app, deleted my account from within the software, then deleted the app, didnt need to reboot, all worked next time I turned Imessage and facetime back on and off. Andy

I was receiving random texts but had no success with other fixes. Tried this and it solved the problem for me too although I was receiving an iMessage error after removing TuGo account and app so had to reboot. Thanks for a fix that worked!

I have done this and all the other suggestions and still cannot activate imessage and facetime. I am on Verizon if that makes a difference. I am actually missing work messages due to this. Any help would be appreciated.

Have you fixed this issue yet? I'm having the same issues and with verizon.

This is the only thing that helped me, thank you!!

I had the problem with Facetime and iMessage not registering - I had several email addresses listed and the issue was that you are only allowed one email address that is an apple ID - for those with several apple IDs (from different countries apple stores for example) the solution is to only use one for facetime and imessage - good luck WD

I tried this and everytime i un tick the email so its just my mobile number for i messaging it will not activate - very frustrating - i got it to work for half an hour by wiping the phone and re installing then it stopped again and went back to messaging with my email only - not very impressed at all

to activated imessage n facetime using mobile number make sure you fix phone number on your apple id. turn off imessage n facetime, Fix your country code and area code at "appleid.apple.com", then restart phone. Now activate again. :)

I don't want to have to backup everything on my ipad and re-install everything. I have so much Uni stuff on here. It would take hours to re download everything again from various web sites. I can live without Message. Just need to find out how to delete Message from my iPad.

Don't blame you, this crap is beyond frustrating!

to activated imessage n facetime using mobile number make sure you fix phone number on your apple id. turn off imessage n facetime, Fix your country code and area code at "appleid.apple.com", then restart phone. Now activate again. :)

If you are still having problem and are with O2 network and have o2's tu-go app installed then follow these steps. Open the tu-go app and delete your tu-go account. Then delete the tu-go app. After that, turn iMessage off and back on, then it should activate within a couple minutes. You can then install and set up tu-go again

i buy my iphone5 in dubai and i dont have facetime is there any possibilities to activate my facetime.... i already update to ios7 my iphone 5

I've tried all of these options except restoring my phone. I don't currently have access to a computer so I'm saving that as a completely last resort. It's been 5 days since I updated, surely it doesn't take this long to "activate"? Also on mine it doesn't show my phone number or my email, only the option to use my Apple ID which always fails to login.

I have tried your recommendations at least a dozen times. I have also done the Network System Reset as well while l I was on the phone with AT&T. When I login it states that Imessage Activation not sign in. Please check your network connection and try again. I have wireless internet, I have checked my imessage login in. everything seems fine but no matter what I do it will will not work. I can send out but I can not receive incoming!!

Same problems for me too. Nothing works. Wish I never updated. My family all are through Verizon, no problems, just me.

I had no end of problems, turned the phone off and on, all the suggestions.
The only thing that worked was a complete restore!
Then everything worked perfectly with minimum effort.
It just takes time, which I didn't really have late at night, because I've got so many apps and so much music on my phone, which all had to be reloaded.
I just used the last back up and everything was fine.

I just purchased the iPhone 5 three weeks ago. I updated to the iOS 7 last night, and after resetting network settings, turning iMessage and FaceTime off and back on, resetting my phone it still won't activate. I've done every thing to correct the problem. I do not have wifi, just hot spot on my phone. I'm missing messages. Sooo frustrated! Help!

I'm having some problems with iMessage on my iPad 2. I have had iOS7 installed since this time yesterday, and for several hours after the installation, I had NO problems with iMessage. Now, I can't send ANY messages. It started not long after I realized that the time was wrong on my iPad, and when I reset it, I started getting pop-up notifications that said message could not be delivered, and something about having to adjust the time in settings. I tried turning both iMessage and FaceTime off in my settings, then turning them back on in an effort to "sync" them with the right time, but now it won't let me log back into either of them because I need to check my network connection. SO, I reset the network connection, re-log onto my wifi network, and try again- but still, the same thing. I'm guessing a hammer to my iPad won't really solve this problem, so what do I do?

My facetime and imsg since i updted my ipad mini to ios 7 i cant activated my facetime and i msg my ipad asking for my apple id password but when i type my password and enter it it always keep saying "COULD NOT SIGN IN PLS CHECK YOUR NETWORK DEVICE AND TRY AGAIN " How should i do ?

Same problem here:( facetime works but imessages r off. Have done EVERYTHING u suggested, erased all content, backed up etc..it's so frustrating! Also light grey bluetooth icon appears in the right top corner all the time and keeps searching for devices. Anything to do with imessage?? What else can I do to get the imsg back? :(

worked for me! i then received a ton of missed iMessages from my spouse!

nothing is working for me. ive tried all the steps and even tried restoring my iphone
it always says that my imessage is waiting for activation and asks me to use my apple id for my imessage.
so after i enter it, it says that i need to check my network connection
i turn my imessage on and off and it keeps giving me texts saying that i may be charged for using facetime and imessage. shortly after i get a text saying that i have no credit despite being on plan

ive managed to sign in and i see that my email and number has been selected but my number is greyed out. i try and deselect my email so only my number is selected but then when i look at the send and recieve, it says that no addresses have been selected

800-my-apple. I called twice and still no fixed. Signing in with your Apple ID to use iMessage has nothing to do with the activation. The apple girl had me reset all settings, said that's what they are told to tell us. Didn't work. Second apple guy said it takes 24 hours after update to activate. Ummm nope, it's 5 days later!

Ok I had no problems with iMessage until the new iOS came out. Hubby and I have not updated to the new iOS and are mowing having major problems with iMessage. I am wondering how to fix it. I have tried most steps here. One thing that bugs me is someone said you need wifi to use iMessage and I know that is not true. I was on a train the other day and was able to iMessage a lot but now since the phone keeps telling me to update to the new iOS iMessage is really bad wont send messages and on the off chance it does can take 4 hours to say delivered. Help needed please.

Rene's suggestions fixed my problem right away. thanks!

Well my phone says that both my iMessage and FaceTime are activated. However it won't send messages iMessage wise, this morning I updated to the new software update that they had. After I did that I couldn't send iMessages.
The wifi and network internet both work because I'm currently on my iPhone posting this comment, what do I do?

I'm having the exact same problem. Help

iMessage had been wonky all day...found this article and your suggestions worked perfectly. I did the iMessage toggle, hard reboot, iMessage toggle. iMessaging like a boss now. Thanks, Rene.

Is anyone else here not able to delete full text messages without having the phone lock up and being forced to reset only to find the text message still in the phone? If so, is there a fix?

Thanks Rene, was hoping someone was going to come up with a fix for this!

Thank you, it worked after doing step 2.

i had the same imessage sending issue. i applied option one.helped me and resolved my issue.thank you

Hard reboot worked for me. Thanks! This whole iOS Apple ID / iMessage / FaceTime system is quite a mess!

I need help!
Both my mums phone and mine use the same apple account, and we have both recently updated to ios 7. However, our imessages keep connecting together. How do I stop this from happening??

keeley, log into imessage and go to send and receive and untick your mum;s address from your email and vice versa... apologies if u have already done this and it still doesnt work.
the other option then is to create a new email add, one of u keeps the one linked to the apple id and the other uses that email add.. only solution i can think off

Eds81, Thank you so much for your help, the first option worked!

so same problem here. Two iphones one 4s one 4. No issues on the 4s but the 4 got the bug.
We reset the phone but the issue is still there.
Imessage hangs in activation mode however does work. what it doesnt register is the sim card number, so messages can only be sent via email address. One issue we did realise was that the email address previoulsy used for imessage had disappeared. ill explain:
My friend uses her husbands apple id and her email address is added as an alternative address for her phone. post update her email address disappeared from the list hence why she couldnt send messages. when trying to reactivate the email add it would not allow as it said that is was linked to another apple id ( we never did this but seems apple created an apple id for said email address) way round it was to create a new email add, add that as a new email address to the apple id and the voila it worked, however it now means previous email address no longer works and all her contacts will need to update her contact address.
After all this, imessage still hangs in waiting to activate- like i said it still works ( not confirmed if it does on 3g but def on wifi)
spent all day yesterday fiddling with it- no content with the solution as its not working as it should but temporary fix until a new release or another solution.
have considered getting a new sim as it may have something to do with it....

Thank you so much! This also fixed my FIND FRIENDS issue. Since upgrade it was always returning location not available for my husband. Turning off/on iMessage and face time and then resetting network settings has fixed it. Fabulous!

I have tried every option listed. Everyone of them gets iMessage working again but after about 24 hours it all of a sudden stops works. Tries to send but never does and will not revert to SMS. Simply rebooting the device fixes it but I shouldn't have to do that. Apple needs to recognize the problem and get a fix out for it. I did not notice the problem when iOS 7 launched but I did notice it after I installed 7.0.2.

Thank you I have hard rebooted my ipad and facetime.now works

What if the toggle is missing altogether...
In Settings we scroll downed to iMessage to see if it had been switched off however, the toggle green/white switch is completely gone. We had another user try to send us an iMessage to see if we could receive one, but when they tried they got a message that said "...is not registered with iMessage. Strange because they are able to use and download App which required the same log in info as iMessage... any ideas??

If your messages aren't sending, and before resetting - check under messages to see if "send as SMS if imessage unavailable" is selected. When I updated, this was turned off. Creating a sending error.

Thanks iMore crew! I did number #1 - turned iMessages off then back on and it worked.

I tried step one but then had to do the hard reset for it to work. Thanks!

I updated my phone last night, not to ios7 but to ios7.0.2, but my Imessage hasn't turned on since, I've tried every step to turn it on. When the Imessage switch is off, bellow it it says Imessage can be sent between iphone.. ect like what it would say when activated. And when I turn it on, it doesn't say activation failed, it says activation for hours and never activates. I connected it to wifi, then didn't the cellular data everything. it just refuses to work and i have no clue how to fix it.

Kept getting check network connection message and/or waiting for activation. I tried resetting network connections and all the other tips and tricks I had read. Nothing worked and after many MANY hours with this issue..... I downloaded the updated version of itunes (through Internet Explorer - Google Chrome won't work). The updated version pulled in my entire library no problem. Then I plugged in my phone and let itunes find it. I made sure everything was backed up in icloud and did a phone restore. I now am receiving text messages again and facetime is up and running.

I have tried all of these, and when I reset my network settings, it works for a little, but then a day or so later my messages will stop sending and I have to reset my network settings again. I'm getting sick of having to reenter all my wifi passwords, so is there a more permanent solution anyone knows of?

Thank you for offering help! This is frustrating everyone I know! Like you suggested: I did turn off imessage. Waited and did a hard reboot.
That didn't work for me for iMessages. I was having
the same issue as a lot of others. Had to tap message
and send as a text.
When your fix didn't work (I haven't reset my Network settings)
I investigated some more and I unchecked my email so only my phone # is used for texts and after I unchecked it my imessages are finally going through.
So my suggestion, try having only your phone # checked under iMessage-Send and Receive, to send texts.
I'm still having to text pictures with only the text feature. iMessage does not work for pictures on my iPhone 5.
I wish I wouldn't have done this update...
Don't they test, retest, test again and again on a lot of
iPhones before offering an update?
I know they have a lot of iPhones at their disposal! PS
It sure is hard to comment here on a iPhone. The typing window isn't tall enough...

I've tried everything & it still won't work..I'm really upset & don't know what to do.. It's very frustrating! ARGHHHHHHHHHHHHHHH

How to fix iOS7 iMessage and FaceTime (phone number) activation issue
https://discussions.apple.com/thread/5416934

Great advice... It worked like a charm! I'm back up and running!

i updated my iphone today and imsg and face time stopped working ,i ve tried all the suggestions above but it still doesnt work and i really need my i message and face time back!!!:(((

I tried turning iMessages off and back on but that didn't fix my problem so I did the hard reboot and that worked! I can now send iMessages to other iPhones! Thanks!

Thanks, the hard reset worked a treat!

Thanks. Re boot did it for me after spending the whole day trying various other options. I'm now back in the land of imessage again.

I did steps 1 and 2 and it worked fine, thanks!

When I updated my phone I connected it through iTunes, and my iMessage only works for certain people. For some it will work sometimes and when it's not I tap and hold the message and send it as a text rather than an iMessage. This process gets very annoying and sometimes I forget. For other people iMessage just doesn't work, I don't even have the option to send it as an iMessage, it automatically goes to text message, and it's not on their end because it works fine for everyone else they send an iMessage to. I have tried everything on here and nothing works. Being on wifi or cellular makes no difference. What else can I do?

Help?! I still cannot use Facetime.
I have an iphone 4, recently updated to 7.0.2, and am experiencing the "waiting for activation" issue when attempting to use Facetime:
I have already reset Facetime and iMessage, I have performed a hard reset, and I have restored my iphone via iTunes.
I still receive the "waiting for activation" error, and therefore cannot use Facetime.

I've tried all three steps and both are still not working!:( I've restarted my phone, my wi-fi, and everything else I can think of. I'm not sure what to do at this point. I've never had a problem with Facetime or iMessage until now.

Cycling the iMessage off and back on did not work. The hard reboot worked instantly. Thanks!

Mine works for a bit then stops
I did wat was suggested but then after a while it's stops sending as iMessage again. Why is it doing this? I've reset my network multiple times

Hello I tried this on iMessage it worked fine but i cant
Even find my FaceTime to try it ,, what should i do ?

Trying to fix a family members iPad - I did what you suggested (I had to do this with my own iPhone and iPad) and it still doesn't work properly - the main problem with FaceTime and iMessage is that now it doesn't show her iPhone number as an option - it only lets her on her iPad FaceTime or iMessage with her apple ID - how do I get it to show me her phone number that is associated with her apple ID?

I turned off imessage and facetime for a while since it wasn't working and left it off for a few hours and when i came back to my phone and turned it all on everything worked again. the only draw back is everything is SLOW.

Settings > Privacy > Location Services > System Services > Setting Time Zone > On Settings > General > Date & Time > Set Automatically > On Settings > Messages > iMessage > On Each string of settings depend on the setting above it to successfully take effect. ie, if you turn off location services it kills your timezone. Also if you play games that require time to recharge your HEALTH or ENERGY and you move your time or date ahead to get recharged instantly be sure to switch it back.

Apple fired Scott Forestall because he was responsible for apple maps problems in IOS6 and it was just one application. What are we going to do with this IOS7 disaster ?. I say fire all the idiots that were responsible for allowing this half baked release to happen. Ever since Jobs passed the baton, Apple has been on a slippery slide. They took a perfectly good product and jacked it up ... and irreversibly too. Given the fact that you don't give people an option to fall back to older versions, you need to be extra careful not to release half baked buggy crap.

The "hard reboot" (option 2) worked for me. I was not able to even move the toggle switch to turn my imessages back on and when I tried to turn my facetime back on, it wouldn't recognize my apple ID. Once I did the hard reboot, everything fixed itself! *NOTE* I have had the IOS 7 (not 7.0.2) since it's release and NEVER had this issue until tonight. Tonight, I was looking at youtube videos on how people can bypass a locked screen that has a password (seeing as I have heard about it . . . I wanted to see for myself). Once I performed the tasks and saw how it could be done as well as how I could still keep someone from seeing EVERYTHING if this did happen to me . . . 3hrs later I went to check a text that should have come through and noticed that my text msg were not updated (they were from 2weeks ago . . . nothing current). I was (at that point) able to toggle the imessage off and on . . . somehow a few hours later, it turned itself off again and now here I am. Hope this helps anyone who was having the same issues (not being able to toggle) and I would stay away from preforming the stupid glitch tasks.

For my iMessage, it'll send to other people and some it won't...what does that mean? I reset my iPad and disconnected and reconnected the network and turned on and off iMessage.

G'day I love in Australia and I'm trying to iMessage a mate who lives in Canada but it only sends as text messages both ways ,can you please help so we can iMessage :)

I did all these steps and my iMessage and FaceTime still won't work. (I got this iPod a month ago and updated it to the iOS 7)

I don't receive texts from other iPhone unless I'm in wifi or have my data on, But it was working before.

I did all the resets and unfortunately it did not fix my FaceTime issue. It only lets me see video, not send. Audio is fine in both directions. Ideas greatly appreciated.

Hi..
What if icloud storage is full and no backup done' can this affect imessage
please your help

Nothing has worked for me. I can not send messages to anyone that does not have an I Product. When I try, it says message send failure every single time.

Still having trouble with IOS 7.0.4 on my 4S. SMS works with most contacts, but must retry as text with every msg to my wife; network reset and restore from backup did not resolve. Posting photos to anything (FB, SMS, email) is very laggy, screen auto-rotate is sticky, and everything is rather slow. Feels a lot like when Apple bricked my 3G with the initial release of IOS 4, but it's already been longer and no news...

I have the same problem to connect facetime with my phone number not my email ! It changed after updating ios 7 !!!! It dose not changes to my phone number as id ! How can i change it ?! It says activation unsuccessful !!!!

Worked perfectly! Thanks so much. Had to reset network settings!

We are in the process of switching services and 3 phones. Phone 1 was a basic phone swapped for iphone, nothing fancy, easy peasy. Phone 2 was iphone 4 to iphone 5c the only problem so far is that it cannot receive texts/calls from phone 3. I assumed problem was because phone 3 hadn't been switch yet however, after the switch the problem still exists. I've tried the suggestions listed toward the beginning of this thread, which seem to apply to not being able to use imessage or facetime at all, mine is only one person/phone in particular (that I know of). Any thoughts? Thanks in advance
Diana

I should mention, phone3 receives my texts but responses do not go through from phone3 to phone2. Phone3 does not receive error.

Wow! Thanks for the brillant suggestions. It works and saved me lots of hours of frustration trying to turn the iPad on and off many times. It's in the Network setting. You need to manually reset NW Settings even is you try re-booting the iPad many times, the NW setting will NOT automatically reset.
Thanks & Best Regards
Jansen Ek

I am so frustrated please help!
My new Ipod 5th gen works great and everything but when I try to set up the imessage and FaceTime it sucks. I have an Apple ID and I put the password in but it says that i need to check the network and try again. I have had full bars when doing this so I am so confused... I tried all of these steps it nothin works :( help me!!!

Nothing works... And how do you turn off iMessage? All I can do is sign in

Hello :)
My name is Chloe Vitums, and I've been having troubles turning on iMessage on my iPhone 4. Every time I tried to activate it, it wouldn't allow me to log into my apple id and instead would say "Waiting for activation..." . So I took some advice on another comment and turned off my cellular and it let me log in, but now it still says waiting for activation but doesnt seem to be working at all its gone on for about 40 minutes and its still not activating. please help.

So I just had this problem, but it had NO restrictions turned on. FaceTime said this iPhone is restricted from using FaceTime, and iMessage did not have the ability to turn it on... Just greyed out. I went into restrictions and changed it from no restrictions, to saying I wasn't allowed to use FaceTime. The FaceTime icon disappeared. I may have restarted at that point, I forget. Then I turned restrictions back off again, returning to original setting, and both iMessage and FaceTime now work properly.

Hello I need help!! My wife and I have iphones. Every time I send an imessage to her it also appears on my phone...also we are able to see each others imessage conversations. im not sure if this is a setting in the imessage can some one please help... lol

Could this be causing sync issues in iMessage? I'm seeing issues with messages not populating in other devices.

When i want to activate or enter my imessage or facetime it said erro check youre network and plus i have wi-fi, i have ios8, i try to reset my network connection and it doenst work .More information, when i go to seetiings for imessage or facetime is takes to the login page after i login it said erro connection why?? help me please

Hi,FaceTime application iS missing from my iPhone 5c.it will appear when I am using my Kuwait sim but it will disappear when I will change to indian (idea network) SIM card. iMessage is working. May I know the reason and solution????

Does iMessage only work in WiFi?

This is not helpful at all because it does not solve my problem!!!!!! My problem is: that when I press send it says that Imessage needs to be turned on, but it already is on! And then it asks me to sign in with my apple ID which doesn't work either so I need your help! You gave me advice and it did not help! I justed wanted to let you know that next time you help le solve my problem too!!!!!!!!

my imessage and facetime wont even open on my 4s and every time I try to use either of hem it just freezes my phone or it wont let me click anything. and when I try to open my messages it just closes me out of the app. please help !!!!!!!!!!!!!!!!!!!

Why don't my iMessage and FaceTime work

I've tried everything I cannot send any photos or messages because it tells me iMessage I have to enable it I've tried everything I don't know what to do anymore

I am not able to use IMessage nor FaceTime. Every time I try to log in it just keep saying i have the wrong password. This has happened in the past and i had fixed it by completely rebooting the ITouch. Now, i cannot reboot it because it asks for the apple ID password (which I just changed). I think its a problem about the connection. Help please
Thank you for signing up to iMore. You will receive a verification email shortly.
There was a problem. Please refresh the page and try again.