How to tell if your Mac will work with OS X El Capitan's Metal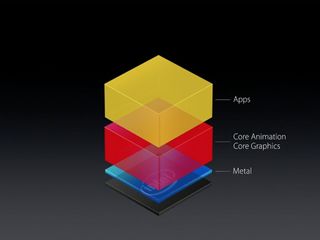 OS X El Capitan ships this fall but is already in beta. With it comes Apple's Metal framework which will help the Mac display graphics faster by reducing processing bottlenecks. The question is, which Macs will support it?
Metal was first introduced on iOS 8 in 2014, and at WWDC 2015 Apple announced Metal for OS X. Metal makes the Mac's main processor and its graphics system work more efficiently together. This boosts high-performance apps like games, photo software, video editing. Graphics-heavy programs should benefit greatly once El Capitan is out.
Metal streamlines developers' access to the graphics processor in the Macintosh, reducing the amount of time the Mac's CPU spends doing work related to graphics, so it can do more. The net result is dramatically improved graphics performance: A Mac running Metal can draw objects on the screen up to ten times faster than without.
Unfortunately, not every Mac running El Cap will see a Metal boost. During a "What's new in Metal" session (opens in new tab) at WWDC, Apple announced that Metal support in OS X extends to Macs built since 2012.
If you're not sure how old your Mac is, go to the  menu and select About This Mac. The Overview tab should indicate the age and model of your Mac.
Mac models made since 2012 include:
MacBook 12-inch (Early 2015)
MacBook Air 11-inch (Mid 2012 and later)
MacBook Air 13-inch (Mid 2012 and later)
MacBook Pro 13-inch (Mid 2012)
MacBook Pro 13-inch Retina (Late 2012 and later)
MacBook Pro 15-inch (Mid 2012)
MacBook Pro 15-inch Retina (Mid 2012 and later)
Mac mini (late 2012 and later)
iMac 21.5-inch (Late 2012 and later)
iMac 27-inch (late 2012 and later)
iMac Retina 5K, 27-inch (late 2013 and later)
Mac Pro (Mid 2012)
Mac Pro (Late 2013)
That includes graphics hardware made by Intel, Nvidia and AMD. Intel's integrated graphics hardware is used extensively throughout the Mac product line, while discrete Nvidia and AMD graphics processors are used on some systems like some 15-inch MacBook Pros, higher-end iMacs and the Mac Pro.
It's worth noting that Apple has not posted system requirements for El Capitan on its web site yet, though right now the developer beta runs on all Macs that were compatible with OS X Yosemite when it came out last year — that includes Macs that were manufactured in 2008.
There'll be plenty of reasons to install El Capitan on older Macs even if you don't get the benefit of Metal support: Features like Split View, an improved Spotlight, improved Safari, Mail and Notes, easier to use Mission Control and much more.
Get the best of iMore in in your inbox, every day!
Does that include Macs built in 2012? Or only 2013 and later?

"...since 2012" includes Macs made in 2012.

Okay, that's an impressive support list. Sloths fight leopards. You can't open a bag of chips. Clearly humans are the weaker species.

Does El Cap include performance improvements that aren't Metal-based (as in, that my early 2011 MBP will be able to enjoy)? Sent from the iMore App

I'm guessing so, considering how old your machine can be and still be able to update to it.

This is gonna be so awesome :D

So, my early 2011 MacBook Pro will benefit nothing? Nothing improve while using fcx pro?! That's sad!

Is it just based off the model year? What if you had a an 08 Mac Pro but have a supported graphics card or a brand new just released card? I can't seem to find any info in regards to that. Anybody have any thoughts? Knowing Apple you probably have to have the combination of the two.

will it work on existing apps and games ? or just ones made with metal support.....

I was enjoying MacBook Pro until I tried to compile and run the MetalKitEssentials demo. My 2011 MacBook Pros does not support Metal applications - can't run them at all….they crash. That's a bit harsh considering that they can run El Capitan, which states Metal as a key feature. Yet another "someone needs to slap Tim Cook" moment.

keep stick with BootCamp still the best way to gaming

I think impossible to wait until MacBook Pro 2011 support Metal API (or Vulkan API if possible :S) :( I hope Steve Jobs still alive and banish these madness..
Thank you for signing up to iMore. You will receive a verification email shortly.
There was a problem. Please refresh the page and try again.