Here's what two-tone Apple Watch Sport Bands look like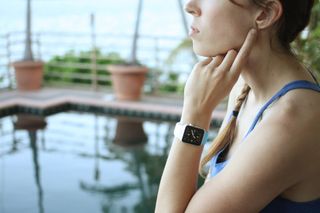 You know what they say about the best-laid plans. I expected to be on vacation in southern California visiting my parents over the last week of April, but Apple had other ideas: The company announced it would be shipping the Apple Watch starting April 24 — which just so happened to be the first day of my vacation.
So instead of relaxing that Friday, I spent the evening with my father anxiously awaiting the arrival of two elongated brown boxes; we'd both ordered Apple Watch Sport models, his blue and mine white.
Once the prized devices arrived and we began unboxing them, however, I had a brilliant, terrible thought: The Sport comes with three band pieces (connector, S/M band, and M/L band), and we'd only likely ever use two of them.
Which is largely how I ended up with a white and blue R2D2-colored Sport band.
Though there are websites that promote band-swapping, my idea was far more banal: find friend (or, in this case, relative) with extra half-band they don't want, and borrow a half-piece to build a two-tone Apple Watch Sport band.
That first day, I kindly borrowed my dad's S/M blue band and quickly built a two-tone marvel. The double-color elastomer band may not work for every outfit or situation, but it's been a fun additional way to spice up my band options without breaking the bank or adding a few white-board marker designs to my fluoroelastomer.
This week, I was lucky enough to borrow another band — the black model — to try out a white-and-black combo.
It looks pretty great, and definitely makes me consider picking up an extra black Sport band for casual mix-and-match. I also put blue and black together, because why not.
If you have a buddy that's willing to do (or you want to rely on the internet for) a two-tone swap, all you need is one of their spare sized bands to execute this look. You can also always order a spare Sport band (opens in new tab) if you have no chums nearby, though ship times are a nebulous 2-4 weeks at present.
Personally, I like my two-tone look for certain outfits and occasions, but I know not everyone feels as friendly to the design. Whether you love or hate band combinations, I'd love to hear about it in the comments. (Also, have a pink or green two-tone picture? Those are the two bands I've been unable to track down and I'd love to see combos.)
Serenity was formerly the Managing Editor at iMore, and now works for Apple. She's been talking, writing about, and tinkering with Apple products since she was old enough to double-click. In her spare time, she sketches, sings, and in her secret superhero life, plays roller derby. Follow her on Twitter @settern.
I like it,, and was planning that with the wife already. Sent from the iMore App

IF and WHEN I ever get my stuff, mine will look like the black and blue band. IF.

On the Sport that actually looks kinda cool

I was thinking the same thing. It works on the Sport watch, not sure about the other models.

I'm wondering what the black band with the silver Sport Watch looks like. Kind of a throwback to the original iPhone color scheme.

i had this idea a month ago [guess i can't link to my tweet in imore comments...]. i'm still waiting on a white band to mix with my black sport. you've stolen my thunder! :P

The white and blue works best of those, I think.

Would this work for the leather loop bands? You could do a Black and Tan.

Nice! Like both, but especially the white/black combo.

Wow, nice modelling there Serenity! ;¬)

I think the white-plus-colour works best. I'd like to see a White-Pink. The full-on Pink Sport Band is a bit overwhelming colour-wise. I wonder how long we will have to wait for some better colour selection in the Sport Bands?

I tried my wife's extra blue band with my black top band. Pretty nice, actually. In case anyone is curious, the 38MM sport band does fit on the 42MM case. Leaves a little gap on the sides, hardly noticeable.

Serenity thank you for the tip and I personally think for the person that wants to be different from the norm, This is indeed a cool way to get a different look - Hey you might have just started a trend! Better patent it before APPLE does...LOL :)

There's a few apps to help you find someone to swap with. Side Swap https://appsto.re/us/gVIT6.i for instance. But yeah, there aren't many people out there to trade with yet. Sent from the iMore App

I'm going to try my black and green. Thinking that may look pretty cool.

Beautiful idea I hadn't thought of! I'll be able to do the white/black combo.
Thank you for signing up to iMore. You will receive a verification email shortly.
There was a problem. Please refresh the page and try again.