How HomeKit can help you celebrate Valentine's Day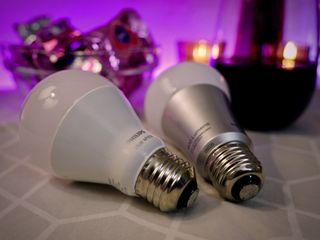 If you've begun to outfit your home with smart home accessories you can add an extra layer of magic to your Valentine's Day celebrations with home automation triggers and scenes.
As an example, let's look at some fun stuff you can do to woo your boo for Valentine's Day!
Turn down the lights
In this project we're going to use a smart lock to automate the dimming of smart lights in your home. In my home, I've four Philips Hue bulbs in four different lamps in my living room and they can all be triggered by an automation.
Launch the Home app.
Tap Automation in the bottom right corner (looks like an alarm clock).
Tap Create new Automation.
Tap An Accessory is Controlled.
Choose the Accessory that will serve as the automation trigger. I will be choosing the August Smart Lock installed on my front door.
Tap Next.
Tap Unlocks. This will trigger the automation when the front door unlocks.
Tap Next.
Choose a Scene or Accessories to trigger. I will be choosing my living room lights.
Tap Next.
Tap on the Accessories to adjust their settings to your satisfaction.
Tap Done.
If you have Philips Hue White and Color bulbs you can also add a color change to the bulbs when you adjust their settings. Consider setting the scene with a romantic red or pink color.
Hue Lighting Kit - See at Amazon
Get cozy
There's nothing quite like snuggling up with the one you love in a toasty home. You can combine a couple home automation controls by making a Scene in iOS's Home app.
In this project we're going to turn on the fireplace and turn up the heat with a scene we'll create called Get cozy.
Launch the Home app.
Tap the Add button (looks like a plus sign) in the top left corner of the app.
Tap Add Scene.
Name your Scene.
Optional: Change the Scene Icon by tapping the Icon and selecting a new one.
Tap Add Accessories. I will choose my fireplace and my ecobee thermostat.
Tap Done.
Tap on the Accessories to adjust their settings to your satisfaction.
Tap Done.
Now you can ask Siri to trigger this Scene by saying, "Hey Siri, get cozy!"; you can trigger this Scene by tapping on it within the Home app; or you can trigger this Scene by tying it to an Automation.
When I ask Siri to get cozy, my ecobee thermostat begins heating the house to 75º F and turns on the fireplace!
Get silly
Valentine's Day can be a super serious or it can be super fun — that's up to you. If you're looking to get a little silly on Valentine's Day with the help of home automation, you might consider doing this next project. Just make sure your partner's the type to get a kick out of something like this before you give it a go.
This project will require a fan, some confetti, a small table, a smart lock (I recommend the August Smart Lock), and a smart plug (I recommend the iDevices Switch).
You'll use the same steps we used in our Turn down the lights project to set up an Automation that's triggered by unlocking the door.
While your partner is away, set the small table in front of the door so that it's just outside of the door's swing range.
If you've a small desk fan, set it on the table near the edge. If you've a tower fan, set it behind the table.
Dump your confetti onto the table. The idea is to place it so the fan can blow the confetti toward the door (and your unsuspecting partner) as soon as it turns on.
Plug your smart plug into an outlet and plug your fan into the smart plug.
Set up an automation that turns on the plug as soon as the door is unlocked.
Make sure everything's positioned just right and wait patiently (and excitedly) for your partner to come home.
Laugh your arse off.
Bonus points if you tie in a multi-color lighting change with your smart lighting!
August Smart Lock - See at Amazon
iDevices Switch - See at Amazon
Love is in the air with HomeKit
Love (and confetti) are in the air when you use HomeKit and home automation accessories to add a little magic to your Valentine's Day. These projects are just scratching the surface of what you can do with home automation products and HomeKit. Speaking of which, what kind of fun projects have you created with your home automation accessories? Anything related to Valentine's Day?
Let me know in the comments below or over on Twitter!
Updated February 2018: This article was updated to reflect changes in the Home app for iOS. Happy Valentine's Day!
Master your iPhone in minutes
iMore offers spot-on advice and guidance from our team of experts, with decades of Apple device experience to lean on. Learn more with iMore!
Mikah Sargent is Senior Editor at Mobile Nations. When he's not bothering his chihuahuas, Mikah spends entirely too much time and money on HomeKit products. You can follow him on Twitter at @mikahsargent if you're so inclined.