Never lose your keys again with the Hone keychain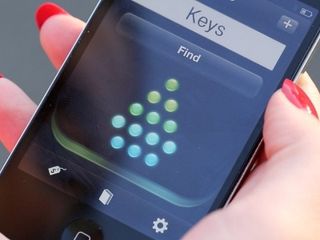 The Hone us keychain accessory for iPhone and iPad, now on Kickstarter, that aims to eliminate the problem of losing car, house or any other type of keys. Everyone has experienced the panic -- you're running late, searching for your keys, can't find them anywhere, time is ticking away... Well, instead of checking and re-checking the same places, over and over again, desperately hoping you somehow missed your keys the first ten times around, the Hone offers a better, more technological solution.
A small Bluetooth device for your keychain, the Hone connects to your iPhone 4S or new iPad via the latest Bluetooth 4.0 low energy protocols. When you lose your keys you just simply fire up the companion app and it will trigger an audible alarm and flashing lights. Even better, it has a built in proximity sensor so if you can't see you keys, walking around and getting nearer to them will change the way the Hone alerts you too.
The Hone runs for up to six months on one replaceable battery and has a range of up to 150 feet. The makers of Hone will also make the device hackable in the future by releasing the devices UDID and Bluetooth profile. This means that you could hack it and use it for a different solution if you wanted a low energy Bluetooth device for something else.
If you want to get on board with this project, you can be an early adopter with a pledge of $40. The Hone still has 22 days left to run but has already reached its fundng target of $46,000.
Source: Kickstarter
Get more iMore in your inbox!
Our news, reviews, opinions, and easy to follow guides can turn any iPhone owner into an Apple aficionado
UK editor at iMore, mobile technology lover and air conditioning design engineer.
Let's see.....lose your keys and you can use this. If you can't find your iphone use iCloud to locate your phone and then you can locate your keys. I guess you are covered.

Unless you lose your Mac too.

Given that you cant use your iphone 4 only the 4s makes this a waste. If you lose your keys and need to use your phone to find them is weak.

well 90% of the time i know where my phone is and not my keys so this is perfect, but i have an iphone 4 lol

Does this have to be paired with my iPhone 4S all the time? What if i turn off bluetooth, and turn it on only when needed?

Im buying one of these but for a different purpose! I will have it glued to my wife's purse and set it off everytime we walk out of a store with security bars :lol: :twisted:

Not a bad idea, attach it to whatever you lose most often, say your kid, your wife's purse, your wife, your car at the local pub.

Umm. Why is this dude even ON kickstarter??? His sister is Kat Dennings, star of the "2 Broke Girls" tv show. I'm darn sure she makes MORE than enough money to float her bro to fund the startup and development of this product.
Btw, Kat? You're amazing. :-)

Got dang it! I had this idea a long time ago. Damn me and my procrastinating ways. DAMN!

You snooze, you lose. Now learn from your mistake and start submitting your other ideas and get them patented and give me 10% for encouraging you to become wealthy :) :D

Your sister is so funny in this video. She totally acts like you forced her. I will be buying one soon.