HoverBar mounts your iPad next to your iMac, makes you feel like you're Iron Man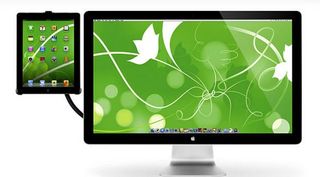 HoverBar is a new mount from Twelve South that turns your iMac or Apple Cinema Display into a futuristic iPad 2-powered workstation. If you're less into Iron Man-style productivity and more into simple utility, you can also mount HoverBar in the kitchen to help with cooking, in the bedroom for reading or video watching, or in the living room for couch-side information surfing.
HoverBar makes this all possible by positioning your iPad alongside your Mac in perfect harmony, allowing you to work in a uniquely different way. Just connect HoverBar to the back of your Mac and snap in your iPad 2, and you get the best of both worlds -- a keyboard and touchpad/mouse powered Mac to pound out productivity and a full on multitouch iPad for quick content creation and consumption.
Twelve South is known for high quality, innovative products and accessories, and HoverBar looks to be no exception. If you want to keep your iPad handy, but your hands free, check out the HoverBar.
$79.99 - Buy now

(opens in new tab)
Andrew Wray is a Salt Lake City, Utah based writer who focuses on news, how-tos, and jailbreak. Andrew also enjoys running, spending time with his daughter, and jamming out on his guitar. He works in a management position for Unisys Technical Services, a subsidiary of Unisys Corporation.
How is this better than the regular desktop dock? If anything, it looks like it would be harder to get it in and out.

$80 to monitor the frickin weather from my iPad. Wow, just wow...
I think I want one still though.

HAHAHA, way to stand by your opinion

i agree, its totally impractical...but its also REALLY COOL!

i use my iPad as a 2nd monitor for my 11" macbook pro, and it works nicely.
...but this looks kind of awkward. and for $80? you might as well skip this product and get a 2nd monitor instead.

Reminds me of Johnny Knoxville in MIB2: http://image.toutlecine.com/photos/m/e/n/men-in-black-2-2002-30-g.jpg

Its gonna take more than that to feel like a genius billionaire playboy philanthropist.

Nothing short of a flying armored suit that shoots concentrated beams of energy is going to make me feel like tony stark. Twelve South should make that, I would pay for that.
Get the best of iMore in in your inbox, every day!
Thank you for signing up to iMore. You will receive a verification email shortly.
There was a problem. Please refresh the page and try again.