How to change settings and get more info in Snapchat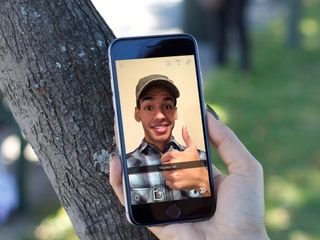 The Snapchat menu is where you can view your Snapcode, your username, and your score. You can see who recently sent you a friend request, send friend requests, and view your friends list. And you can also keep track of your Snapchat Trophy Case and adjust settings.
How to get your Snapcode
A Snapcode is a lot like a QR code. It's a unique image that represents your individual Snapchat account. If you're talking to a friend and they ask to add you on Snapchat:
Launch Snapchat
Tap the ghost
Have your friend scan your code with their Snapchat app.
In theory, it's faster than just searching for your username in the app.
Note: If you tap on your Snapcode, you can take an animated selfie to replace the ghost in the middle of your Snapcode.
How to see your Snapchat Score
Snap Score is simple: Snapchat does some math based on your use of the app and spits out a number. Think of it this way: The higher the score, the more active the Snapchatter.
How to view and accept Friend requests
Tap Added Me to see a list of people who recently added you as a friend.
Tap the Add button (looks like a plus sign) if you want to add them back.
How to add Friends
If you prefer things the old-fashioned way (i.e. Snapcodes aren't your thing):
Tap Add Friends to see a list of other ways to add friends.
Enter the Snapchat username if you have it.
Tap on a Contact to add existing contacts who already use Snapchat (if you granted Snapchat access to your contacts).
Tap Add by Snapcode if your friend sent you a screenshot of their Snapcode. (Snapchat will show you your camera roll with images it thinks might be a Snapcode at the top. Just tap the Snapcode screenshot to add your friend.)
Tap Add Nearby if you and your friend(s) have "Add Nearby" open. You'll be able to see their username and add them to your friends list. This is a particularly handy feature if you've got a big group of friends you'd like to add.
How to see your Friends list
Your Friends list is organized alphabetically, with a section at the top for your most-contacted friends.
Tap My Friends to view your friends list.
Tap on a Name to view a friend's information or send a snap or chat.
You can also use this menu to quickly change a contact's display name or remove or block them.
Removing a friend: Removing a friend means different things depending on your privacy settings. In general, if you remove a friend they won't be able to see your Snapchat Stories and you won't see theirs. If your privacy settings are such that you only get snaps from friends, then you also won't see any snaps they send.
Blocking a friend or user: A person doesn't have to be your friend for you to block them. A blocked user won't be able to find you in search results and — no matter your privacy settings — won't be able to see your Snapchat Stories.
You may have noticed how some of your friends have emoji(s) next to them. This is Snapchat's way of giving you a little more information about your friends. For example, an emoji with sunglasses means you and your friend have a friend in common. You can look at Snapchat's full list of friend emojis for more.
How to see your Trophy Case
Snapchat loves it when you use Snapchat. To encourage you to keep using the app, it recently introduced the Trophy Case. To smile proudly at your trophies, just tap the trophy icon at the top of the menu.
It's a lot like those achievement badges in video games and in Apple's Activity app. As you use Snapchat, trying out different features and racking up loads of snaps, you'll unlock more trophies. I clearly need to work on my Snapchat game.
How to change your settings
You can access the settings menu by tapping the gear icon in the upper right corner of the menu screen. There are quite a few settings you can adjust, so we'll focus on the less-than-obvious settings.
My account: You can change your name, Snapchat username, phone number, email, and password. You can also set up two-factor authentication, toggle notification sounds and set up Snapcash. Snapcash lets you send money through Snapchat.
Additional services: Use this section to toggle filters (no more moody, black and white photos), enable travel mode (it cuts back on using your mobile data), edit friend emojis, and adjust Snapchat's permission to access different services (location, microphone, photos, etc.).
Who can…: These are your privacy settings. Tapping either of these settings lets you choose who can send you snaps and who can view your Snapchat Stories.
More information: All the corporate speak you could ever desire. Well, aside from the Support section — Support gives you loads of info on how to use Snapchat. (Hint: You don't really need to read that section. That's why you read this, remember?)
Account actions: Use this section to erase conversations (in the Feed screen), manage users you've blocked, and log out of the app.
Master your iPhone in minutes
iMore offers spot-on advice and guidance from our team of experts, with decades of Apple device experience to lean on. Learn more with iMore!
Mikah Sargent is Senior Editor at Mobile Nations. When he's not bothering his chihuahuas, Mikah spends entirely too much time and money on HomeKit products. You can follow him on Twitter at @mikahsargent if you're so inclined.