How to accessorize your Jet Black iPhone 7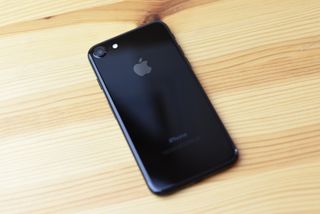 (Image credit: iMore)
Updated February, 2017 to add the Spigen iPhone 7 Case Ultra Hybrid as a clear case alternative.
Your shiny new Jet Black iPhone 7 is a hypnotic, glossy, beautiful object. So, of course, you need to accessorize accordingly (or what's the point, tbh?) The Jet Black finish is Apple's latest look for the iPhone, so finding the appropriate gear to go along with the glistening contours of your new partner in crime is a must.
Here are a few different ways to accessorize your Jet Black iPhone 7 without sacrificing its superior style.
Vomercy wireless headphones
With a glossy finish to match your Jet Black iPhone 7 flawlessly, Vomercy's wireless, noise-cancelling headphones pack a punch as the perfect partner for your Jet Black iPhone!
Vomercy headphones connect to your iPhone 7 over Bluetooth, though an audio cable is also included if the headphone's battery starts running low (of course, you'll need an adapter (opens in new tab) for that).
The headphones come with super-cushiony padding that make long-wear listening über comfortable, while phone calls are made easy with a built-in microphone.
See at Amazon (opens in new tab)
Spigen Thin Fit Jet Black case
Your Jet Black iPhone 7 is definitely eye-catching with it's hyper-smooth, super buffed finish, but without a case to protect it, you risk more than just "micro-abrasions". That's why the Spigen Thin Fit Jet Black case is a great option that'll keep your Jet Black iPhone 7 safe, yet still beautiful, shiny, and lookin' natural.
If Jet Black isn't your thing, you can also get the Thin Fit in four other colors, one to match each of the other iPhones 7!
Apple Lightning Dock – Black
Charging your iPhone 7 is important. Charging it with a matching lightning dock is super-duper important.
Apple's Lightning Dock is a small yet powerful tool to keep your black Apple accessory vibes going. After plugging in your iPhone 7, your device stands upright and charges effortlessly. It's even got a built-in 3.5 mm headphone jack so you can charge and listen to music at the same time!
These lightning docks come in five different colors, including silver, gold, rose gold, black, and space gray, so there isn't a super specific shiny Jet Black dock yet in this model.
See at Apple (opens in new tab)
Anker Candy bar portable charger
Anker's portable charger may be around the size of a chocolate bar, but this little powerhouse of a battery-pack packs a punch while matching your Jet Black iPhone 7's design flawlessly (cue Beyoncé).
Simply connect your iPhone 7 to Anker's Candy bar portable charger, and your iPhone will start powering back up. The power-pack can charge up to two devices and can charge your iPhone up to four times faster than a computer's USB port.
Though it is little, it is fierce: the Anker Candy bar charger is perfect for carrying around and day-to-day at just 4.2 ounces!
See at Amazon (opens in new tab)
AmazonBasics certified lighting cable
Plug in your Jet Black iPhone 7 with a jet black cable from AmazonBasics and charge your brand new, super-glossy iPhone in accessory heaven!
This Apple MFi certified cable is another perfect partner in keeping the theme of the hypnotic Jet Black finish alive and shiny. With an extra layer of protection, you won't have to worry about massacring or destroying your AmazonBasic's lightning cable: they've been tested to bend 95 degrees nearly 4,000 times, so if you're rough with your tech, this lightning cable might be a good option to consider!
The cable design works to charge with nearly all cases, and you can pick your cable length from three feet, six feet, ten feet, or four inches.
See at Amazon (opens in new tab)
Spigen iPhone 7 Case Ultra Hybrid
If you're looking for an iPhone case that combines durability with simplicity (and the ability to show off your super sleek, Jet Black iPhone 7), then consider taking a look at the Spigen iPhone 8 Case Ultra Hybrid!
Here's what Brent Zaniewski said in his iMore review:
Designed with a hard, transparent, and relatively scratch-proof case with a durable TPU bumper and raised bezel that protects your screen from falls and scrapes, this incredibly thin iPhone 7 case allows the beauty of your new device to shine through while still protecting it from the elements.
The case allows full access for buttons and ports, and has been repeatedly drop-tested at a height of 3+ feet over 26 times. You can pick up your Spigen iPhone 7 Case Ultra Hybrid in a clear with black bumper combo, a completely clear design, a clear and mint bumper combination, or a clear rose gold design.
See at Amazon (opens in new tab)
How do you accessorize your new iPhone 7?
Is there an iPhone 7 accessory that you can't possibly live without that we might have missed on our list?
Let us know in the comments below and we'll be sure to check it out!
Cella writes for iMore on social and photography. She's a true crime enthusiast, bestselling horror author, lipstick collector, buzzkill, and Sicilian. Follow her on Twitter and Instagram: @hellorousseau
Can you recommend a list of transparent cases for the jet black iPhone? Sent from the iMore App

I went with: http://www.spigen.com/collections/iphone-7/products/iphone-7-case-new-hy... I still haven't received the case yet (and I actually have the Matte Black), but I thought this looked the best on paper.

Oh! the case dilemma. Its too beautiful for a case at the same time its too beautiful not to put a case.

Your images on this article look very blown up and distorted on the iMore app. Just a heads up. Sent from the iMore App

I think it's a problem on any articles that use this image format, the iMore app has its fair few issues

Apple Smart Battery Case in black unless your wanting to go for the Stormtrooper look then white. Loved it on my 6S and loving it more on my 7 since it actually comes in black now. I've read that people had some tearing issues on the previous model but I personally never had a problem myself and I can be pretty rough on cases. Other than a slight shiny spot from sticking it in my pocket which happens to my silicon Apple Cases as well, there was no sign of wear at all. Sent from the iMore App

Man that Spigen case looks lit
Thank you for signing up to iMore. You will receive a verification email shortly.
There was a problem. Please refresh the page and try again.