Review: Spigen Ultra Hybrid Case for iPhone 6/6s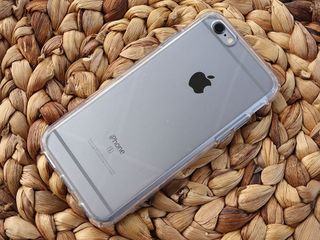 The Ultra Hybrid Case case features a thin polycarbonate shell on the back that's surrounded by a clear TPU bumper — easy to install and remove when necessary. The bumper has cutouts for the charging port, microphone, speaker, auxiliary port, camera, and mute switch. The side buttons, however, are slightly raised for an easy press while the case surrounds your iPhone 6 or iPhone 6s.
The Spigen Ultra Hybrid is incredibly slim, making sure not to bulk up your iPhone. It doesn't add an incredible amount of grip to the device, but the TPU bumper does help. The major drawback would be how easy that clear polycarbonate accumulates fingerprints. It's not solely an issue with this cover, since fingerprints are always noticeable on clear cases. Other things to expect are scratches and scuffs to start appearing after the first week or so of use. Granted, unless it's a deep scratch it won't be very noticeable.
In terms of drop protection, the Spigen Ultra Hybrid will do a decent job at mitigating damage to your iPhone. Obviously this case is pretty slim and there aren't any separate layers to do a lot of shock absorption. Still, the few times my iPhone has managed to take a tumble it's stayed inside the case and no damage was done to phone. You can also lay the iPhone face-down on any flat surface without worry of the screen scraping thanks to the raised bumper on the front.
For casual protection against minor drops the Ultra Hybrid Case is a good choice for showing off the original design of your iPhone 6 or iPhone 6s. If you're someone who tends to be a bit rougher with their device you may want to opt for something with more bulk. This case is available in clear (as shown), or with a black, mint, rose, or space bumper.
From $10.99 at Amazon (opens in new tab)
Your friendly neighborhood accessories guru
I don't like Spigen as a brand. I bought one of their cases last year, they didn't cut a large enough hole for the camera and you'd get hazy pictures when using the flash. I had to modify it myself with a knife before the pictures started turning out good.

Will never buy another Spigen product here either. I bought one of their cases for my iPhone 5 a couple of years ago and it arrived without a power/sleep button in the top - just a hole in the case that made the actual button on the phone practically impossible to use. I explained this to them more than once and what did they send me? Not a replacement, but stickers for the home button! As for the case featured in this article, I bought one off Amazon that was identical for the princely sum of £2.99 ...

I tried one of these but wound up returning it. Fingerprints quickly accumulate into a layer of slimy skin oil that requires constant cleaning. The Incipio NGP has served (and saved) me well for my 6 Plus, and now my 6S Plus. I ordered a new one to try that Belkin just launched yesterday that looks similar to the Incipio, it's not on Amazon yet: https://www.imore.com/e?link=https2F2Fc...

Awesome case to show off your iPhone. I've had it since release day and I love it. As far as yellowing goes, it's only been about 5 weeks and there's already a slight yellowing to the bumper part all around. The backing however stays as clear as day. Sent from the iMore App

This is the case I have on my Iphone 6 Plus. I love it. I like the look, the grip, that it's thin, and the added lip on top does protect the screen. It's my everyday case. I also have a Anker Ultra Protective Case With Built-in Clear Screen Protector for iPhone 6 Plus that I'll put on if I go hiking an area where I have to climb, or when it rains and I'm outside.

I have this case on my 6S Plus. All the cutouts are perfect on mine and I like that it's clear hard plastic on the back to show off my phone. I also like the tpu on the side to give me better grip. And the price was reasonable. Sent from the iMore App

I have the space crystal one on my space gray 6s Plus. I like it a lot. Matches and shows off the phone well, doesn't add much bulk, all cut outs are good, has a raised bumper on the front so you can put your phone face down and not have to worry. Seems like it would provide decent protection if my phone was dropped. On the back the corners are raised so when you put it on a flat surface on its back, the back of the case won't touch which will help lessen scratches. Have gotten a few minor ones but it was cheap and I don't mind replacing it with a new one once this one is worn out.

Make sure you buy it from authorize sellers since there are alot of these that dont have a authentication number or hologram. I actually have this case and a ballistic glass screen works too.

Best clear case for the iPhone 6s Plus. Tried about 5 including specks new clear case and case mates clear case but this one is hands down the very best. LOVE it.

Had this case for the 5s. Dropped phone on concrete floor at bed bath and beyond. Not a scratch. Now using this case for my 6s.
Get the best of iMore in in your inbox, every day!
Thank you for signing up to iMore. You will receive a verification email shortly.
There was a problem. Please refresh the page and try again.