How to accessorize your rose gold iPhone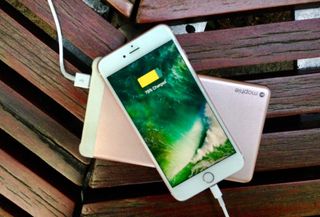 (Image credit: iMore)
The rose gold iPhone has a super unique, modern, and stylish look, regardless of the model you carry around.
Naturally, finding some accessories to match your iPhone is a must, so here are a few perfect pieces of tech to pair with your rose gold iPhone!
Satechi aluminum wireless headphones & stand
Simple and eye-catching (and perfect for any rose gold addict), the Satechi aluminum headphone stand and wireless headphones are a match made in heaven – not just for one another, but also for your rose gold iPhone.
The headphone stand comes with a rubberized grip at the top and the bottom to keep the headphones from falling onto your desk, and the headphones can be used to answer calls and easily adjust your sound-quality and volume. With the headphones' rechargeable battery, you have nearly 16 hours of music and 18 hours of talk time.
The aluminum design on both the headphones and the stand match perfectly, and with the headphones' white accents, they could potentially pass for a high-quality Apple product.
Elago Outfit Matrix rose gold case
What's a rose gold iPhone without the perfect rose gold case? A rose gold iPhone with a big ol' crack in the screen! If you're looking for a must-have rose gold iPhone accessory, then it's a matching rose gold case.
(Side note: I feel like there needs to be a tally for every time I say rose gold over and over again throughout this article. I'm starting to feel a bit like Janis Ian talking about cracking Gretchen Wieners, but I digress.)
The Elago Outfit Matrix rose gold case is relatively protective, minimalist, and pairs perfectly with your iPhone. A raised bezel means that your screen won't get scratched if you lay it on a flat surface, while a solid aluminum and tough polycarbonate design keeps your iPhone protected from drops and bumps.
While some protective cases will add a ton of bulk to your iPhone, the Elago is a great option because it adds less than 3mm to the size of your device, keeping it sleek and clean-looking. On top of all that, the minimalist-looking, rose gold Elago case allows full access to all buttons and ports, meaning you won't have to constantly slide it on and off to charge it or adjust the volume.
Aimus rose gold lightning cable
Charge your rose gold iPhone in style with its pink-tinted soulmate; this durable (yet still super polished and modern) lightning cable from Aimus.
With a full 4-foot length and extra protection added to the lightning portion of the cable to prevent any breakage, coupled with the tough, braided nylon material that envelops the cable's wires, the Aimus rose gold lightning cable is a reliable tool for charging your iPhone at home or on the go.
The cable matches perfectly with rose gold iPhone accessories, making it another lovely and stylish piece to pair with your iPhone. If you wanted, you could even pair it with LAX Gadget's SmartPower 4-Port USB wall charger in rose gold for that extra pop of matching color.
Mophie Powerstation external battery
Getting double the battery-power for your iPhone from an external battery? Amazing. Getting quadruple the battery-power for your iPhone from an external battery? Pretty nuts. Getting 8 times the battery-power for your iPhone from an external battery and it's in a beautiful shade of rose gold?
Insane, but very possible with the Powerstation external battery from Mophie, in rose gold!
With the Powerstation's dual outlets, you can charge up to two phones or tablets at once. You may think that this makes the battery pack a bit bulky and cumbersome to tote around, but Mophie has designed the Powerstation to be incredibly slim and convenient to carry.
The color of the aluminum finish on the battery pack compliments the rose gold iPhone quite perfectly, and paired with the Aimus rose gold lightning cable, you can't go wrong with charging your rose gold arsenal.
Rose gold 4-in-1 Olloclip
While the Olloclip is a great tool for shooting professional-looking photos and videos with your iPhone, the 4-in-1 Olloclip lens in rose gold just gives a little extra style and elegance to a full day of iPhoneography creativity!
The 4-in-1 piece comes with four (duh) different lenses – a fisheye lens, a wide-angle lens, a 10x macro lens and a 15x macro lens. By unscrewing the larger upper lenses, you can shoot with the macro ones that are built into the Olloclip's framing underneath.
You can use the Olloclip on its own, but pairing it with the Ollocase gives it a little bit more of a secure feel. The clip comes with small rubberized bumpers, which keep it tightly fastened to your case, so when you're shooting with your newest rose gold accessory, you won't have to worry about it falling off and shattering on the ground.
ZAGG rose gold InvisibleShield
While we've mentioned how beautiful the rose gold iPhone is a number of times, the only complaint we have is that there's not enough rose gold. The white face is pretty, but we want our iPhone dripping in rose gold. Luckily, the ZAGG rose gold InvisibleShield has us covered (literally)!
The screen protector is not only a perfect partner for your rose gold iPhone, but it's also a super durable protector that provides edge-to-edge coverage due to its polycarbonate border. That means no chips or cracks should appear if you drop your iPhone, while still providing you a crystal clear view of your screen with no decline in touch sensitivity.
An easy-to-apply adhesive makes sticking your rose gold InvisibleShield to your iPhone effortless and headache-free, and ZAGG's limited lifetime warranty promises a replacement if the protector gets damaged or ruined.
How do you keep your eye on the (rose) gold?
Is there a rose gold accessory that you can't live without? The perfect partner for your rose gold iPhone? Let us know what your favorites are in the comments and we'll be sure to check them out!
Master your iPhone in minutes
iMore offers spot-on advice and guidance from our team of experts, with decades of Apple device experience to lean on. Learn more with iMore!
Cella writes for iMore on social and photography. She's a true crime enthusiast, bestselling horror author, lipstick collector, buzzkill, and Sicilian. Follow her on Twitter and Instagram: @hellorousseau