How to add a family member to a shared iCloud storage plan in iOS 11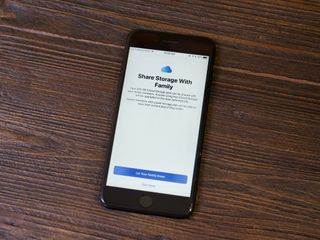 With iOS 11, you'll be able to share storage with members of your Family Sharing group. If your family members are using Apple's free 5GB plan, they'll be automatically moved to your storage if you're using a larger plan. If they're paying for a larger amount of storage, you'll need to invite them, which they will be able to decline.
Note: You can only share an iCloud Storage Plan of 200GB or higher. If your on the 50GB plan, you'll be directed to upgrade first.
Here's how you'll add a family member to your shared iCloud storage plan.
How to add a family member to a shared iCloud storage plan in iOS 11
Adding a family member to your shared iCloud Storage plan is fairly straightforward and quick. You can only share an iCloud Storage plan of 200GB or higher.
Open Settings on the device of the iCloud family organizer.
Tap the Apple ID banner.
Tap Family Sharing.
Tap iCloud Storage.
Tap Let Your Family Know.
Tap the Send button to send an invitation to your family members to share your iCloud Storage.
Tap Close.
How to accept an invitation to join a Family Sharing iCloud Storage plan
When you've been invited to share an iCloud Storage Plan with a family member, you'll be able to accept or decline the invitation.
Open Messages on the family member's iPhone or iPad.
Tap the iCloud invitation in the message that was sent.
Tap Accept to join the iCloud Storage Family Sharing plan.
Questions?
If you have any more questions about iCloud shared storage in iOS 11, don't hesitate to ask in the comments.
Joseph Keller is the former Editor in Chief of iMore. An Apple user for almost 20 years, he spends his time learning the ins and outs of iOS and macOS, always finding ways of getting the most out of his iPhone, iPad, Apple Watch, and Mac.
So, what happens then? Does the other persons data transfer to your storage plan? Does their storage plan get cancelled automatically?

Currently they stay on their existing tariff until they cancel it I think (it's a few weeks since I set it up for my wife. She was warned she hadn't more than 5GB of data but never lost anything, her data usage just came off the family pool.

Did your wife have to install the iOS 11 beta to take advantage of this? My family's still on iOS 10, or even earlier, for older devices.

No she was on 10.3.2 when I did this. I probably should have told her (apparently I didn't!) as the emails she got when her storage was ending confused her ;)

Joseph. My wife and I need a single shared iCloud Photo Library. Does this shared storage imply this will now be possible?

That's different. This shares the iCloud Storage quota. You'd need to use the same iCloud login to access the same iCloud Photo Library, or turn on iCloud Photo Sharing, which is not quite the same.

So I take it then that we can share photos and have just one library for a husband and wife. If wife has optimized photos on her phone (meaning the full sized are her cloud) then what gets uploaded to my library? Thinking I might have to put the full sized ones on her phone first so to make sure I get them ok.

For those asking about photo libraries I don't think it is a shared library. You both have your own still, but using a shared storage allowance.

So does data that's stored get combined so that both people can access it? Or is it still private?

What is the fun of writing this article, when you don't answer readers questions. Everyone has those questions.

Agree, I would also like to know the answers to all the questions. This sounds like a nice feature.

Do I need to upgrade to a paid iCloud storage plan in order to share iCloud storage drive?
Get the best of iMore in in your inbox, every day!
Thank you for signing up to iMore. You will receive a verification email shortly.
There was a problem. Please refresh the page and try again.