How to add the NFL schedule to your iPhone and iPad calendar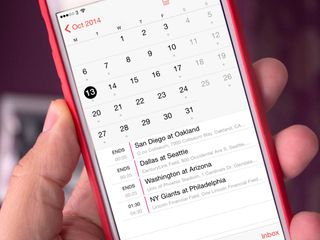 The NFL season is back in full swing and despite the myriad of applications available in the App Store to keep up with what's going on, one of the easiest ways to keep track of your teams schedule is to add it to your iPhone or iPad calendar. Fortunately it's a pretty easy process and here's everything you need to know.
The first thing you need to be familiar with is how to subscribe to calendars in iOS. It's a simple enough process that you'll find outlined in full at the link below.
Next up you'll need to know where exactly you can find the calendars you need to subscribe to. Our buddies over at Windows Phone Central have a handy link you can use to add the entire NFL schedule to your calendar.
But if you're not interested in the whole league and just want to add your own team, there's an easy way to do that. Head on over to your teams official website – example here for the Seattle Seahawks – and you'll find similar links to use with the instructions linked above.
That should have you covered if you just want to add the games to your iCloud calendar. But, if you're a Google Calendar user and that's what you're syncing to your iPhone and iPad, our pals at Android Central have you covered with a walkthrough on how to add the NFL schedule to that.
Any other tips or links you think are worth sharing? Drop them into the comments below!
Thanks for the post, Richard. I struggled with this for years, trying to find an easier way to do it. Recently found an app called UpTo (http://upto.com) that I now swear by and I have to share. The app does 2 things really well: 1. No more digging for subscription feeds!! This is the big one for me. They have a huge selection of calendars that you can pick from, inc all my pro and college sports teams (+ a bunch of other fun stuff like movie releases, tv shows, funny holidays, etc) 2. Follow with one tap - No matter how many times I'd go thru the subscribe process on my phone before, I would still run into issues from time to time. (Probably user error, admittedly!) UpTo just removes the potentially for error by offering quality subscription feeds and letting me add them to my calendar by tapping "Follow" They also have a super responsive team if you can't find a feed you're looking for. I couldn't find my college bball team, so I reached out and they not only replied but added it within a few days! Well, I suppose this has now entered the realm of a ramble so I will now cease typing. - Jack

Better yet, just searched "calendar" in iMore to see what all you guys have reviewed, and lo and behold, a review of UpTo! http://www.imore.com/upto-ios-review-calendar-youll-look-forward-checkin... ... good stuff, wish I'd seen that back in March!

Sunrise Calendar also has a subscription for every team. Sent from the iMore App

For some reason I'm having a hard time. I'm fairly new to this calendar stuff but I can't get it to work. Sent from the iMore App

Works like a charm on my Google calendar! Thanks Richard. Sent from the iMore App

You Should watch this
https://www.youtube.com/watch?v=ULw2_v6b5sM
Thank you for signing up to iMore. You will receive a verification email shortly.
There was a problem. Please refresh the page and try again.