How to add your existing lights and fans to your HomeKit-enabled home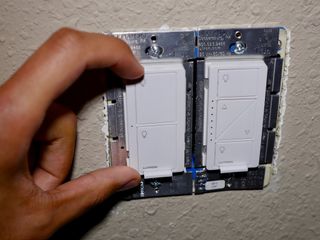 One of the biggest barriers to entry for the connected home life is cost: It's not cheap to replace your current crop of home hardware (lights, fans, locks, garage door openers, coffee makers, plugs, etc.) and replace them with comparatively expensive HomeKit-enabled hardware.
When I first started getting into connected home products, I bought a bunch of Philips Hue bulbs and outfitted my various lamps and overhead lights. Unfortunately, that meant having to tell my partner and my guests that they couldn't use the wall switch to control the lights — they had to use the Philips Hue remote I'd purchased or pull out their phone. That's an acceptable compromise for lamps, but I couldn't convince anyone that it was cooler to have to pull out a phone every time than just flip a switch on the wall (they were right).
It wasn't until I moved into a house with fan-light combo fixtures in each of the main living spaces that I finally snapped out of my Philips Hue fog and looked for another solution … mostly out of necessity. The fan-light combo fixtures in my home are only compatible with E12 candelabra bulbs, which meant I couldn't use my A19 Philips Hue bulbs.
I started looking elsewhere for a solution and came across several wireless in-wall switches. So the good news is you don't have to spring for all-new HomeKit-enabled bulbs and fans to upgrade your home with HomeKit — you can add smarts to your existing setup with the help of these HomeKit-enabled in-wall dimmer and light switches!
Lutron Caséta Wireless Kit
I've had Lutron's Caséta Wireless in-wall dimmers in my home for quite some time now and they're wonderful! You simply uninstall your current light switch and wire up the Caséta switch in its place. The installation is simple and the kit comes with instructions.
Note: If you're uncomfortable working with electrical components you might call in an electrician for installation. Electrical wiring can be incredibly dangerous.
Caséta Wireless products are compatible with HomeKit thanks to a bridge device (much like Philips Hue). You connect the bridge to your home network and it acts as the go-between for communicating your commands to the in-wall dimmers, switches, etc.
My Caséta setup started with a couple in-wall dimmers, but it's grown since then. I can thank TechCrunch's Matthew Panzarino for my latest Caséta upgrade. He asked my colleague Serenity Caldwell about HomeKit-enabled switches for fans and she brought me into the conversation.
@settern Sorry to bug you but do you know if there are any HomeKit compatible fan control switches?@settern Sorry to bug you but do you know if there are any HomeKit compatible fan control switches?— Matthew Panzarino (@panzer) February 14, 2017February 14, 2017
Coincidentally, I'd just been thinking about how to solve this exact problem in my own home. Some of my fan-light combo fixtures are wired separately (the fan and the light fixture have their own wall switches), so I wanted to be able to control them separately.
While it's not yet possible to control fan speed with HomeKit-enabled switches, it is possible to use a HomeKit-enabled switch to turn a fan on and off. Lutron's Caséta Wireless line includes a non-dimming in-wall switch. The photo shows my two-gang wall box with a non-dimming switch on the left for controlling my fan and a dimming switch on the right for controlling my light fixture.
If you spring for Lutron's Caséta Wireless line, I suggest starting with a kit. You'll need the Lutron Smart Bridge to make everything work and their kits come with one.
Elgato Eve Light Switch
My colleague Serenity threw a different wiring problem at me the other day: Serenity has an area in her home with five (5!) switches. She wanted to get them all wired up for HomeKit, but wasn't sure if it'd be possible. I was happy to be the bearer of good news!
Presumably there was already a 5-gang device box in her wall (the plastic or metal box in the wall that holds electrical outlets and wall switches), so she just needed to buy five HomeKit-enabled switches and a compatible wallplate. Most HomeKit-enabled switches are compatible with modern, rectangular wallplates, so I sent her a link to a Lutron wall plate that'd work perfectly for her setup.
The Elgato Eve Light Switch is one of the easiest light switches to wire up and one of the least expensive HomeKit-enabled switches on the market. It also doesn't require a bridge for operation, so it's doubly price conscious. It'd be a perfect choice for Serenity's five switches.
Notably, the Elgato Eve Light Switch isn't a dimmer, so if you want dimming capabilities you'll need to turn to Lutron's Caséta line. That said, I love this light switch's capacitive switch — you don't have to press down or switch a button to operate your light, you just tap the rectangle with your finger.
iDevices Wall Switch
I have to give iDevices a mention here because the company makes my absolute favorite HomeKit-enabled plug.
iDevices took one of my favorite features of its plug — the multicolor LED strip — and put it on the front of the iDevices Wall Switch. This is a brilliant feature for bathrooms and bedrooms. Need some light as you make your way to the bathroom at night? You can keep from waking up the whole house by switching on the LED strip from your phone before you ever get out of bed to brave the perilous hallways.
It — like the Elgato Eve Switch — doesn't have dimming capabilities and also doesn't require a bridge for control. The switch isn't capacitive but instead features the modern, relatively common rocker design. Notably, iDevices has a dimmer switch in the works — the company says it's coming soon!
Inspired?
Are you ready to rip out all those boring light switches and replace them with HomeKit-enabled varieties? Gonna stick with the connected-bulb technique? I want to hear your thoughts! Share them in the comments below or over on Twitter.
Master your iPhone in minutes
iMore offers spot-on advice and guidance from our team of experts, with decades of Apple device experience to lean on. Learn more with iMore!
Mikah Sargent is Senior Editor at Mobile Nations. When he's not bothering his chihuahuas, Mikah spends entirely too much time and money on HomeKit products. You can follow him on Twitter at @mikahsargent if you're so inclined.