How to automatically add Facebook photos to your Contacts with OS X Mavericks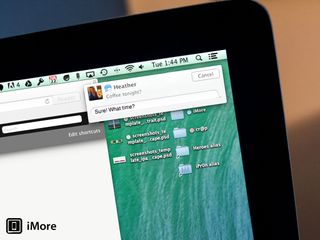 OS X Mavericks has lots more social support and allows you to add Internet Accounts in just a few short steps. After adding Facebook, you can even import photos automatically to your Contacts. Here's how:
Click on the Apple in the upper left hand corner of your Mac's screen.
Now click on System Preferences.
From the System Preferences pane, click on Internet Accounts.
Now click on Facebook in the left hand panel of accounts you have configured.
In the lower right hand corner of the window, click on Get Profile Photos....
Confirm that you'd like Facebook to pull your friend's profile photos by clicking on Update Contacts in the last popup.
That's all there is to it. OS X will update your actual Contacts with photos from Facebook by scanning any phone numbers or emails in your Facebook account. If you've done this, let us know how it worked for you.
iMore senior editor from 2011 to 2015.
Thank you for posting this! Definitely something I've been meaning to do. For some reason it drives me crazy when one my contacts doesn't have a photo. haha

Good Tip Allyson keep them coming!

When I did this before it changed my all my contacts info, added last names, and other stuff that was on FB. Did I do something different or is that they way it is? All that I want if for their picture to be attached to the contact info that I already have in my contacts app.

I think uncheck the Contacts part. Not sure, but I'm assuming that's what it is.

When I last did this my 10 year old nephew had some lady's picture as his picture - because he just got a new phone - the lady must have had the phone number Linked to her Facebook because it matches by phone number. I sent her a message on FB and she still hasn't removed her old phone number - and it resets my nephews pict to Facbook - even though he doesn't have an account.

You could edit the photo in the contact and change it to what you want it to be or make it blank.

Yeah, that's great and all, but somehow it doesn't get all of my contacts. I have 389 Facebook friends, but somehow I only have 29 Facebook contacts, why is that?

Because Apple is run by morons from Windows apparently. Just keep hitting the Update button and it will keep adding them each time. Ridiculous. For me the magic number was 61. It kept updating 61 contacts at a time. I'd get 64 sometimes, and 87, but got 61 about 7 times. Once it shows zero updated, you're good to go.

Is this then going to sync these pics to these contacts on my Gmail account as well? Because I don't want that...

I gotta give this a try. Sent from the iMore App

I hope it doesn't duplicate my contacts by adding in "Facebook contacts" Sent from the iMore App
Thank you for signing up to iMore. You will receive a verification email shortly.
There was a problem. Please refresh the page and try again.