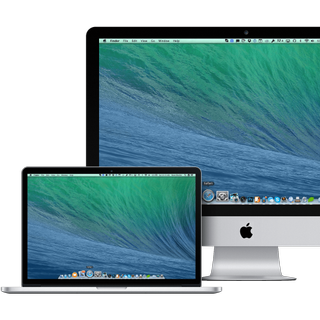 OS X Mavericks is the tenth major release of OS X. Apple announced the new operating system at WWDC 2013 and shipped it that October.
Mavericks loses the big cat moniker that had preceded each earlier version of OS X, along with a price tag. The software's a free upgrade for all eligible Macs, the first time Apple's done that with OS X since OS X 10.1 was released.
There were more freebies, too. Apple updated its iWork apps — Pages, Numbers, and Keynote — and offered free downloads for anyone with previous versions of software installed. What's more, Apple now includes the apps on new Macs.
Mavericks' improvements begin right in the Finder, where windowed tabs are finally supported and document tags have been added. Multiple display support was enhanced with menu bars and docks on each display.
New apps have been included: Maps and iBooks. Safari has been improved, Calendar and Contacts have lost skeuomorphic embellishments, and other essential interfaces like Mission Control and Notification Center have been improved.
Mavericks introduces support for iCloud Keychain, simultaneously released on iOS 7. When it works, the technology makes web site password management and credit card number seamless between Safari apps on OS X and iOS.
Much of Mavericks' improvements have been made under the hood, with a major emphasis on improving efficiency and cutting power usage. Timer coalescing, for example, finally comes to OS X: A technique for improving energy efficiency by reducing CPU usage during times when the Mac is idle.
App Nap puts apps to sleep when they're not currently visible. Compressed memory reduces the memory footprint of inactive apps to make more use of less RAM.
There's more, too — check out our review of Mavericks for more details.
Thank you for signing up to iMore. You will receive a verification email shortly.
There was a problem. Please refresh the page and try again.