How to block spam calls on your iPhone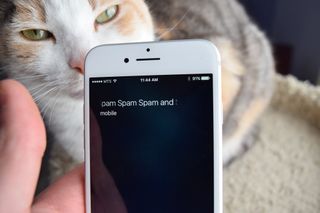 SPAAAAAAAM, WONDERFUL SPAAAAAAM! Kidding — it's not wonderful. You're just sitting down to catch up on Netflix and the phone rings and it's Sarah from some wildlife organization, wanting to know if you'll donate money to save the penguins. Are they endangered? No, but they're very cold. Shut up, Sarah.
While iOS 11 and later features automatic spam identification, it's not always perfect, and it doesn't block bad numbers automatically. Instead, you'll need one of these spam-blocking apps.
Note: These apps are only available for iOS 10 or later.
Third-party call blocking apps
Many third-party apps have been developed (thanks to iOS 10's openness to developers) that can alert you of a possible spam call by checking an incoming number against the app's database. You can install multiple spam blocking apps and have them work simultaneously, just in case there are any holes in any app's spam library.
Truecaller is free, though it requires some information from you before you can use it, so if that's weird to you, check out the next app. If you like free apps, however, this one works quite well, identifying spam calls so you can disregard them and not answer. You can then block those numbers so that they can't contact you again.
There is a bit of a creepy element to this one in that you can enter any number to look up the name and contact info, and you can see when your friends are free to talk, like whether or not their line is busy… Yeah. I don't know about that one. That being said, your phonebook is never made public or searchable.
According to Marco Arment of ATP podcast fame, Nomorobo is a great spam blocking app that doesn't ask for your information (no contacts or call logs — nothing), but does require a monthly subscription for $1.99.
The app is able to differentiate between necessary robocalls (school closings, states of emergency, etc.) and annoying robocalls, and you can choose to either block them outright or simply identify them and send them straight to voicemail (you know, if you're curious or whatever).
Hiya's another free spam blocking app that can identify spam numbers as they come in. It even has certain scam numbers flagged within its database, so you'll be notified if a con artist is calling you. You can make calls right from the app and customize your caller ID, and you can perform reverse phone lookups on incoming calls to find out if they're spam, a scam, or any other malicious content.
There's nothing inherently different about Mr. Number when it comes to spam blocking apps (in fact, it's made by Hiya), but it's another freebie that works really well and is quite highly rated in the App Store. You'll get real-time alerts that warn you of incoming spam calls and you can set it to auto-block them if you just don't wanna deal with them. You can also do the whole reverse phone lookup for any number that calls you.
How to enable spam blocking apps
Once you've downloaded a good spam blocking app, you'll have to actually enable it in your iPhone's settings. Here's how:
Launch Settings from your Home screen.
Tap Phone.
Tap Call Blocking & Identification.
Tap the switch next to the call blocking app you'd like to enable.
The app will now go to work whenever a call comes in, identifying spam and scams and hopefully making your phone life a little less annoying.
Some things to keep in mind
Many call blocking apps ask for access to your contacts and require your phone number to work. They, therefore, have your information, so if that doesn't sit right with you, then you're better off going with Nomorobo or another paid service that doesn't ask for access to your info. Not to be all Mr. Conspiracy Theorist, but Hiya uses Account Kit by Facebook, which is just a way to let someone sign in to your app with just a phone number or email address — no password. But come on — it's Facebook.
Just research the app you plan on using and make sure you're not inadvertently supporting the very thing you're trying to block.
Lotsa spam?
Do you receive a ton of spam calls? How do you deal with them? Do you answer or do you use a third-party blocking app? Let us know in the comments below!
Updated November 2018: Added references to spam identification in iOS 11 and later.
Get the best of iMore in in your inbox, every day!
Mick is a staff writer who's as frugal as they come, so he always does extensive research (much to the exhaustion of his wife) before making a purchase. If it's not worth the price, Mick ain't buying.
Downloaded both Hiya and Mr. Number but neither show up in the Phone App on the iPhone 7. Their is no where to enable any Application following the directions you state above... or that they have in the Apps themselves. I am running 10.3 Beta so that may have something to do with it.

The only way Hiya has shown in the phone app is in "recents". It says, "Hiya" under the number. When I get a call, I copy the number. Then go to the Hiya app and it asks if I want it checked.

I was wondering if the issue was with the beta, too. I've got the same setup (iP7, 10.3pb, no settings available in app or in Settings).

It's the beta that made you lose that function.

The beta did it I'm having the same trouble and I reported it via the Feedback app I suggest to do the same so it can be fixed in the next release

I've been using Hiya for a couple months. Works great. The problem I've had is with one concern calling numerous times, using a different number each time. It's been over 20 different numbers used. They apparently spoof the numbers. But it's been much better with Hiya.

I've been using Sync.ME. I like it. It also syncs your contacts, including photos. Just the free version, and i sync when i remember.

I'm using the AT&T app "Call Protect" and I've noticed that it's not doing a great job of blocking unwanted calls. This app says "Powered by HIYA" in its splash screen. However, I do not see that setting that this article mentions, like other commenters have stated. I'm using an iP7+ on iOS 10.2.1.

I've been using Call Protect as well and it does a decent job but now stellar. I am considering something else.

My default ringtone is 30 seconds of silence. Everyone in my Contact list has a custom ringtone. So, if you're not in my address book, I can't hear you (if it's important, you had better leave a message). Lots of peace and quiet. A.

Where do I get the 30 second silent ringtone. That's brilliant!!!

I've gotten quite a few spam calls over the last couple of months. Usually, I won't answer a call from a number I don't recognize, though I've done that more often lately because I'm job hunting. Back in December, I got a call I wasn't able to answer because I was in the shower at the time. No voicemail was left. I decided to search online for the number because I suspected it was spam. I called it back after reading a review on a website that reports about phone numbers saying that they did the same thing but nobody answered. Same here, although the call dropped. So, when I get spam calls, I just end up blocking the number.

How do you customize your caller ID when Hiya? Sent from the iMore App

I didn't look at the others yet, but Truecaller has in-app purchases that the article didn't mention. Do the writers download, install and use these apps before the recommend them? If not, then that's why this was missed. Even just looking them up in the App Store would have brought this info to light, as it's right there below the "GET" button. That doesn't mean we shouldn't get this app, but rather that some of the features mentioned aren't actually free. I've always strongly felt that writers should never list products that they haven't themselves tried out fairly thoroughly. This is one of those missteps.

I have all three installed mainly to try them and for identifying callers. Hiya is very useful because people can leave notes on the callers.
But if I had to pick one, it would be Nomorobo. They won rhe FCC contest for best solution and they are integrated into my Ooma home system where it works almost flawlessly.
Nomorobo catches all of them. Totally worth it. It turned that on a few weeks ago and haven't had one robocall since (and Inused to get a lot.)

LOL. "Free with subscription." Good one.

Using AT&T call Protect here. My understanding is it uses Hiya underneath but it also has AT&T custom tech that makes your number look like a dead line to the callers not just that they're being blocked. It doesn't always flag calls like maybe it falls off running in the background or something, but 95% of the time it seems to be able to let me know if a known number is spam. This was tested by not manually blocking numbers flagged as "telemarketer" (it will still ring but it tells you it's a telemarketer). Sometimes it will fail to flag it and and just show the number (which I've seen call before after looking at it) vs. labeling it as "Telemarketer" in the caller ID.

If you feel someone is spying on you or you have any problems in the following related fields: ransomeware, trojan, spyware, remote access, GPS location services, Online forensics and so on, you can trust rootgatehacks on tutanota mail to get it done for you, i have used their service and i guarantee you it's top notch
Thank you for signing up to iMore. You will receive a verification email shortly.
There was a problem. Please refresh the page and try again.