How to clean and disinfect your phone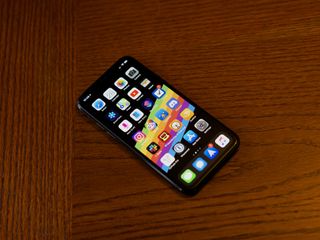 (Image credit: Joseph Keller/iMore)
If you're worried about the germs you may be carrying around with you on your iPhone or iPad or just want to give it a new shine, it's easy to put together a cleaning kit that won't cost you an arm and a leg. Most of the tools you need can be found right under your kitchen or bathroom sink. Before you throw your phone in the garbage for being too gross, see how easy it is to clean and disinfect it with these tips.
Products used in this guide
Disinfect: Swan 70% Isopropyl alcohol
Wiping it down: Clorox Disinfecting Wipes (Bleach-free)
Clean every crevice: Narrow-end Cotton Swabs
Pick out the dirt: Norpro Wood Toothpicks
Wiping up: AmazonBasics Microfiber Cloth
Blow the dust away: Dust-Off Disposable Compressed Gas Canister
Clean the screen: Whoosh! Screen Cleaner (3.4 oz)
How to clean your iPhone
Lay down a clean towel so that you have a clean working space.
Use the compressed air to blow particles out of your iPhone's Lightning port, speaker grills, and (if your iPhone has one) headphone jack.
Carefully use a toothpick to clean out any dirt, lint, or grime from the speaker grills, Lightning port, and seams between the display glass and frame of the phone.
Lightly spray a microfiber cloth with your cleaner (such as Whoosh!).
Wipe down your iPhone with the microfiber cloth.
Dip a cotton swab (Q-Tip) in rubbing alcohol.
Trace the cotton swab around the phone's edges, around the buttons, and any other crevices that need to be cleaned.
Wipe down the phone with a dry microfiber cloth when you're done.
Your iPhone should now be clean as a whistle. Probably cleaner, actually. That whistle's probably been in your mouth.
Cleaning kit essentials
These are the items that you're going to want in your iPhone cleaning kit.
For disinfection
Swan 70% Isopropyl alcohol
Wipe everything down with some rubbing alcohol

Rubbing alcohol should be a staple of any cleaning kit, and this 70% solution from Swan will do the trick when it comes to keeping your iPhone germ-free.
We can't stress enough how important it is to not use harsh disinfectants like bleach to clean your phone. All disinfectants have the potential to damage the oleophobic coating on your phone's screen, but 70% isopropyl alcohol is the least damaging of your disinfecting options. You won't ever use a lot of isopropyl alcohol each time you clean, but this two-pack of 32-ounce bottles will keep you stocked for a long time.
A disinfectant wipe
These bleach-free wipes are good to go.

Clorox's wipes don't use bleach, which means that they can be used to disinfect your iPhone.
Thanks to some updated guidelines from Apple, we now know that, in addition to isopropyl alcohol, Clorox's Disinfectant Wipes can be used to clean Apple products, including the iPhone. This is thanks to these wipes being bleach-free. While you should consider the other tools in this list first, if what you have is a set of Clorox wipes, they should be sufficient for everyday cleaning.
Clean every crevice
Clean every crevice of your iPhone with a set of cotton swabs

Cotton swabs are a great choice for cleaning the harder-to-reach areas of your iPhone, like around buttons and in speaker grills. It's also a bit of a gentler approach compared to using a toothpick.
Narrow-tipped cotton swabs make it easier to clean in areas like speaker grills, where the narrow grill holes might prevent standard swabs from getting all the way in.
Fine cleaning
Clean out the grit and grime from your phone

Speaking from considerable experience, a toothpick is a great tool for cleaning out hard-to-reach spots on your iPhone, especially the Lightning port. When there's a stubborn piece of dust or grit somewhere on your phone, a toothpick will get it out 99% of the time.
Having a collection of toothpicks is an essential part of any gadget cleaning kit. If you've ever been unable to charge your iPhone because a piece of lint was stuck deep in your Lightning port, you should know that a toothpick will be thin enough to get it out of there without doing a lot of damage to the port itself.
Wipe it down
AmazonBasics Microfiber cloth
Clean off your iPhone with these soft cloths

A microfiber cloth like one of these from AmazonBasics is an absolute must. It won't cause any abrasions to your device and wipe off everything from grime to fingerprints.
AmazonBasics has become a reliable brand for decent products at low prices. Getting a six-pack of microfiber cloths is a good idea, as you'll probably want at least two for each cleaning session (one for wiping down your phone with cleaner, one for wiping everything off when you're done)
Blow away
Dust-Off Disposable Compressed Gas Canister
Blow away dust and loose grit from your ports

Whatever gadget you're cleaning, it helps to have a can of compressed air around. Using it should be the first step in any cleaning project, just to make sure you get anything loose out of the way.
This two-pack of Dust-Off will keep your iPhone cleaning kit stocked through multiple cleaning sessions and keep unwanted dust and dirt out of your iPhone with just a couple of quick sprays.
Whoosh! away the cruft
A safe, non-toxic cleaner for your iPhone's screen

Whoosh! is a non-toxic cleaner that you can use on your iPhone's screen without worry. It's also safe to use on glasses, so there's that, too.
At only a few dollars more than the one-ounce bottle, this 3.4-ounce bottle of Whoosh! will last you through several iPhone cleanings. It will remove most dirt, grime, and other junk from your iPhone's chassis (but is not a disinfectant).
Master your iPhone in minutes
iMore offers spot-on advice and guidance from our team of experts, with decades of Apple device experience to lean on. Learn more with iMore!
Joseph Keller is the former Editor in Chief of iMore. An Apple user for almost 20 years, he spends his time learning the ins and outs of iOS and macOS, always finding ways of getting the most out of his iPhone, iPad, Apple Watch, and Mac.