How to create advanced actions in Launch Center Pro for iPhone and iPad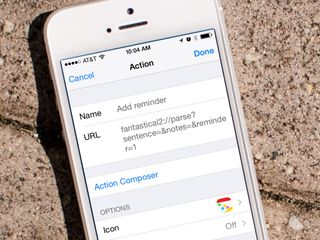 Launch Center Pro is all about productivity and getting to the things on your iPhone or iPad that you use the most. We've already looked at some basic actions such as how to launch apps but that's just the tip of the iceberg in terms of functionality. Launch Center Pro can even launch into specific tasks for some apps such as creating a new calendar event. Here's how to get started:
How to create an advanced action in Launch Center Pro
Before beginning, keep in mind that Launch Center Pro doesn't support every app in the App Store. It supports a good amount of productivity apps though such as Fantastical, Clear, Byword, and more.
For this example, I'm going to launch directly into creating a new reminder via Fantastical. You can choose a different one if you'd like though.
Open Launch Center Pro on your iPhone or iPad.
Tap on the Edit button in the upper right hand corner.
Either tap on an empty block or tap into an existing group and choose one.
In the popup menu, tap on Action.
Now tap on Action Composer.
Choose an appropriate section. Apple made and system apps are under System Actions while the other sections contain third party apps. To be on the safe side, tap on Installed Apps and choose the app you'd like to create an action with. You'll notice that apps that have more than one app action outside of simply launching it have a carat off to the right indicating there is more than one action available.
Choose the event type you'd like. In my example, I'm going to choose New Reminder.
Now I'm going to name the action. For this one, I'll just put Add Reminder in the Name field and then tap Done in the upper right. I could fill out additional fields if I'd like but for a general reminder, I don't need to.
Make any other changes or tweaks you'd like on the summary screen and then tap Done in the upper right hand corner.
Exit editing mode by tapping Done in the upper right one more time.
That's it. Your new action is ready to use. Advanced actions are where Launch Center Pro really shines. While you could always use Siri to launch apps, you can't always get Siri to behave when it comes to performing more specific tasks in a timely manner.
Give an advanced action a shot and then let us know how it went. Are there any apps missing in Launch Center Pro that you'd really like to see get some advanced action treatment? Let us know that too!
iMore senior editor from 2011 to 2015.
Thanks for these LCP tips! Any chance they could all be gathered together on one page when you're done? Or perhaps in a .pdf?

imore.com/launch-center-pro imore.com/tips :)

imore.com/tips is cleverly hidden under HOW-TO subhead :)

Still kind of lacking. I'd love a post about how you use this and why you use it instead of a folder, or why you have in on LCP instead of your home screen.

Have what? Shortcuts to complex actions?

http://www.imore.com/how-create-advanced-actions-launch-center-pro-iphon...
How to create advanced actions in Launch Center Pro for iPhone and iPad via @iMore Sent from the iMore App
Get the best of iMore in in your inbox, every day!
Thank you for signing up to iMore. You will receive a verification email shortly.
There was a problem. Please refresh the page and try again.