How to get to your favorite apps as fast as possible with Launch Center Pro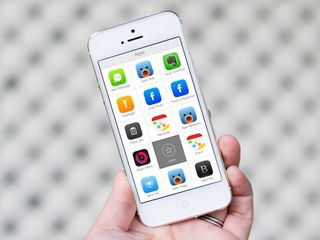 Launch Center Pro focuses on giving you access to the things you use most on your iPhone and iPad, as fast as possible. That includes launching your favorite apps. Here's how:
How to add an app to Launch Center Pro for iPhone and iPad
Open Launch Center Pro on your iPhone or iPad.
Tap on the Edit button in the upper right hand corner.
Here you can either tap on an empty square in the main screen to add an action, or open a group and create one within. In this example, I'm going to create an action inside the Apps group.
Now tap on Action Composer.
Choose an app category. Again this choice is yours and you can browse through each section to see which apps they contain.
Tap on the app name in order to start creating an action. In my example, I'll choose Fantastical.
For this example, I just want the app to launch so I'll select Launch Fantastical 2.
Give your action a name if you haven't already and then tap Done in the upper right hand corner.
Tap on Done on more time to confirm.
That's it, you're now ready to start using your new action.
How to launch an app with Launch Center Pro for iPhone and iPad
Open Launch Center Pro on your iPhone or iPad.
Tap on your action to launch the chosen app or tap and hold on a group to expand it.
Now slide your finger to the action inside the group and release it on the action.
That's it. The selected app will launch instantly.
Launching apps with Launch Center Pro is a great alternative to using folders that you have to continuously open and thumb through. Give it a try and tell us what you think as opposed to using folders!
Get the best of iMore in your inbox, every day!
iMore senior editor from 2011 to 2015.
Siri is faster Sent from the iMore App

I love LCP, but again: what do you do when the app you really like doesn't show in step #6 ("Tap on the app name in order to start creating an action. In my example, I'll choose Fantastical")?

Fantastical is definitely there. It's what I used in the example. If you're choosing system toggles then that's the problem, Fantastical isn't a system app...

Make sure to press the refresh button on the installed apps page. I didn't notice it until the other day and I had a lot of apps I've downloaded show up like Unread, Amount, and so on.

I refreshed my installed apps several times. I finally checked the apps that are compatible with LCP and discovered that (for example) "Paper," the new Facebook app, is not compatible. I find it strange that some apps are not compatible where in theory all apps should be.

If your're a LCP user and want it to support actions within another app, you'll need to contact the developer of that app directly. LCP can't interact in any way - even launch the app - with app that does not have a URL scheme. QUOTED FROM THE LCP HELP PAGE.

Thanks, this is quite helpful. I'm not sure how apps become compatible: Does LCP ask various developers for URL schemes? To approach developers as a customer seems inefficient, but I'll try.

Here's a URL scheme request eMail model if you want to use it: Hi there, Could you please send Contrast (developer for the Launch Center Pro app) a so-called "x-callback URL scheme" so that I may open [__insert app name here__] within LCP? NO CODING IS NECESSARY TO LAUNCH YOUR APP. I would appreciate this. Here's how to do it:
http://help.contrast.co/hc/en-us/articles/200865293 Here's the help page:
http://help.contrast.co/ Here's the LCP home page:
http://contrast.co/launch-center-pro/ THANK YOU
[___insert your name here___]

For 7.99$, not worth it. I love paying for apps that actually bring efficiency and productivity but this does none of them. Siri and spotlight are way quicker.

+1
Spotlight are quicker!!

I think further tutorials on LCP may change your mind... launching apps is the tip of the iceberg...

I wish they had a community where people shared their actions. And you could see them. About the only action I really use is Google Maps and setting predetermined destinations.

You could always start a thread in the iMore forums ;)

I tried to like this app a while ago. I just tried again and it didn't work. I figured I'd set up an action to launch Speedtest but of course, that app wasn't listed. I keep fantastical 2 on my system tray or whatever the bottom row of apps is called for quick access. I also created a folder that I keep in the same place I call Comm that contains every app I use to Communicate. Works for me.

I tried to use LCP but for my flow it's not helpful. The things that would require multi-taps I can't assign in LCP anyway ie. Change Background, Turn LTE on/off. All my apps are not available and the ones that are available are right on my home screen. I would love to use it but there's just nothing it helps me do easier. Sent from the iMore App

I purchased launch center pro and really never used it. I just haven't found the benefit. That's why I didn't purchases the latest version. Sent from the iMore App

The only way this is faster is if it's an app you don't keep on your home screen. Unfortunately, it only supports apps I keep on my home screen which actually makes it slower to open using this app. A year later, and I still haven't used this app.

I've had LCP since iOS 6. It's a cool app but I haven't used it that much. After seeing this article I set it up and going to try using it. Sent from the iMore App

The developper hides a fatal fact about LCP: your favorite apps need to have a healthy user base (i.e., be popular) in order to be listed by LCP. For example, my everyday go-to app on the iPad is Eternity by Komorian. It simply does not show up EVEN AFTER REFRESHING THE LIST as ParadigmUSA suggested above. Contrast (the LCP developper) needs to come up with a very detailed step-by-step manual explaining the users how to query their favorite installed apps within LCP. Heck, the manual should appear in the inital welcome screen at least in the form of an interactive link. Other productivity apps not listed in LCP: Project Journal
Midnight Inbox Touch
PDF Expert
Solomon Table
Inspector I have both LCP versions (phone, tablet) and simply do not use them at all. I love supporting both popular and obscure developpers, so I ask in good faith if I am doing something wrong? Does Contrast need to send third parties some sort of SDK for the call-back urls to function? What is the matter?

Cut the Rope is there but not Cut the Rope 2. Does Bejeweled or Bejeweled Blitz have a low user base? When I did Infinity blade it was not the name but a code-string.

Update 1: I tried Farm Heroes Saga as farmheroessaga: and it worked but there is no icon for it, you have to create one. I will try throughout the week which apps which work and which don't with icon and without and will post something on the forum and update here.

I have looked at LCP but honestly can't find a use for it. It just works better for me to keep my most used apps on my dock first then second on my home screen.

The whole point is to place strictly only the most frequently used (not your favorite) apps in the bottom bar of the home screen, leaving to LCP the task of servicing your favorite apps. I would presume that commonly the most frequently used apps are: - iOS Settings
- Browser app
- iMessages
- eMail
- LCP (actions, apps, groups) Again, LCP is an elegant solution because it would contain within itself not your most frequently used apps but your favorite apps. All your iOS homescreens would get a clean-up as a result of this because since iOS 7 one single folder can now contain all the other apps, resulting in aa clearer view of your home screen background image. Alternatively, instead of homescreen folders, you can order the apps alphabetically (up to 20 apps/folders per home screen !!). You call up and launch those apps either via Springboard or via LCP (always visible on the bottom bar).

It seems like most people are missing the point of LCP; its main purpose it to setup 1-tap shortcuts to replace repeatable multi-tap workflows (posting the latest photo to Facebook, uploading a file to Dropbox, tweeting a Dropbox link, etc.). And to be honest, I've had LCP Pro for a while, but the main thing I use it for is sending a text to my wife when I leave work. I've even setup other actions and shortcuts in LCP, but haven't gotten in the habit of using them. :-/

Having spent a lot of time on both iOS and Android, I suppose I was hoping LCP would be my "answer" to the lack of customization I experience on iOS in terms of launching actions, etc. I'm really *trying* to dive into LCP, as I've had it since its initial launch, but with quite a few of my apps not showing up in the list, I have yet to come up with recipes/actions that I can use to make life simpler. I'm still going to monkey around with it, but a brand new app I wanted to add to the actions, Hyperlapse, probably won't be available to LCP for a while. Blergh.