How to create and use contact shortcuts with Launch Center Pro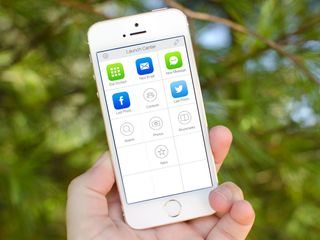 Launch Center Pro for iPhone and iPad lets you create incredibly convenient shortcuts so you can access your most commonly performed actions with light speed. One thing that Launch Center Pro handles wonderfully is contacts. From messaging to FaceTime to phone calls, Launch Center Pro lets you do it in record time. Here's how to get started:
How to create a contact shortcut in Launch Center Pro
Launch the Launch Center Pro app on your iPhone or iPad.
Tap the Edit button in the upper right hand corner.
For this example, I'm going to create an action inside the Contacts group. So I'll tap on Contacts. You can however place it inside any group you want or on the main Launch Center Pro dashboard.
Tap on an empty tile to start creating an action.
Give your action a name. In my example I'll name mine Email Rene.
Now tap on Action Composer.
Now tap on System Actions. What you choose may depend on what kind of action you're creating. But for my example, I'll choose System Actions.
I'll now select Mail.
Now I'll choose Send Email to Contact and find Rene in my contacts.
Now that I've created my action, I'll select Done in the top right corner.
Again I'll tap Done to confirm I'm done editing.
That's all there is to it. I know have a super quick shortcut to emailing Rene that takes a quick tap and a gesture. Obviously what options you select for creating contact actions will vary depending on what you'd like to do. You would just choose the different type of communication such as FaceTime, Message, or something else.
How to use a shortcut for a contact in Launch Center Pro
Launch the Launch Center Pro app on your iPhone or iPad.
If the action you created was on the main dashboard, simply tap on it and you're done. If it was in a group however, tap and hold the group name to bring it up.
Now just drag your finger to the action inside the group in order to perform it.
That's all there is to it. Once you create your actions you'll always be able to access them with just a quick tap and perhaps a gesture or two.
Try it out and let us know how it works for you. If you use Launch Center Pro regularly, let us know in the comments how it's improved your interaction with your iPhone or iPad. Does it help you get to commonly performed tasks a lot quicker and easier?
iMore senior editor from 2011 to 2015.
Love Launch Center Pro! We've gotten a ton of requests for help in using it better and more efficiently, so awesome you're doing these!

Yep! 2nd that! I recently got them both for my iPad Air 128 GB and iPhone 5S 32 GB .... but no clue / time how to fully utilize it! So, more tips would be appreciated. P.S. Yep... finally upgraded from my iPad 4 and iPhone 5. LOL

The idea here is to bring WP-like tasks-based UI onto iPhone, which is app-based. No wonder people love it! The iOS philosophy is getting a tad too 2007 in my opinion. And this app proves it.

Using activator to launch LCP is awesome. I'm not a fan of CC so I used "swipe from bottom". I can still swipe from bottom left or right to activate CC but this is way more of a convenience for me. Sent from the iMore App

Yes, I use it for texts and calls, but need to learn how to use more of its capabilities. Where is the best place for tutorials?

Right here! Ally will be doing a bunch!

More to come!! Sent from the iMore App

I have an idea! We should call them widgets or something like that. I bet it would really take off.

I don't know if paying $7.99 for this app is really worth it. Seem a lot expense for what it does. That was something you forgot to mention the high price.

That's less than a combo meal at most fast food joints, and instead of being flushed in a few hours, it benefits you for days, months, and years to come. Cheap at twice the price.

Thank for mocking my comment! But its seems that you're really pushing this app since there is now 2 post about it. also seems now that you either got some personal interest in the app or have gotten the app for free.

I still haven't found a use for it that actually saves me touches on my phone. Can't wait to see more options.

It took me a little while to get the hang of this app but now it's my go to app. I love it and I'm glad to hear that Ally is going to be doing more tips.
I bought the iPhone version first, thinking that would be all I needed. I was wrong. The iPad app is just as useful. I am so glad I saw the iMore video where David Barnard was the guest.
Thank you iMore.

One thing I'd like to know regarding LCP is how to add apps that are not listed in it's "compatibility" list ("Paper," is on example).

Would definitely like to see many different types of ways to utilize LCP, including IFTTT options? I would search Reddit, but much easier reading your tutorials here!
Thank you for signing up to iMore. You will receive a verification email shortly.
There was a problem. Please refresh the page and try again.