How to split video clips on your iPhone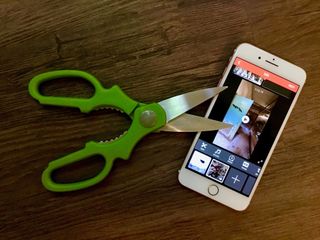 Sometimes you shoot a video that's a bit too long and you need to chop it up a li'l bit. While there is no feature in iMovie that allows you to split and cut up clips into little individual ones, there are apps out there that do it for you effortlessly – specifically, Videoshop!
Here's how you can effortlessly split videos into individual clips on your iPhone.
How to split videos into separate clips on your iPhone
Launch Videoshop from your homescreen.
Tap the + button in the upper right corner.
Tap Import Clip.
Tap to select the video you'd like to split up and then tap Done in the upper right corner. It may take a couple of seconds to upload if it's a larger file.
Tap Trim. It looks like a pair of scissors.
Tap Split at the top of the screen.
Drag the slider bar at the bottom of the screen to select where you'd like to split your clip.
Tap Done when you're happy with your selection. It may take a couple of seconds if you're cutting up a larger file.
Your Split clip will now appear individually from the original clip at the bottom of the screen.
If you want to trim (not split!) the clip even further, you can do so in the app, or import it into iMovie and do it from there!
How do you split clips?
Is there an app that you use or a feature that we missed in iMovie that does a terrific job at splitting clips? Let us know which tools are your favorites in the comments below!
Get the best of iMore in in your inbox, every day!
Cella writes for iMore on social and photography. She's a true crime enthusiast, bestselling horror author, lipstick collector, buzzkill, and Sicilian. Follow her on Twitter and Instagram: @hellorousseau
Sadly, even if you save the changes with the highest quality settings the quality goes down significantly.

Is it now possible to split a clip in iOS 12 ?
I can't find a way do do it, not even with iMovie. Here's an extract from Apple help, but it does not work for me... Help please.
Thank you for signing up to iMore. You will receive a verification email shortly.
There was a problem. Please refresh the page and try again.