How to darken colors for better visibility in iOS 7.1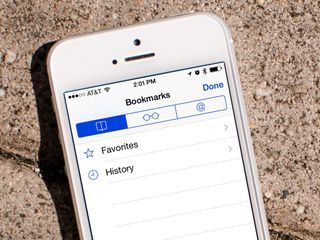 iOS 7 brought with it a new, unified palette for everything from icons to interface elements, including the tint colors give to the new "naked" style text buttons. Unfortunately for some people those tint colors are just a little bit too bright to be read comfortably, especially on the primarily white backgrounds. Luckily, iOS 7.1 gives you the ability to darken those colors and hopefully make them much more legible. Best of all, it's easy to do!
How to increase font and menu visibility with the darken colors option in iOS 7.1
Launch the Settings app on your iPhone or iPad running iOS 7.1 or higher.
Tap on General.
Now choose Accessibility.
On the next menu, tap on Increase Contrast.
Turn On the option for Darken Colors.
To see the difference in color, quickly toggle the setting on and off and watch the Accessibility back-button in the top left corner of the Settings navigations bar. It'll switch from bight to dark blue and back. It's the most noticeable in apps such as Safari and the Calendar.
Give it a try and let me know what you think! Do the darker colors make it easier to pick out menu items or read smaller colored fonts?
Get the best of iMore in your inbox, every day!
iMore senior editor from 2011 to 2015.
I still would like to see a dark theme for the entire iOS........

Agreed! It's either white or very dark grey (or black)! I'd like to see that as a shortcut option to turn on/off whenever in iOS Sent from the iMore App

Same here. Hoping iOS8 will grant our wish.

That would make it too Android-like. Apple knows what we like.

Thats the problem apple cannot know what we all like and most people desire choice.

So you think we should be able to customize our devices?? No. Too Android-like. Apple knows what we like.

It's not a big change but I like it.....

It's great! It makes everything look more saturated. I also use Android and I'm used to saturated AMOLED screens, so in digging this setting. Sent from the iMore App

Thank you for the tip. Like this feature! It make ios7 a little bit prettier. Sent from the iMore App

I have this feature on together with a darker white point. This particular feature looks better combined with button shapes. They tend to be grey so a darker font works pretty well. Sent from the iMore App

Is it just me or does this setting make the status bar invisible in mail?

Looks fine on my iPhone 5. Sent from the iMore App

This is my absolute favorite setting. I love it. Sent from the iMore App

Nice tip, but I like iOS 7 colours without the darker contrast. Will keep it in mind though for other people I help with iOS. Another great "How To" article. Thanks! Sent from the iMore App

This was the first setting I turned on after updating to ios 7.1.

I like it. It's a small change but I feel it looks better. Sent from the iMore App

I can't understand id this tip affect the photos too