How to disable iMessage alerts for people that aren't in your contacts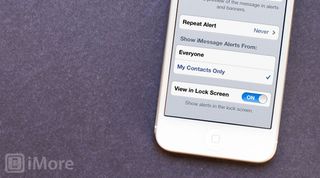 If you use iMessage frequently for both work and personal, there may come times when you don't want to be disturbed by messages from people you don't know. iMessage gives you the ability to disable alerts from people that aren't in your Contacts app. You'll still receive the messages, you just won't receive audible alerts for messages from people you don't know.
How to stop getting iMessage alerts for non-contacts
Launch the Settings app from the Home screen of your iPhone or iPad.
Tap on Notifications.
Scroll down and find Messages. Tap on it.
Now scroll down towards the bottom and you'll see a section for who you receive iMessage alerts from. Tap the option for My Contacts Only.
That's it. You'll now only receive alerts for messages from people you have in your contacts. It is worth noting though that this feature only works for iMessage alerts. If someone not using iMessage sends you a regular text, you'll still receive it and get an alert.
How to get more help with iMessage
If you're having issues getting iMessage to activate, get more help at the iMore forums, and for more tips, check out:
iMore senior editor from 2011 to 2015.
Hey Ally something I finally knew...LOL but thank you anyway for the ones that didn't. Never hurts to be reminded even for me.

That is a good one. Now after seeing this option I feel like "How did I miss that! Duh!" Thank you for sharing the sometimes overlooked settings/options!

Hmm.. Was this introduced in a recent update? I don't recall seeing that. Nice feature to have though.

Hmm..That's amazing. I didn't even know this existed. This is a great way to combat spam about those occasional amazing trips on a cruise. The more control, the better.

Yet another thing that imore has taught me. This is actually very helpful, too! Thanks guys.

Good how to article. I wish it could have included an option or an alternative for blacklisting number. Where I live that is a very important feature because of extorsion issues

Great suggestion and tool.

Thanks for this tidbit! For anyone that hasn't seen it, lifehacker published an article on a jailbreak tweak I noticed in Cydia the other day that allows you to select the contacts in your list that you do / don't (my girlfriend) want read receipts for.

Didn't know this option existed. Awesome

THANK YOU!!! I have been wishing for this for so long! It's as annoying as being notified on Facebook when that random person also comments on something you now regret commenting on.

I didn't know about this one, thanks! Lets hope to see this for text messages as well in the future.

Great tip guys, I love that you do this rather than just news etc.

Really helpful! I love learning about new ways to reduce things that clutter up my screen without losing the stuff I do want to see. I wish too that it work on texts too.
Get the best of iMore in in your inbox, every day!
Thank you for signing up to iMore. You will receive a verification email shortly.
There was a problem. Please refresh the page and try again.