How do you set up a track in Mario Kart Live: Home Circuit?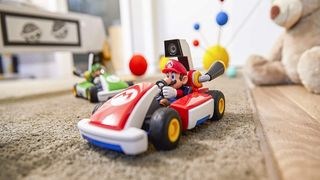 (Image credit: Nintendo)
Mario Kart Live: Home Circuit is the latest Nintendo experiment featuring everyone's favorite plumber, Mario. Revealed during Nintendo's Super Mario 35th Anniversary Direct in September 2020, Mario Kart Live: Home Circuit combines your Nintendo Switch with the real world to create a unique augmented reality experience. Using the camera sitting above a real kart driven by Mario or Luigi, your living room becomes a high-speed racetrack, packed with plenty of sights and sounds that Mario Kart fans know and love.
The first question on everyone's mind is how can they set up their own custom track in Mario Kart Live. Luckily, Nintendo has made it very easy for new users and experienced gamers to jump into their custom-made tracks, made live in their own home.
Building blueprints
Source: Nintendo
To build the best track you can, you need some space and some creativity. Work smarter, not harder!
Set up shop — Start by visualizing your track. If you're familiar with Mario Kart games, you'll know that the most exciting tracks are fast and full of obstacles and lots of turns. Your workspace should be clean with at least 10ft x 12ft of space.
Make your vision a reality — Once your area is ready, now it's time to build your track. Players must first set up four gates. Think of how long or short you want your track to be as you're setting up the gates. The more space, the more options, but Mario Kart works well in tight spaces, as well.
Mix dimensions — Get creative and add real-world obstacles to your track. Place a gate under a table, or add a makeshift bridge. Place a couple of obstacles down and force players to bob and weave through the track. Turn your room into a real-life Mario Kart course! The game offers a great amount of freedom to build something unique.
Lay down the pavement — Once the gates are built, players must driving through the goals one by one, in numerical order. In a very Nintendo touch, Lakitu paints Mario or Luigi's tires with pink paint to help with the process. Once your course has been laid out, line the track with some real-world items to keep the Karts from spinning out. Now you're ready to race!
Customize it to your liking
Source: Nintendo
The game also offers a host of track customization options. In addition to being able to build the track, players can also customize the theme of the race, its music, and the engine class.
You can add speed boost, item boxes, and fire towers to gates, and include obstacles like Thwomps, Magikoopas, and Piranha Plants. You can customize the environment around the track as well. Drive through an underwater course, an 8-bit track complete with old school Goombas, and even Rainbow Road.
Make it feel real
The game also features what Nintendo calls mixed-reality effects. Picking up mushrooms or getting hit by a shell on the track with effect your car in the real world. Hazards in the environment, like sandstorms, will also throw your car for a loop. All of these effects breathe an incredible amount of life into Mario Kart Live's augmented reality.
Living within limits
While there's a myriad of customization options to choose from, there are limits to how you can play.
Stay within range — When building your track, you'll have to factor in the kart's Bluetooth range. Nintendo says that it can't be further than 30 ft away. They recommend keeping the kart within 15 ft for the best results.
Textiles beware — If you have a carpeted area, you should be able to operate the kart just fine, albeit a little slower. Nintendo recommends avoiding shag or tassels, in particular. This will be somewhat of a problem, as the game doesn't recognize different surfaces. Your AI opponent race laps around you as your kart struggles against the carpet.
No multi-tier tracks — Mario Kart Live doesn't recognize changes in elevation. While you might be able to get away with a small ramp, you can forget about building multiple levels.
A new way to race
Nintendo knows how to make a hybrid — just look at the success of the Nintendo Switch. Nintendo has always been successful at combining genres to create something unique.
While it remains to be seen if Mario Kart Live: Home Circuit has the horsepower needed to stand out from the competition, there's no denying the creativity at work here. The technology at work here is very impressive, but it's clear this is in no way a proper sequel to Mario Kart 8. With that said, it will definitely make a great holiday gift.
Mario is back in the kart!
Mario Kart Live: Home Circuit
The one and only

The Mario Kart Live: Home Circuit set comes with a Mario Kart and camera and four goal post. This item is hard to get at the moment, but we're confident more will become available as we get closer to the game's launch.
It's Luigi time!
Mario Kart Live: Home Circuit
Not second fiddle

Not to be outdone by his red capped brother, Luigi also joins Mario Kart Live: Home Circuit. Like his brother, the Luigi set is also difficult to come by.
Master your iPhone in minutes
iMore offers spot-on advice and guidance from our team of experts, with decades of Apple device experience to lean on. Learn more with iMore!
Zackery Cuevas is a writer for Windows Central, Android Central, and iMore. He likes playing video games, talking about video games, writing about video games, and most importantly, complaining about video games. If you're cool, you can follow me on Twitter @Zackzackzackery.