How to download iOS 11.4.1 developer beta 5 to your iPhone or iPad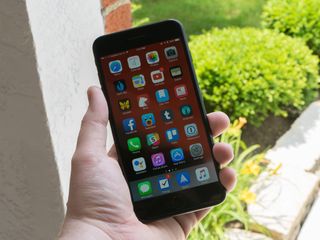 iOS 11.4.1 is on its way with new features that require third-party developer input. As such, the company is releasing developer betas so that software engineers can get a head start on making great software for you.
How to make an archived backup of your iPhone or iPad
Before you begin, make sure you back up your iPhone or iPad. While the beta process is fairly straight forward, any time you make any significant change to your device you risk problems. And with your personal data, it's always — always! — better to be safe than sorry. Even if you back up every night, you'll want to make sure it's absolutely up-to-date.
Plug iPhone or iPad into your Mac or Windows PC.
Launch iTunes.
Click on the iPhone or iPad icon in the menu bar when it appears.
Make sure backup is set to This Computer. (And enable Encrypted backup — it's worth it!)
Click on Back Up Now. (Click on Encrypt Backup and add a password — you want the security.)
Back up Apps, if asked.



Press Command, to open Preferences. (Or go to iTunes in the menu bar and click on Preferences.
Click on the Devices tab.
Control-click on your Backup and choose Archive.



Archiving will prevent your current backup from being overwritten by an iOS 11.4.1 backup in the future, should you want to revert for any reason.
How to register your account for the iOS 11.4.1 beta
Before you do anything else, make sure you have a developer account with Apple — without a paid account, you won't be able to download any non-Xcode betas.
Thanks to Apple's configuration profile, you can download iOS betas directly on your iPhone or iPad, no Mac required! (You can still install iOS 11 on your iPhone or iPad by connecting your device to iTunes (opens in new tab), but you'll need to be running the Xcode beta first. The method listed below is generally a lot faster, with fewer wires.)
Go to developer.apple.com

(opens in new tab)

on your iPhone or iPad.
Click on the "Download New Betas"

(opens in new tab)

tab.
Log in with your developer account's username and password.
Go to the iOS 11 beta section and tap the download. This will start the process of downloading the iOS beta software profile on your iPhone.
The Beta software profile will appear on your phone. Tap Install. You may need to enter your Passcode.
Agree to the Consent form and press Install once in the upper right corner, and once at the bottom of the screen.
Press Restart to apply the changes to your iPhone.
How to install the iOS 11.4.1 beta
To install the iOS 11.4.1 beta, you'll need to visit Software Update on your iPhone or iPad.
Launch Settings from your Home screen, tap on General, then tap on Software Update.
Once the update appears, tap on Download and Install.
Enter your Passcode.
Tap Agree to the Terms and Conditions.
Tap Agree again to confirm.
Your iPhone or iPad will reboot to install iOS 11.4.1. There will be a couple progress bars going across the screen. Sit tight, and let everything finish.
How to get started with iOS 11.4.1 beta
Once your iPhone or iPad reboots, it'll be running iOS 11.4.1. There's a brief bit of setup you'll need to go through, however, as the system will have changed enough that it'll need your login to complete the update.
Tap Continue.
Enter your Apple ID password. iCloud settings will update, so give it a minute.
Tap Get Started.
Once that's done, you'll be on the Home screen and ready to rock iOS 11.4.1
Update July 2, 2018: Apple has just released the fourth beta version of iOS 11.4.1 for developers. If you have a previous iOS 11 beta installed, you can head to Settings > General > Software Updates and get started downloading. If you were waiting for iOS 11.4.1 to get started with beta testing, go ahead and download the latest version.
Joseph Keller is the former Editor in Chief of iMore. An Apple user for almost 20 years, he spends his time learning the ins and outs of iOS and macOS, always finding ways of getting the most out of his iPhone, iPad, Apple Watch, and Mac.
New iOS is amazing to change the system

Not a fan or impressed with this update. Hoping it improves before it goes to GM

Not sure what will improve to be honest; these are the features of iOS 11 so nothing more will get added

You can install the developer beta without a dev account, see this link : http://beta.gd

Didn't 10.3 update iOS to APFS? If so, shouldn't that make it possible to downgrade or is there a different reason downgrading isn't possible?

Did they change the notification center back to the way it was before?

Why would they do that? No they haven't

You're pulling down to see the notifications. It's supposed to act as a layer on top of whatever is on the screen. Why does it look like a lock screen?

In iOS 11 it is the lock screen. It took me a bit of getting used to at first, but I don't mind it now. Maybe they will make some tweaks to it before release

But did they need to do that?

Well they didn't "need" to do anything, but if software stayed the same we'd still be typing commands into computers to do things. What Apple did was do extensive research into the user interface and tested it with people, seeing if they liked it and if they thought it was a good idea. Apple doesn't implement changes just because they themselves want them

But is this method any better? Because I don't think so. Change is good, if the change is better Changing for the sake of change is not.

Well you don't think so but that's your opinion. It took me around a day to get used to it but I prefer it now, I like that the lock screen and notification section are now consistent, I can still drag it up and down like before

I think they should have left the notification centre the way way it was before...too much sliding up and down.

Adding layers in the wrong places

Totally agree! it just seems a little redundant to me like why bother with two layers for the same purpose and result?

So today I am installing the iOS 11 Gold Master (from the last public beta) OTA. The GM is about 1.83 GB for the iPad Mini 4 (for 7+ will directly move to release version next week).
My question is - and though I know a probable answer - will there be any or much difference between today's iOS 11 Gold Master and Sept 19 iOS 11 Public Release version - in terms of features or anything ? Should I remove the beta profile and move to Public Release next week or can continue to use the Gold Master on iPad Mini 4 ?

GM is what's going to be released next week. Same thing.

So moving from GM to public release won't be any beneficial, rather staying on GM would allow me to move to iOS 11.1 Public beta next!

Sure just after I made a comment that it was not ready. HEHEHEHEHE

I think is for all eligible iPhones EXCEPT the X since Beta 2 was released on Friday.

Since iOS 11.x, Apple has disabled scheduled fetch and notifications for favorited folders and sub folders for non-push IMAP mail accounts in the native mail app of iOS. This fetch used to happen alongwith corresponding notifications in iOS 10.3.3 without any problem.
This issue is still not addressed in the sixth beta of iOS 11.2.

Whats funny is that the image shows an older version of iOS where the dock icons have labels. LOL good on ya
Get the best of iMore in in your inbox, every day!
Thank you for signing up to iMore. You will receive a verification email shortly.
There was a problem. Please refresh the page and try again.