How to use Chinese, Hebrew, and Islamic calendars on iPhone and iPad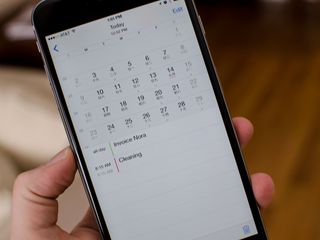 (Image credit: iMore)
The Calendar app on the iPhone and iPad supports alternate calendars, including Chinese, Hebrew, and Islamic. By default, in America, it's set to U.S. format. However, you can easily change it to any of the other formats. Here's how!
How to enable Chinese, Hebrew, or Islamic formats in Calendar for iPhone or iPad
Launch the Settings app on your iPhone or iPad.
Tap on Mail, Contacts, Calendars.
Tap on Alternate Calendars under the Calendars section.
Tap on any one of the supported alternate calendars you'd like to use instead of the standard format.
Your Calendar app should now reflect those changes.
iMore senior editor from 2011 to 2015.
These comments are for discussing features of Apple's Calendar app. If you use them to spew hate speech in any direction, you'll be banned so you can have the pleasure of spewing it elsewhere. Thank you for keeping it productive and mature.

cant adjust the islamic calendar, one day back from the real date in iphone. please help.

Nice discovery! Didn't know they finally added it into the native calendar app. Also, I always want them to add natural language support (like Mac does) and the ability to add locations to calendar event from the iOS maps app (or any other apps that hyperlink location info). Sent from the iMore App

Everyday I discover new feature in my iPhone Sent from the iMore App

Good to know! I wonder if you can use multiple calendars simultaneously.

That's really nice! I never knew this, and used to install several apps from AppStore for just this simple feature. Thanks for sharing! Sent from the iMore App

Ok but how do i edit those calendars
Islamic calendar end of the month depends on astronomy and now it says Ramadan 30 but it's actually the 1st day of the next month , can I edit the last day of the month ?

That's what I was searching about now
I didn't find a way to fix it

I can't find the alternate calenders

Maybe you should update your ios version..

If you have problem adjusting the Islamic calendar do the following steps it did work with me go to
1-Genral
2-Language&Region
3-change iPhone Laguage to Arabic
4-change Region Saudi Arabia
5-wait for the iPhone to reboot and complete the change
6-then return everything to the ori setting and then the alternate Calendar
Thank you for signing up to iMore. You will receive a verification email shortly.
There was a problem. Please refresh the page and try again.