How to Get the Apple Link Bracelet Look for Less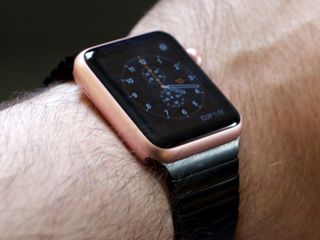 Updated May 2017: All the watch bands on this list are still the best of the best!
The Apple Link Bracelet is a timeless, sleek, day-to-day choice for Apple Watch bands, except for one problem: the price tag. While some people are more than happy to pay a few hundred dollars for an Apple-branded band, it's not always necessary to make it rain that type of moolah.
There are plenty of high-quality alternatives if you're looking to capture the Apple Link Bracelet look without spending an arm and a leg, so here are a couple of options to consider!
HappyCell Link bracelet band
If you want the classic Apple Link Bracelet look for less, then keep the HappyCell Link bracelet band in mind as a high-quality, reliable option!
The HappyCell band is made with a stainless steel alloy that secures around your wrist via a butterfly enclosure. In order to make the band smaller, you have to remove the individual links for the HappyCell bracelet to fit your wrist in the most comfortable way possible.
This particular band comes in a sleek black or a shiny silver, both of which are bound to perfectly pair with whatever style of Apple Watch you have.
See at Amazon (opens in new tab)
KADES Solid stainless steel iWatch band
Made from a durable stainless steel, and designed in four classic Apple colors, the KADES Solid stainless steel iWatch band is worth keeping in mind as you hunt for the perfect Apple Link Bracelet look-alike.
With up to 10 removable links, a double-button folding clasp, and a modern, brushed metal style, the KADES watch band matches the timeless feel of the Apple Link bracelet effortlessly.
The band even comes in four colors, including a vibrant rose gold, bright gold, silver, and black, so you won't have to worry about mismatching your most tech-forward wrist accessory ever again!
See at Amazon (opens in new tab)
top4cus Apple Watch band
To quote Amazon user Saucin right off the top,
Designed with a stainless steel alloy and super easy to install, the top4cus Apple Watch band is a high-quality Apple Watch band option that'll save you some money if you're looking for an Apple Link Bracelet dupe.
The band itself comes in a black or silver and secures with a butterfly clasp so your Apple Watch won't slide off your wrist.
See at Amazon (opens in new tab)
What do you think?
Is there a Apple Link Bracelet alternative that you think we missed on our list? Let us know in the comments below and we'll be sure to check it out!
Get the best of iMore in in your inbox, every day!
Cella writes for iMore on social and photography. She's a true crime enthusiast, bestselling horror author, lipstick collector, buzzkill, and Sicilian. Follow her on Twitter and Instagram: @hellorousseau
Just be careful. The Apple bracelet, which I have, is very complex. Each link is made of several high precision parts, some extremely tiny. Whether the inexpensive direct copies will hold up, is a question that needs to be asked. And, just as a point of interest, while the links of the copies look exactly the same as Apple's, the sellers state that they are not interchangeable. $80 does look like a good price, if it doesn't break.

I've been eyeing these since they were first available. I haven't bought one for two reasons:
1- Questionable Build quality; I don't expect it to be high quality as Apple's but I don't want it to fall apart. The reviews seem to be mostly positive.
2- none of them match the aluminum space gray. Yeah, I know the black rubber strap it came with isn't gray either, but with metal on metal, I'd like it to match. Sent from the iMore App

You missed the best one. Go to Amazon and search for MARGE PLUS. They have a watch band that looks GREAT, functions like the OEM and doesent break the bank. The first time I put it on I was blown away at how great it looks. You even remove links with a little button the back like the OEM one. I decided to roll the dice on this and was glad I did.

Problem with regurgitating old articles. None of these are actually available at Amazon right now. Thought someone there might have checked that. Guess you guys are too busy trying to figure how to further ruin your app.
Thank you for signing up to iMore. You will receive a verification email shortly.
There was a problem. Please refresh the page and try again.