How to get the Apple Watch Sport Band look for less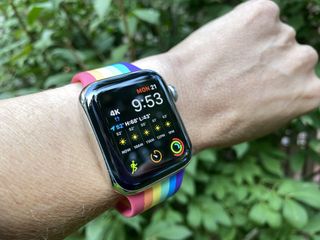 (Image credit: Karen S. Freeman / iMore)
We love the Apple Watch Sport Band; it's one of the best Apple Watch bands that Apple has made. Maybe your Apple Watch Series 7 (or another model) came with that unique, fluoroelastomer band with pin-and-tuck closure, and you're looking to get some more. Perhaps your Apple Watch came with a different band, and you've had your eye on a sports band (or several) ever since. The thing is, the real deal is $49 a pop. While they're worth it, you can also try several excellent alternatives if you want that Apple Watch Sport Band look for less.
Clockwork Synergy's Silicone Strap
High quality

We love our well-crafted Clockwork Synergy bands. While the buckle of this comfortable silicon band doesn't function like your standard Apple Watch sport band, Clockwork Synergy gives you the option to choose your metal hardware: stainless steel, brushed steel, yellow gold, rose gold, or PVD black. It comes in lots of colors.
Brick and mortar

This band from NEXT can be found for either size Apple Watch Series 7 or any other model. The band looks a lot like Apple's band. If you'd like to choose between shopping online and a brick-and-mortar store option, you can find this at your local Best Buy as well as the site.
(opens in new tab)
Fun patterns

Both Apple Watch sizes are available for this fun, animal-themed silicone band. It does sport a buckle rather than the pin-and-tuck style closure.
(opens in new tab)
Slim style

If you like the Apple Watch Sport Band look but would like something just a little slimmer, check out the SWEES Sport Band. It tapers away from the watch for a more delicate look. Choose from lots of colors and both Apple Watch sizes.
(opens in new tab)
Your next Target run

Target runs (or online orders) are a near-weekly occurrence in my household. It so happens that one of my favorite Apple Watch bands is from Target. The Heyday Apple Watch band doesn't look exactly like Apple's, but this excellent quality band has held up through many wears.
(opens in new tab)
Magwei Sport Band Compatible with Apple Watch
Pride style

Get the Pride look for less with this band. Plus, there are plenty of other fun, patterned options here from which to choose. I particularly like the snakeskin style and the galaxy look. Both Apple Watch sizes are included.
You can have the Apple Watch Sport Band look for less
All of these are excellent sports bands for your Apple Watch, and you can get them without shelling out the $50 for a first-party band from Apple. Any would be a great addition to a band collection.
If you're looking for an alternative silicone band instead of just a copy of Apple's, the Clockwork Synergy Silicone Strap is what you need. It's a high-quality band for less than half the price of the Apple Sport Band. You can choose your hardware color to go with your Apple Watch. I own several of Clockwork Synergy's excellent bands, and the combination of price and quality can't be beaten.
Want to spend even less? Pick up a Heyday Apple Watch Band on your next Target run. This is a personal favorite of mine and is featured on our best Apple Watch bands list. There are so many options, you're bound to find one that fits you.
Get the best of iMore in your inbox, every day!
Cella writes for iMore on social and photography. She's a true crime enthusiast, bestselling horror author, lipstick collector, buzzkill, and Sicilian. Follow her on Twitter and Instagram: @hellorousseau