How to move an iMovie project from your iPhone or iPad to your Mac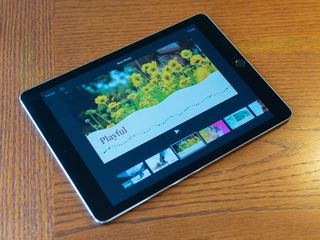 I've been editing quite a few movies on my iPhone 6s and 6s Plus since first picking up Apple's latest smartphones: The Retina screen makes viewing and cutting 4K footage easy, and iMovie for iOS's smart trim tools and easy-to-use interface can do a lot. But it can't do everything, and that's where the Mac comes in. Thanks to iMovie 10.1, you can now move projects you've started on your iPhone or iPad to the Mac for more in-depth edits. Here's how to go about it.
How to move an iMovie project from your iPhone or iPad to your Mac
Open iMovie for iOS on your iPhone or iPad.
Tap the Projects tab and select the project you want to move.
Select the Share button at the bottom of the screen.


From here, you have a few different options on how to get your project over to iMovie.
You can send the project to iCloud Drive, where you can open it on your Mac. This is the slowest method I've found, but it also keeps that project in your iCloud Drive indefinitely.
You can tether your phone to your computer via USB cable and use iTunes. Fast, but requires a USB cord.
You can share to your computer via AirDrop: If you have a 2012 or later Mac, you can use iOS-to-Mac AirDrop to wirelessly transfer the file from your iPhone or iPad to your Mac. This is my favorite method, and the one we'll talk about below.
Wait for your Mac to show up under the AirDrop menu on the Share screen.
Once it does, tap on the icon.
Your project will first begin preparing; after it's finished, it will start sending it to your computer.


This might take a little while—especially if you have 4K footage!—so you may want to go find a tasty beverage while doing this.
How to open iMovie for iOS projects on your Mac
Open iMovie for OS X on your Mac.
If you used AirDrop or iTunes, you'll find your iMovie for iOS project in your Mac's Downloads folder. Otherwise, you can select the following menu in iMovie: File > Import iMovie iOS Projects.
After a few minutes of import, your project should appear identical to its iOS form in the iMovie for OS X timeline: Everything gets transferred over, from video effects to audio clip placement. You'll also get the full versions of all clips you've used in your project, stored in the My Media browser.


Note: I've seen iMovie occasionally hang when trying to import new projects, which I expect is a tiny 4K-related bug; if it freezes for more than ten minutes on you, my best advice is to force quit the program and try re-importing.
How to move iMovie projects on your iPhone or iPad to Final Cut Pro
If iMovie for OS X won't cutting it, you can jump all the way up to Final Cut Pro. Here's how.
Follow all the steps above to import your project into iMovie for OS X.
Go to File > Send Movie to Final Cut Pro.
Your film will then export and automatically open Final Cut Pro.


Can I move projects back to my iPhone or iPad?
Not at this time, sadly. You can keep working on the project file you exported—it opens in either iOS or OS X—but once you import it into iMovie on the Mac, you're stuck editing in the Mac environment.
Questions?
Let us know below and we'll try our best to address them.
Get the best of iMore in your inbox, every day!
Serenity was formerly the Managing Editor at iMore, and now works for Apple. She's been talking, writing about, and tinkering with Apple products since she was old enough to double-click. In her spare time, she sketches, sings, and in her secret superhero life, plays roller derby. Follow her on Twitter @settern.
Need to know how to import to iMovie from Photos app. It doesn't show the Photos Library and when I navigate my hard drive it's unaccessible from within iMovie. Trying to move some video that I've taken from my Photos Library into an event in iMovie cause I do training montage videos every month. Have been doing this on Windows, but was going to try to start doing it on my iMac now that iMovie supports the 1080/60p editing and output. Any reason why I cannot drag from Photos to iMovie or import from within iMovie? If I drag from Photos to my Desktop it ALWAYS downscales the video to 720p from 1080p...

Don't start by using the Import menu. Photos library doesn't show up there. Start a new Project then your Photos library should be on your left menu bar. From there you can drill down on Moments, Faces, etc then select clips / photos to drag into the timeline.
Also, I've been able to drag videos from Photos onto the timeline in iMovie.
They seemed to have changed how the Events work in the latest version. They try to steer you toward starting a Project rather than an Event. For instance, when you start a new Project, iMovie no longer forces you to choose an Event to place the Project.
Good luck!
PS- You might have better luck with questions like this in the iMore forums, rather than the comments of an article.

I just found out how by smashing different modifier keys while I clicked the items. That was... not very intuitive to do. They should make it a bit less confusing to do this :-(

Thanks for the article Serenity! When I saw the update to the app, I had thought it was going to be a bit more streamlined than this - i.e. handoff. It's a shame it is not as slick as Handoff, but I can probably see why it is not (as that would require all of the iMovie data in the cloud all the time which for most people would just be impractical). But at least its a step in the right direction, and allows the transfer, which to be fair has been an issue for me in the past! Start a great project on iOS and then realise that you really want/need one of the features which just dont exist on iOS - DOH! At least now we can just transfer. I really hope the iPad Pro gets a full featured version of iMove (and all apps!), otherwise it will "suffer" from the issue - and then, what would the point be?!
Cheers!

Ah! This is similar to how you can send GarageBand projects to you Mac, either to GarageBand for OS X or to Logic Pro. Likewise, you can move form iOS to OS X but not from OS X to iOS.

Anyone knows how much free space is necessary to be able to share a large file? Keep getting a message that my movie can´t be shared because of no space available on my iPhone (only 32 Mg are of 64 Gb) Haven't tried to my computer until I get an USC-C adapter...

I have an I phone 5. I have two short clips recorded and sent to my phone. I need to send these to an e-mail address or get them to my apple computer so I can send them. How do I do this?

This article was helpful but when I go to downloads on my mac the imovie project file is not there? I watch it transfer via airdrop from my iphone to my macbook and then when I go to find it it's not there. Anyone else experience this and can you tell me what the problem is/how to fix it?

Hi -
I have family sharing and imovie downloaded on my mac, iPad and iPhone. I would now like to edit movies on my laptop. All devices are signed in to my iCloud account. However, I can not download the iMovie app on my laptop. I see it within iCloud under settings and have successfully airdropped past projects to the laptop. When I open the movies, I only have QuickTime player as an option to watch the movies. How do I download the app on my laptop and do I have to purchase it again?

Thanks Serenity! I was looking for this method for quite sometime now. It sucks though that I'm not able to go back and forth on my devices because when I'm not around my laptop, I would like to use my phone to continue to edit.