How to record phone calls on your Mac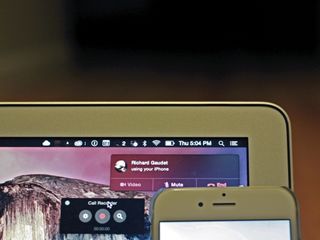 If you're in a business — as I am — where you occasionally conduct interviews over the phone, or want to remember brainstorming sessions with a friend, you may wish to record your calls. In the past, this was a bit of a pain with iPhone calls, since iOS apps can't hijack your audio signal. You usually had to record using an external device, either by putting your iPhone on speaker or wiring it up in some way.
No longer.
Thanks to the folks at Ecamm, you can use any Continuity-enabled Mac running OS X Yosemite to record your iPhone calls with Call Recorder for FaceTime ($30, free trial available).
As the name might suggest, the Call Recorder for FaceTime is primarily designed to record your FaceTime conversations, but it can also record telephone conversations that have arrived on your Mac via Handoff.
Before we go through this how-to, though, remember: Telephone recording laws vary from state to state, and it's usually considered polite behavior (if not legally required) to inform the person on the other end that you'd like to record the call.
How to record iPhone calls on your Mac
Download Call Recorder for FaceTime from Ecamm's website. You can either download a 7-day free trial to test it out, or pay $30 for the full app.
Run the Call Recorder installer. Once it finishes, open FaceTime.

If you're asked to configure Call Recorder's settings, you can do so, and chose whether to record calls automatically, create separate audio tracks for each person, and where to save your recordings.
Make a FaceTime audio or phone call from your Mac (or receive a FaceTime Audio or phone call on your Mac).

Press the red button in the Call Recorder window to begin recording. (If you've configured automatic recording, you can skip this step.)

When you're done recording, you can either press the Stop button to finish or end the call.

By default, your recordings will be stored in your Documents folder under Saved Calls, though you can change that by opening Call Recorder's settings screen.
Get the best of iMore in your inbox, every day!
Serenity was formerly the Managing Editor at iMore, and now works for Apple. She's been talking, writing about, and tinkering with Apple products since she was old enough to double-click. In her spare time, she sketches, sings, and in her secret superhero life, plays roller derby. Follow her on Twitter @settern.
What are the advantages/disadvantages of this app vs. Ecamm for Skype?

This one records FaceTime Audio, Video, and Phone Handoff calls; the Skype version records audio and video from Skype.

Yes, of course. What I mean is: assuming all things being equal with both methods of calling, what are the advantages/disadvantages of either plugin? In other words, if it didn't matter which phone app you used, are these recording apps pretty much the same?

Yup! Pretty much identical. I've used the Skype version a ton. Skype does let you chat with groups, which makes the service a better fit for work, etc. But depends on which service you prefer.

This is great! Definite buy.
Wish this were an option for iOS without a jailbreak.

The only way I've seen work for iOS is by using a service where you 3-way in a recording line, because Apple locks down their native Phone app from being accessible by other apps. SecureSpeak.com is the one I see most people use.

Why not just use quicktime to do a screen recording of the FaceTime window?

I think we can use Quicktime to record call in Mac. It gives good full features! Why should i purchase this and overload my MBP.

Cool thanks for the tip, although 30 bones seems a tad steap. It is nice to know we have a option that I may be able to use at the office.

Yes as redfoot & prabhu point out, if you already have screen recording software you can just use that rather than pay out extra Sent from the iMore App

Hopefully these calls can be admissible as evidence in a court of law if need to be. Sent from the iMore App

Thanks Serenity. Very helpful piece of software.