How to record video from your iPhone onto your Mac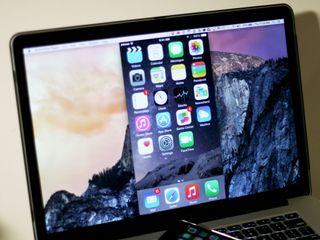 Want to create an iPhone or iPad tutorial for someone, record a game level walk through or something else? It's easier than you think if you have OS X Yosemite installed — you don't need any third-party apps installed. Here's how.
The secret is the QuickTime Player application in your Mac's Applications folder. QuickTime Player doesn't just play videos — it also records video and audio. And with OS X Yosemite, it can recognize the output of iOS devices connected to the Mac using USB.
Before we get started, let's check the list of equipment you'll need:
A Mac running OS X Yosemite.
An iOS device running iOS 8 — iPhone, iPad, iPod touch will all work.
A Lightning cable (sorry, this won't work with 30-pin dock connector-equipped devices).
To record your iPhone, iPad or iPod touch on your Mac
Connect the iOS device to your Mac using the Lightning cable.
Open the Applications folder.
Double-click on QuickTime Player.
Click on the File menu.
Select New Movie Recording.
Click on the downward-facing arrow to the right of the record button.
Under Camera, select the name of your iOS device.
If you wish to record audio from the device, select its name in the Audio source list.
Click on the red record button to begin recording video from your iPhone.
When you're done, click on the button again to stop recording.
One added tip: You don't actually need to record anything. If you just want to show what's on your iOS device screen on your Mac— playing a game, for example, and wanting to see what it looks like even bigger - you can do it. QuickTime Player shows you everything as it's happening.
Any questions?
Let me know if you run into any showstoppers or have any questions.
Get more iMore in your inbox!
Our news, reviews, opinions, and easy to follow guides can turn any iPhone owner into an Apple aficionado
Cool feature i didn't know about thanks!

Yeah, me neither! great tip.

http://youtu.be/hBiMpgC7O9c

It's cool if you are Mac user.. If you are windows like me it's pain in the a**.. :)

Is there a way to do this with for Windows users? If so it appears another article explains the process would be appreciated by that audience as well.
Future post maybe?

Yes with Reflector http://www.airsquirrels.com/reflector/ :-)) Only easier way is if you are jailbroken and buy from cydia Display recorder (like me). :)

Is that even compatible with iOS 8? I haven't found one compatible with iOS 8 Posted via the iMore App for Android

lol, for Windows users, you can make use of Apple's AirPlay feature to mirror iPhone to computer and do the recording. It's quite simple and does not need any cables.
http://download.cnet.com/Apowersoft-iPhone-iPad-Recorder/3000-13633_4-76...

So, if you wanted to do a demonstration of how to use a particular iPhone App in a classroom you could connect your iPhone to your MacBook running QuickTime Player then connect your MacBook to a projector and it would just work?

Sure. Alternately you could use Apple TV with the projector and just use AirPlay. Or use an AV interface, which Apple makes as well.

Very cool tip! A side note; I always found it humorous that a video app titled player can record video.

Is it possible to have QuickTime show a visual marker of where you are tapping on the ios screen? That one little thing would make it prefect. Sent from the iMore App

I haven't found a way to do that yet.

Jailbreak makes this possible.

This is awesome. I have friends and family always asking my where things are and how to do stuff on my iPhone. This would be nice.

Awesome tip, Peter! If only I knew how to make my idea for an app, then I could record a demo!
I assume this was created so devs could do their little App Store videos.

Try Lynda.com - The guy there has helped me learn a lot. Sent from the iMore App

If only I had the time. Making iOS apps is #2 on my list. AutoDesk Revit is #1. I'm pretty good at AutoCAD for being self / YouTube taught, but Revit is completely different. Sent from the iMore App

This is the good one.. I like it..:) Sent from the iMore App

I'm wondering if you can record phone conversations while you talk if your phone is connected to your mac.

There's a great app called Call Recorder for FaceTime that does exactly that, assuming you're using Call Relay. http://www.imore.com/call-recorder-facetime-also-records-handoff-phone-relay-calls

TapeACall is in the App Store and you can record you phone calls with your iPhone. No Mac needed. Not sure if it's what you're looking for, but it came in handy when I needed to record a call as evidence for court. Sent from the iMore App

Thanks this will be awesome!!! Sent from the iMore App

Another brilliant idea. Never thought to try this out. This will come in very useful. Thanks Pete. Sent from the iMore App

cool feature and great tip! thank you.

What if you are screensharing your Mac to someone else? Are you still supposed to be able to view your iOS screen in Quicktime Player? I've noticed that when I view someone else's screen using Yosemite's Messages.app screensharing feature, their iPhone 6 plugged into the Mac's USB doesn't show in Quicktime Player, thus I can't see their iPhone screen remotely to help them troubleshoot their iPhone.

W-O-W! That is way too cool, and something I think Apple needs to promote more visibly. But you also found a way to reboot my iPhone 6 remotely - as soon as I picked the iPhone, it rebooted. Interestingly enough - the white screen with black apple logo quickly appeared on my QuickTime window, so it was screen-casting at an early boot stage. Very cool.

Didn't work for me. When I get into the camera, it doe not seem to see my iP6 or my iPad mini with Retina. "FaceTime" camera is the only option.

Maybe there're some errors occur. Try to reconnect your iPad to Mac and then follow the above guide again. If your problem persists, you may consider using a phone manager to project your screen on computer, then record your iPhone screen with screen recorder. There's a free software which is workable for you. You can access it here to capture your phone screen.
http://www.apowersoft.com/free-online-screen-recorder

No it only need QuickTime Player .... Just click on New Movie Recording and Select iPhone/iPad screen. You can also check out this video if you need help https://youtu.be/Zna6rJ0Fkts

I cannot get my iPad Air or iPhone 5C to connect - I don't see them as an option in the drop down menu on quicktime. The lightening cord works/connects just fine. Any thoughts on what else I could check to fix this? iOS and OS are both fully updated. I used to record my iPad with acethinker iphone recorder, never had that problem.

Hey peter thanks so much for this i am super excited to get started. My question to you is how would i record voice while recording my iPhone screen. I have a nice headset and want to utilize them, but i don't know how to get that working any tips?

great tutorial sir ! but i'm facing some problem where i can only record the video, because when i chose my audio input source to my iphone it's seem just not work since i notice the sound bar (below record button on QT) is not responding to any sound. but it working nice if i only use my MBA internal mic. i use MBA Late 2013, Running OSX El-Capitan 10.11.1 and iphone 5s with iOS 9.2
can you help me sir ?

This is great! One question - When I press record on Quicktime and the record button on my iPhone, I end up recording the timestamp at the top of the iPhone and the buttons at the bottom. Any way to avoid that?

Concise and effective! Thanks! I'd like to record a tutorial. I have a music app on my iPad. With the lightning cable connected to the Macbook, I understand that audio coming out of the music app will be recorded by QuickTime, but is it possible to record myself at the same time explaining my actions? Do you recommend using another app to bring the two together along with this setup? Thanks!

Hi, I record video from iPhone (or webcam) using QT on my MacBook Air , but how can I set QT record to an external drive? I want the video file recorded not on the MBAir but onto an external hard drive? Can I do that? How?