How to save your parking spot with Google Maps for iPhone and iPad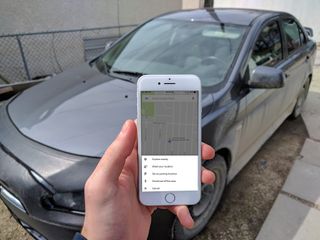 We've all been to busy shopping malls, and we've all walked out after an intense shopping trip only to realize that we left through a different door than we came in, and we have no idea where our car is. Google Maps now helps you out by letting you save your parking spot.
Here's how!
How to save your parking spot in Google Maps
You'll just need to make sure Location Services are enabled before proceeding.
Launch Google Maps on your iPhone or iPad (though why you're lugging around an iPad when you're out, I don't know).
Tap the blue location dot that denotes your location.
Tap Set as parking location. A little white 'P' in a white circle will appear on the map beneath your blue location dot.
That's it. Google Maps will save that spot for 12 hours, and you'll be able to tap it at the bottom of the Google Maps window to bring it up and view or add a photo of the spot. You can then download the spot or share it with other folks you're traveling with.
Do you ever lose your car?
Is this feature something you'd use? Or do you think it's superfluous and we're becoming too reliant on this kind of thing? Sound off in the comments below.
Get the best of iMore in your inbox, every day!
Mick is a staff writer who's as frugal as they come, so he always does extensive research (much to the exhaustion of his wife) before making a purchase. If it's not worth the price, Mick ain't buying.
Maps.app has had this feature for awhile, yet it isn't being mentioned anywhere. You do have to turn it on. If Maps.app gets an offline mode, then there will be a comparison made. :/

I found maps to be inconsistent when it came to saving my location (even when using either BT or CarPlay).

It uses BT, so as long as BT is on and connected to your car on every journey, it should always work. It's not let me down yet

That seems defective by design then. My BT connection dies as soon as CarPlay is enabled (I plug in the phone). I wonder if that's just something affecting my Chevy Volt though.

I have a feeling it's something that's just affecting your car, the Bluetooth should stay connected

Apple Maps has the Siri integration as well, so you can say "Hey Siri, where's my car?"

You wrote, "(though why you're lugging around an iPad when you're out, I don't know)." Well, some of us received the iPad as gift from our loving, wonderful wives. It would be churlish of us to complain.
Would you mind explaining, to those us who use PCs, what does "Download offline area" mean?
Thank you for this article.

If referring to Google Maps, you can download an area of the map for viewing offline. I don't know how well it works, if I need to use maps offline I'll get something like Nokia HERE WeGo where you can download the whole map offline and know that you're getting all the information you need.