How to send directions in Maps from OS X Mavericks to your iPhone or iPad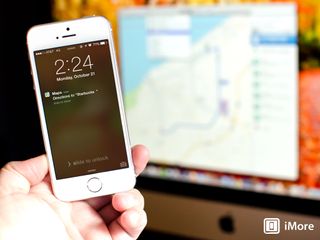 OS X Mavericks brings with it an all new Maps app. If you use an iPhone or iPad, you're probably already familiar with it. One of the best features of Maps for Mavericks is the ability to ping directions right to any iPhone or iPad associated with your Apple ID. Here's how:
Launch the Maps app from your Mac running OS X Mavericks.
In the top navigation, click on Directions.
In the Directions menu that's now on the right of the screen, enter in the directions you'd like to send to your iPhone or iPad.
Once you have a route selected and directions on the screen, click on the Share icon in the top main menu and choose the device you'd like to send the directions to.
Check your iPhone or iPad for a push notification.
That's all there is to it. Your iPhone or iPad don't even need to be on the same WiFi network in order to receive directions since Maps pulls from any device that's associated with your Apple ID. You can also use this method to share directions many other ways including through email, iMessage, AirDrop, Facebook, and more.
Get the best of iMore in your inbox, every day!
iMore senior editor from 2011 to 2015.
I'm still not sure I trust Apple Maps. :-X

I've used Apple Maps quite successfully in very rural areas in Ia, Mn, & Wi... Apple Maps performance is on par with my Garmin Nuvi765t.

What do you do when no iPhone shows up in the "share icon" drop down?

You may need to logout of iCloud and then log back in. I posted instructions here if you need instructions how to do so: http://fatwalr.us/2013/10/how-to-add-my-iphone-to-apple-maps-in-mavericks/

Thanks!! Worked like a charm!

I did this. They still don't show up. Whoops--skipped a crucial step. You also need to quit maps and then relaunch.

Nope. I'm also not seeing any of my iOS devices in the Share dropdown. ???

Same here. No devices available to send to. Only the standard sheet items are there. What gives? Is it that I'm on an older Mac?

An annoying solution, but one that works... Go to System Prefs>iCloud, logout and then log back in. Reboot Maps et voilà!

This worked from me. Takes a while to fully log out though.

This worked for me as well. Thanks for the tip.

Worked for me as well; I just wish Apple didn't ask you that you were sure you wanted to remove your data for every single iCloud service.

Seriously I have tonnes of docs in iCloud, its going to be a major pain to have to delete them all from my Mac! Apple are way off the mark if this is what they expect users to do!

Restart your Mac. I did that and it shows my iPhone now.

Is there a way to add another iPhone other than mine to the list? Say I want to send directions to my wife's iPhone or my dad's.

agreed. i send directions to other people a lot and this would be very nice

I tried to use the send using Messages but when it opens on the iPhone it doesn't seem to include all of the data for the directions. It has the lat./long. for the to address but the from is blank so it's not usable. If that would work then sending by messages would be a work around for sending to others' iPhones.

The from being blank would be correct because you are technically not in the same location, even if you are standing next to each other. It has to assume that you are sending it to someone in a different location so why fill the from section with your location.

Yep you are correct on that. Had a moment of stupidity lol. Thanks for the correction.

Turning iCloud off and on again totally worked. Thanks Nuttmedia!!

Turning iCloud off and on didn't help, but enabling iCloud keychain did for me.

The Nude Smurf!! I send directions to that smurf all the time!! :)

A simple reboot fixed the issue.

Cannot see iPhone at all listed. Have tried rebooting, logging out of iCloud and back in, tried enabling iCloud Keychain. Any ideas why iPhone not showing? :-(

Got the same problem. Have also rebooted the iPhone and iPads.

Same here, logged out of iCloud, rebooted, enabled keychain, still no go

Do you need IOS 7 for this to work?

Good point. I'm on iOS 6.1.2 Those who have it working and those who don't, which iOS are you guys running?

I think it must require IOS 7. I updated my iphone to IOS 7 and now it works fine.

Not the answer I wanted but its an answer lol. I'll have to wait for the JB then before I can do this...

I tried this today but the directions would not give me voice step by step.

The directions only show email, twitter etc and NO DEVICES.

Hi. IN step 4 above, I see your picture has a number of peoples names, then underneath there are the 'ways' to share. My screen only has the share methods listed. Do you know I can get those contact names to appear as shown in your tutorial here? Thank you.

Perhaps I'm missing something here, but when I send the directions to my phone, I do get the directions on my phone & it manually gets me to my destination, but since I'm driving, I would really prefer the "turn by turn" direction prompting I would get like when I ask Siri for directions. I can't find a way to take the directions & have them converted to the "turn by turn" voice directions. Is there a fix?