How to set up your Apple TV with Sonos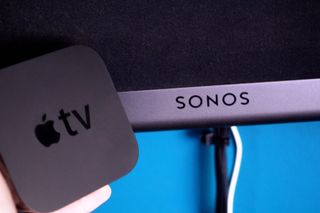 (Image credit: iMore)
My Sonos Playbar and Play:5s are the heart of my house's home audio system, so I was a little bit peeved to see the optical audio port drop from my Apple TV. The good news is, if you have an optical audio port on your television, your Apple TV apps and video can still take advantage of your Sonos system; if your television is older, you can use an Airport Express and an optical to 3.5mm adapter.
(And if you're looking to set your Apple TV up with a different optical audio-powered speaker, check out our guide to doing so here.)
How to set up your Sonos Playbar with your Apple TV
Set up your Sonos Playbar with your television. Plug in your Playbar to power, then open up the Sonos Controller

(opens in new tab)

app on your iPhone.
Tap the hamburger button in the upper left corner, and select Settings.
Tap Add a Player or SUB and follow the instructions to set up your Sonos player. You'll also select the room your player lives in.
Connect your Sonos Playbar's optical audio cable to your television, or (if your TV doesn't support optical audio) to your Airport Express via 3.5mm adapter.
How to listen to your Apple TV via Sonos Playbar
Turn on your Apple TV and go to Settings > Audio and Video > Audio Output.
Select your Apple TV's audio for a television-based Playbar, or the name of your AirPort Express for an externally-connected Playbar.
You can alternatively change audio sources at any time during playback by dragging a finger down from the top of your Siri Remote to activate the pop-over menu.
How to add surround sound to your Sonos system and Apple TV
You can increase your immersion into your Apple TV's programming by setting up a Sonos SUB (opens in new tab) or a stereo pair of Sonos's other speakers. Here's how to go about doing that.
Open the Sonos Controller

(opens in new tab)

app on your iPhone.
Tap the hamburger button in the upper left corner, and select Settings.
Tap Room Settings followed by the room your TV is in.
Select Add Surrounds or Add SUB and follow the directions on the screen.
Questions about setting up Sonos with your Apple TV?
Any questions, comments, or queries? Let us know below in the comments.
Serenity was formerly the Managing Editor at iMore, and now works for Apple. She's been talking, writing about, and tinkering with Apple products since she was old enough to double-click. In her spare time, she sketches, sings, and in her secret superhero life, plays roller derby. Follow her on Twitter @settern.
One thing to take into account.... MOST TVs do not pass 5.1 Dolby Digital through the Optical output port. I recently installed a Sonos Home Theatre System and had to run all my devices (TiVo/AppleTV/BluRay) into an HDMI switcher (http://www.monoprice.com/Product?p_id=7974) that also has an Optical output to preserve device 5.1 sound. I then connected an HDMI cable from the switcher to the TV and an optical cable from the switcher to the Sonos Playbar. Now, when I view Settings>About my Sonos System, the Playbar registers the Audio as 5.1 Dolby Digital, which not only sounds better, but has the correct speaker separation. If you aren't passing 5.1 sound into the Playbar, it approximates the separation, and it definitely doesn't sound as good. Even if you only have a Playbar and no sub or surrounds - it will sound better....

One other AppleTV setting to consider is to select AUDIO MODE to be 'Dolby Digital' rather than 'Auto' -- that will ensure 5.1 is always pushed out from the AppleTV

When watching TV or video on my iPad, can I stream audio to a Sonos portable for better sound? I know how to stream music from iPad when on same network, just can't figure how to audio from a video.
Thank you for signing up to iMore. You will receive a verification email shortly.
There was a problem. Please refresh the page and try again.