How Thunderbolt 3 works on the new MacBook Pro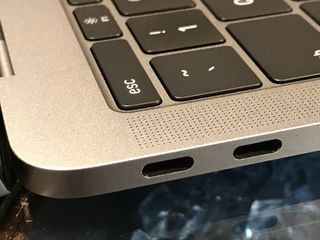 With the new MacBook Pros, Apple has done away with traditional USB ports and literally every other port in favor of the Thunderbolt 3/USB-C port (and a 3.5mm headphone jack). That's it, that's all.
This has spawned many a meme, since folks who still plan on using many of their current peripherals are going to be living in dongle city. So what's so great about Thunderbolt 3? How does it work? How can it replace everything? Why is the rum gone?
Simple answer: Because it can do everything.
What's Thunderbolt 3?
Thunderbolt 3 is essentially USB-C (USB 3.1) on 'roids. USB-C is the latest connector technology, which is reversible and can do just about any job — power, HDMI, data transfer, DisplayPort, and more. Standard USB-C can transfer data at a rate of up to 10Gbps. That's incredibly fast.
Thunderbolt 3 has transfer rates of up to 40Gbps. Yeah. Way faster.
What's it for on the new MacBook Pro?
The answer to that question is "all of the above". You'll be able to charge your MacBook via Thunderbolt 3; you can power displays; you can transfer data; you can do just about anything.
In fact, one of the coolest features of the Thunderbolt 3 ports on the MacBook Pro is the ability to charge your laptop from any one of the ports. The baseline 13-inch only has two ports, but the step up 13-inch and the 15-inch both have four ports. This makes orienting your workstation easier than ever, since you never have to worry about which side your power is coming from.
But the 13-inch and 15-inch MacBooks aren't exactly the same.
If there are only Thunderbolt 3 ports, how will I connect my devices?
Apple has always been a company that's pushed forward. The USB-C connector is the future and Apple's of the opinion that you either keep up or get left behind. Fair enough, Apple's moved on, but the rest of technology is only slowly making that switch. So how do you connect your devices to your new MacBook Pro?
You'll need dongles. For your iPhone, you'll need a USB-C to Lightning cable (opens in new tab). For HDMI (opens in new tab) or VGA (opens in new tab), you'll need mutiport adapters.
That's just the way it's gonna be until the rest of technology moves toward USB-C. It's bound to happen at some point — many Android phones already use USB-C.
For now, however, you'll just have to dongle it up.
What's different in the 13-inch and 15-inch MacBooks?
The main difference between the two models is that the 15-inch MacBook Pro has two drivers. That means that all four Thunderbolt 3 ports are equally powerful, and you can power two 5K displays simultaneously (if you wear them like glasses, that's 10K! (not recommended)).
The 13-inch MacBook Pro with four Thunderbolt 3 ports only has one driver; therefore, according to Apple (opens in new tab), only the two lefthand ports run at full performance. The two righthand ports have reduced PCI Express bandwidth, which means they can't support the same amount of data all at once.
So, if you're running higher-performance peripherals, like a 5K display, you'll want to power it out of the left side of your 13-inch MacBook Pro; the right side just won't do it.
If I can charge from any port, can I charge from all of them?
No. The new MacBook Pros are smart enough to detect the best power source and charge from just the one. It's also not wise to try and unnaturally speed up charging. You know… "Kaboom" and all that.
Apple also recommends you only charge with the included cable and adapter (opens in new tab), since the 15-inch and 13-inch models use different adapters.
Is this gonna be forever?
Likely, yes. Like I said, USB-C is the future and it's a hell of a little connector. Apple saw its potential, souped it up, and now we have Thunderbolt 3. Yeah, dongles are cumbersome, no matter how fun it is to say "dongles". And yeah, you'll probably lose one or two (and they ain't cheap), but that's the price we have to pay for innovation right now. If you adopted the iPhone 7, then you know all about port-compromise.
I'm not totally onboard with everything Apple does, but I am fully behind Thunderbolt 3 and USB-C, and if the future world is a world where I don't have to look at my USB cable before plugging it in, then that's the world I one day want to live in.
○ MacBook Pro with M1 Review
○ Macbook Pro with M1 FAQ
○ Touch Bar: The ultimate guide
○ MacBook forums
○ Buy at Apple (opens in new tab)

Get the best of iMore in your inbox, every day!
Mick is a staff writer who's as frugal as they come, so he always does extensive research (much to the exhaustion of his wife) before making a purchase. If it's not worth the price, Mick ain't buying.
I don't have an issue with Apple's early adoption strategy regarding ports to usher in new and better technologies. They were spot on with dropping floppy and CD drives in favour of USB A. However the headphone jack was a mistake as neither Lightning nor Bluetooth can hold a candle to a decent pair of cans connected via a 3.5. What they should have done is got Beats to produce some high quality headphones that connect via Lightning as an example on how the connection could work. They should also have bitten the bullet and adopted USB C on iPhone. That would have shown true courage. Posted via the iMore App

Totally agree about USB-C on the iPhone. I agree that current 3.5mm headphones are superior to what's out there for Lightning headphones, though Lightning audio is superior in quality. I think they didn't bother with a USB-C iPhone because that would make them just like everyone else and all that proprietary revenue would've gone down the drain. But who knows; maybe the iPhone 8 will surprise us.

That worries me also. Apple under Cook is all about pleasing the shareholders. For all his faults, at least Jobs was a true innovator who recognised that this was as important as his bottom line.

When you mentioned needed dongles, you forgot #1: USB-C to USB-A. The number of commonly used USB-A devices out there is astronomical, starting with thumb drives, iPhone chargers, and external drives.

I doubt it will happen, but I'm holding out hope that someone will make a decent USB-C hub that includes (bear with me here as I type out my long, very unrealistic list haha)... First off, my must haves based on my daily usage (totally selfish, I know):
- USB-A
- HDMI
- Ethernet ...and if it could also include the following for more "sometimes" usage:
- VGA (for old conference room projectors)
- SD Card

I don't think you'll find something that includes VGA, that would take a HDMI or USB-C to VGA adapter. (i.e.: https://www.imore.com/e?link=https2F2Fclick-100048... However, there are at least a couple choices for the rest of what you want (and more): this was introduced with the MacBook, (it has everything in your list except VGA): https://www.imore.com/e?link=https2F2Fclick-100048... this is new/pre-order available, does not include HDMI, instead includes mini DisplayPort (if you have a VGA adapter already, you could use it here): https://www.imore.com/e?link=https2F2Fclick-100048... there are others available as well, from griffin and others.

You missed one of the most cool things about TB3/USB-C... "...In fact, one of the coolest features of the Thunderbolt 3 ports on the MacBook Pro is the ability to charge your laptop from any one of the ports. ..." Actually, even cooler still is the fact that just plugging a device in that provides power means no extra power cord needed. I.E.: the two LG monitors that Apple's promoting are connected via one TB3 cable, this cable not only connects the monitor (for video & audio...the LG 5K includes a cam & mic, which is all going through the one cable), it provides power from the LG monitor to charge your battery in your MBP, so, no extra charging cable & plug needed. ...OWC's TB3 dock provides power also...in fact, many TB3 devices that are plugged in will provide power to the MBP...if not enough to charge the battery, at least enough to not use the battery while connected. So, when the MBP is at home or on a work desk, it's possible to provide power via connected devices without the need for your separate charger. Plus, the one connector replaces several different ones. Eventually, everything will use the USB-C reversible connector, which, I think, the video electronics market should jump on, (UHD TVs, UHD blu-ray, set top boxes, etc.), this would be better than HDMI.