How to quickly change or move a calendar event on iPhone and iPad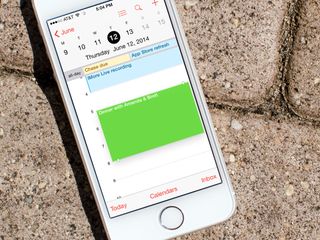 If you need to quickly change the time of an event or appointment in your iPhone or iPad's Calendar, the today view gives you an incredibly easy way of doing so by dragging and dropping instead of entering into edit mode for each event you need to change. Unfortunately, the Calendar app doesn't make the option very obvious. But once you know where it's at, we're pretty sure you'll prefer it over editing individual events when it comes time to plan your day.
How to move a calendar event or appointment on iPhone or iPad by dragging and dropping
Launch the Calendar app on your iPhone or iPad.
Toggle list view off at the top if it isn't already.
Tap on the day you need to switch things around for.
Press and hold on the event you need to change the time for. It will change to a darker color.
Drag the event to the time you need to move it to and release it when it's at the correct time.
Mick is a staff writer who's as frugal as they come, so he always does extensive research (much to the exhaustion of his wife) before making a purchase. If it's not worth the price, Mick ain't buying.
Nice post! Thanks for your commitment to these How-To's.

Yes, that's nice, but I need to duplicate events more than I need to move them! Past phones made this easy! I see Fantastical only just added this--WTF?! I may switch to that app, but the native app has the visual/spatial Day view and others can't match that! Arrrggh!

Easiest way other than Siri to move appointments. Emjayess, get fantastical. Easiest way to enter appointments and yes, now it allows recurring events. The other thing that bothers me is the inability to Serbs contact to a particular group.

I've always wanted that in all my devices even before I got Apple products.

If a calendar event is a meeting, and lets say its exchange based.....if you change the time in this fashion, does it send updates or ask you if you want to send an update?

Thanks for the shortcut. I learn something new everyday :).

They need to add copy and paste of events to easily set up repeting that occur at the same time but on non-consecutive days (e.g., a routine event that happens on Tuesdays and Thursdays at the same time each week). Some third party calendar apps have this feature, but it should be in the standard Calendar app.

Well you can still add an event on Tuesday, set it recurring every week. Another one on Thursday, occurring every week. :)

In addition, if you press and hold an event and swipe left or right, you can move an event to another day. Sent from the iMore App
Thank you for signing up to iMore. You will receive a verification email shortly.
There was a problem. Please refresh the page and try again.