How to transfer Nintendo Switch games to a microSD card
When you upgrade to another microSD card, you need to make sure your game data transfers to it.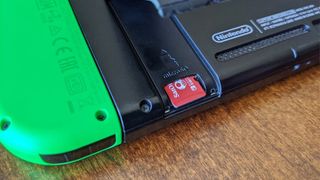 (Image credit: Rebecca Spear / iMore)
If you plan to download many games to your Nintendo Switch, the 32GB storage won't get you very far. However, by picking up a microSD card, you can expand your Switch's storage to better accommodate your downloading habits. If you have already downloaded games onto your Nintendo Switch system memory and you want to transfer them to your microSD card, you'll have to jump through a few hoops.
How to transfer Nintendo Switch games to a microSD card
It's not quite as easy as transferring a screenshot, but here's how you transfer Nintendo Switch game data to a new microSD card.
1. You'll first need to turn your Switch off. Hold down the power button until this screen pops up.
Image 1 of 2
2. Select Power Options.
3. Select Turn Off.
4. If you haven't done so already, now is when you want to insert your best microSD card into the Nintendo Switch console. The slot is located behind the kickstand.
5. Turn your Switch on by pressing the power button.
6. Select System Settings from your Switch's Home screen.
7. Select Data Management. You'll need to scroll down a bit.
8. Select Manage Software.
9. Select the game you want to transfer.
10. Select Archive Software.
11. Select Archive.
12. Press Home button to go back to your Home screen. It's on the right Joy-Con underneath the thumbstick.
13. Select the archived game from your Home screen.
14. Select Download.
The game will download onto your microSD card automatically. Remember that you can play the game off the microSD card, but save data will always save to your system memory.
This is also useful for quickly transferring your games over if you've decided to upgrade your console. If you're now rocking a Nintendo Switch OLED, you don't want to redownload all those games. Spare yourself some pain and invest in a solid SD card to make the process simple.
Check out the best microSD cards available!
If you are planning on transferring games onto a microSD card, you will likely be in the market to buy one. If you're uncertain about which microSD card to get, read our article to know which size microSD card is best for Nintendo Switch.
SanDisk 128GB microSD card - Mario theme
SanDisk 128GB microSD card for Nintendo Switch - Mario
Give yourself far more storage space with this Mario-themed microSD card. It offers fast speeds and a cool gamer look without costing much.