How to turn on Yosemite's Mail Drop feature for non-iCloud email accounts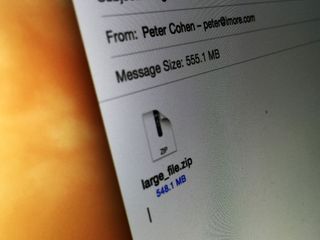 One of the many new features introduced in OS X Yosemite is Mail Drop, which enables you to attach files up to 5 GB regardless of your email service provider's limitations. Did you know it works with non-iCloud email, too? Here's what you need to do to get it working.
Mail Drop cleverly uses iCloud as a temporary storage location for the file you're sending. It's seamless for Mac and iOS users — the file appears like a normal enclosure. But it works just as well for people who aren't part of the Apple ecosystem — rather than seeing a traditional file attachment, they see a download link instead.
The bottom line? You're welcome to send video files, folders of images, presentations, and other sizable file attachments without worrying about the file getting stuck or rejected by your recipient's email server.
Mail Drop uses iCloud for storage — and as such is turned on by default for your iCloud email account — but you can use it for your non-iCloud accounts, too. In fact, you can use Mail Drop on any email account you have linked to the Mail app that supports the IMAP email protocol. All you have to do is activate the feature. Here's how:
To activate Mail Drop on non-Yosemite accounts
Double-click the Mail app.
Select the Mail menu.
Select Preferences...
Click on Accounts.
Highlight the email account you'd like to use with Mail Drop.
Click the Advanced tab.
Check "Send large attachments with Mail Drop."
Using Mail Drop will save you a lot of trouble if you send large files regularly to friends, family and colleagues. It's a convenient and easy way to get the job done without having to resort to an alternate method like Dropbox to get your files where they need to go.
Are you using Mail Drop with email accounts besides iCloud? Is it working okay for you? If you have any questions or comments, let me know.
Get the best of iMore in your inbox, every day!
It is not a present option for me with my POP accounts... The tick box is simply not there. (I don't really mind, because I have my own server setup - was just curious to try it out)

Good point! I amended the how to to specify IMAP email accounts.

So is there a way to force it to send a file via Mail Drop? I sent a video to my aunt today, wasn't sure if it went traditional or Mail Drop

I assume Mail Drop counts against your iCloud storage limit. Any idea as to how long the link lasts and the attachment counts against your account limit? Thanks Peter for the article!

Doesn't count against your storage limit, but that's because the file is only available for a temporary amount of time. It's either 30 days or 3 months, I can't remember, but I'm fairly sure it's the former as opposed to the latter. Anyone like to help me out?

That's great! Thanks for your clarification.

I'll add that this also works for Exchange accounts as well as IMAP.

Is there a way to restore the dialog sheet that asks permission to use Mail Drop for a given account? I must have checked the "don't ask me again" button at some point and now I find it almost too transparent. I'd like to know when it's being used. Sent from the iMore App

I just tried this twice and the messages are still sitting in my outbox. I tried iCloud to gmail, and camp to gmail. I also confirmed that I was signed in to icloud in system preferences /icloud settings.