How to quickly update your Twitter and Facebook status from Notification Center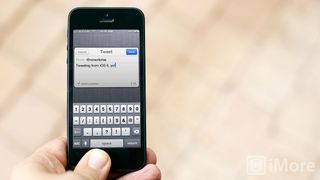 Note: Apple has removed this feature with iOS 7.
With iOS 6 you can send a tweet to Twitter or post to Facebook right from Notification Center. Whether you're using the new iPhone 5, or a newly updated iPhone, iPod touch, or iPad, the Share Widget makes Twitter and Facebook buttons only a swipe away.
How to enable the Share Widget
If the Facebook and Twitter buttons aren't already in your Notification Center, you'll need to enable the Share Widget.
Launch Settings from your iPhone or iPad Home screen.
Tap Notifications.
Scroll down and tap on the Share Widget.
Make sure that the option for it to appear in Notification Center is On.
Now the Share Widget should appear in Notification Center. And if it's not exactly where you want it, you can also change where it appears.
How to quickly update Twitter from Notification Center
Swipe down from the status bar at the top of your screen to pull down Notification Center.
Tap on the Twitter button to open the Twitter Share Sheet.
Tap the From: field to switch between multiple accounts.
Type in the tweet you want to send.
Tap Add Location to include your current location.
Tap Send
How to quickly update Facebook from Notification Center
Swipe down from the status bar at the top of your screen to pull down Notification Center.
Tap on the Facebook button to open the Facebook Share Sheet.
Type in the status you want to post.
Tap friends to restrict the post to certain audiences (i.e. friends, only me, friends of friends, your local area, groups you belong to, etc.).
Tap Send
Rene Ritchie contributed to this guide.
How to get more help with Notification Center
If you need more help setting up, using, or trouble-shooting Notification Center on iPhone, iPod touch, iPad, or Mac, head on over to our iOS forum and ask away!
Get the best of iMore in in your inbox, every day!
iMore senior editor from 2011 to 2015.
I use "Drafts" from the App Store as I usually post to both at the same time.

From glancing at the title i thought you had a way to do both at the same time!

I like the idea of Twitter and FB being on the Notification Center Banner but I find it useless in the sense that you can only just post commentary updates. Why isn't their an option to add a picture to your Tweet or your FB Status? Common sense would tell you that having that option would benefit so many users, seeing as so many of us take a vast amount of pictures day to day and love to share them on both Social Networking platforms. But knowing Apple, this will probably go by being ignored or be added as a "new feature" on iOS 8 lol.

you can share pictures via iOS on Facebook or twitter by going to pictures and clicking "share" on whichever photos you would like to post.

Thanks, Aly. Very helpful.

I see you can mention others in a tweet, but is there anyway to tag people in a Facebook post?

What would be nice is if you could click-and-hold 'tap to tweet' and drag it over 'tap to post' and then it would post the same thing to both places.

Never noticed the picture flaw, that would be nice as well as a well to post to both at once.

It'll be nice to see in the Notification Center where you can post a Facebook Status update and a tweet at the same time. Just like on BlackBerry Social App...

I dont havee share widget option :s
Thank you for signing up to iMore. You will receive a verification email shortly.
There was a problem. Please refresh the page and try again.