How to use the Galaxy Gear S2 (or other Android watch) with an iPhone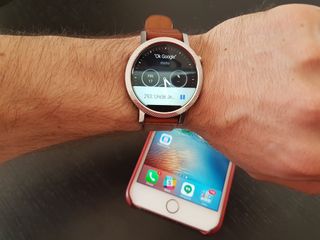 Android Wear has been around for just over two years, and it is slowly gaining traction among watch enthusiasts. As early functional designs from LG and Samsung have given way to stylish and mainstream products from Motorola, Huawei and even Fossil and Tag Heuer, Android Wear provides an assortment of great styles at prices often half that of an Apple Watch (opens in new tab).
And while the Apple Watch may be the premiere smart wearable for the iPhone, many others, including Android Wear smartwatches, are compatible as well. While the experience isn't always as comprehensive as the Apple Watch, Google has ensured that Android Wear devices maintain quite a bit of functionality — including access to notifications, watch faces and, perhaps more importantly, Google Now.
What is Android Wear, exactly?
Like the Apple Watch, the Pebble Time, and many other so-called smartwatches, Android Wear is a platform based on Android itself, but pared down to be used on a wrist-based wearable.
Unlike watchOS, it uses card-based user interface to navigate vertically through stacks of notifications, some from apps, others from services like Google Now, which attempts to predict what you want to know when you need to know it.
Is Android Wear going to be as good on my iPhone as on an Android phone?
Not exactly, but close. Google isn't privy to the same low-level system access on the iPhone as it has on Android, so it's not possible to take actions directly from notifications when paired with an iPhone as you would on, say, a Galaxy S7. There are also fewer apps available, since Google must distribute them directly from inside the Android Wear app, rather than through the much more versatile Google Play Store.
But there are great things, too.
Will my Android Wear smartwatch work with my iPhone?
Before you get started, you need to figure out whether your watch is compatible with your iPhone.
Google says that your iPhone must be on a minimum version of iOS 8.2 or above, which is pretty well over 90% of iPhones at this point. And while Google officially supports the following Android Wear products, we've confirmed that many others are compatible, too.
How to connect your Android Wear device to an iPhone
On your iPhone, Download the Android Wear app

(opens in new tab)

.
Turn on your Android Wear watch and ensure it is reset to factory settings.
On your iPhone, open the Android Wear app and proceed through the instructions, until you reach the Connect to your watch screen.
On your Android Wear watch, choose your language.
Proceed through the instructions until the Android Wear model shows up on your iPhone.
On your iPhone, tap the model number and accept Bluetooth Pairing Request on phone. Ensure the pairing code matches the one on your watch.
Once paired, sign into your Google account (if you aren't already).
Turn on watch notifications.
Turn on location.
Enable calendar access if desired.
What now?
When the pairing and syncing procedure is complete, you can feel free to customize your Android Wear watch from the iPhone app. This includes changing watch faces, or learning about the wearable's functionality.
As when paired to an Android phone, users can interact with Google Now on the watch because the Android Wear app for iPhone remains open in the background (in a low-power state) to route any voice requests.
What can you do with an Android Wear device paired with an iPhone?
Lots of stuff, especially when connected to Google Now.
In addition to receiving all of your iPhone's notifications, when connected to Google Now your Android Wear device can sync your preferences and information, such as favorite places, sports teams, stocks, and media. The service also provides Google Now cards for any birthdays, flights, hotel reservations, movie releases, public alerts, restaurant reservations, public transit times, road traffic, and weather, if you have chosen to sync them.
That can lead to a lot of notifications — perhaps more than you want on your wrist. Unfortunately, due to system limitations, to disable an app notification on your watch you must disable it on your iPhone. That's the one major downside to using Android Wear (or Pebble, or any smartwatch platform that isn't Apple Watch) on Apple's mobile platform.
Other things that are great: you can use the existing navigation gestures to navigate between cards on your Apple Watch. Twisting your wrist forward or back, or lifting and lowering your arm, can navigate between cards or enter and exit them, respectively. These gestures take some getting used to, but there is a tutorial available in the watch's settings.
So, is it worth it?
Absolutely! I love pairing my Moto 360 (2nd gen) (opens in new tab) to my iPhone 6s Plus, because I love the look, and I really enjoy receiving relevant Google Now cards. While Android Wear doesn't have the same amount of functionality — the lack of apps is frustrating — as the Apple Watch, there are some distinct advantages.
First is price: You can pick up a Moto 360 (2nd gen), Asus ZenWatch 2, or LG Watch Urbane for under $150 if you know where to look. And because I'm a fan of round watches, I often find the understated aesthetic of the Moto 360 preferable to the Apple Watch depending on the day and what I'm wearing with it.
The second is Google Now: If you're invested in the Google platform, you've likely already enabled and configured Google Now to your tastes on either Android or the excellent Google app on iOS. Either way, having an existing relationship with Google Now sends just the right alerts to your wrist at just the right time. It's like magic.
The third is choice: If you decide to leave iOS for Androidy-green pastures, you can take your Android Wear watch with you. You'll likely never be able to pair an Apple Watch to your Galaxy or Nexus, and that's the way Apple likes it.
Did we miss anything? Anything else you want to know? What's your experience been like connecting your Android Wear device to your iPhone? Let us know in the comments!
Get the best of iMore in in your inbox, every day!
Daniel Bader is a Senior Editor at iMore, offering his Canadian analysis on Apple and its awesome products. In addition to writing and producing, Daniel regularly appears on Canadian networks CBC and CTV as a technology analyst.
yes Android Wear runs in the background. But if you swipe it away in recent apps your watch will disconnect. This should be highlighted.

just exactly where can you find a Moto 360 2nd gen for under $150??

FYI, Pebble added the ability to adjust notifications on iPhones a couple software updates ago, so stating that other non-Apple Watch wearables don't have this option isn't correct. I can easily turn off notifications for WhatsApp, let's say (and you do so through the Pebble app) and still have them come through fine on my iPhone. It works great. FWIW, I typically use my Apple Watch and greatly appreciate the many things that it can do thank to the low-level access it has to iOS in general. But I had to throw this out there!

I think what the writer meant is that you can't disable the app notifications from the watch, but only the phone. Isn't exactly clear. Still, that statement is incorrect. You can block app notifications directly from the watch without using your iPhone.

I know my Fossil Q Founder can disable notifications for each app straight from the watch. Sent from the iMore App

This is so ironic to see, since i just got my 6s on Sunday and have a Huawei watch paired to it. The ONLY thing I find to be troublesome is that the pairing seems to drop periodically, requiring me to open the android Wear app and reconnect. Also not big on having to keep the Wear app open (I'm a bit retentive about open apps and notifications) but otherwise it works great (Until I get a Watch of course :))

Ya. This is a big pain point on IOs not only for a watch but for IoT as well. Pain having to keep apps open in the background and not have a true headless approach in this day and age.

You can add the Samsung Gear Live to the good to go list. I was switching between Android and iOS a couple of years ago and during my Samsung Galaxy S4 days picked up a Gear Live when it first came out. Frankly, Android Wear didn't work very well and the Gear would stay connected to the phone for only short periods of time and over 50% of the time the notifications didn't work properly. If I remember right I switched permenantly back to iOS with the iPhone 5. (Bear with me if I have some of the time lines wrong... but they are close.) At that point I put the Gear in it's box and in a drawer not to be seen again.. After seeing this article I pulled out the Gear Live, charged it up and downloaded the Android Wear App for iOS. I was shocked to find it actually synced up and went through 2 major firm wear updates. So far, so good. I'm getting my email and calendar notifications as hoped. Weather works well as do the other Apps on the watch. The Gear is staying connected to my iPhone 6s without any issues... far better than it ever did with the Samsung phone. I'm going to wear it for a few days to see how it goes. This may have revived the Gear to a new life!

Question for Daniel. I don't see in the Android Wear App for iOS where I can set up my MSN email account. When I hit Add Account it only seems to allow for a Google Account. Am I missing something?

You need a Google Account to set up android wear.. Not to say that it has to be a GMAIL account (I don't think). If you have your MSN email set up as your Google Account it should work there.

Well, funny enough... it started syncing my MSN email by itself. So their must be something that I did, but not realizing it, in the settings that allow MSN emails to come through. Strange... but what the heck! I still am amazed that the Gear Live actually works with this... and works very well. It stayed connected all night and doing so thus far this morning. Not bad!

"Unfortunately, due to system limitations, to disable an app notification on your watch you must disable it on your iPhone. " This is not correct. You are able to disable notifications from your watch when connected to an iPhone.

You beat me to it. Sent from the iMore App

I love my Fossil Q Founder. It looks and works great! Sent from the iMore App

Hello there - I'm trying to pair Moto360 with iPhone 6S, however, it does not get sync. Are they compatible with each other? If not, is there any app that can do the trick? Many thanks for the help in advance.

Will there ever be a feature of replying through moto 360 second gen to whatsapp messages paired with iPhone???
Thank you for signing up to iMore. You will receive a verification email shortly.
There was a problem. Please refresh the page and try again.