Using the Ecobee3 wifi thermostat with your iPhone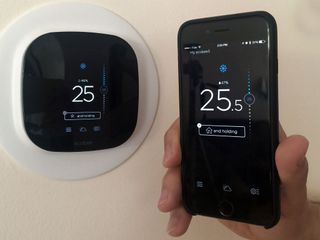 Once we set up and installed the Ecobee3 wifi thermostat, the next step was to set it up on our iPhone. To do that, we downloaded the Ecobee3 app and then registered a new user using the code provided by the thermostat. We set up our account name and password, and then we were good to go.
Once the app is installed, you can do everything on your iPhone that you can do directly on the Ecobee3 touch screen. That's all accomplished using the three tabs on the bottom.
The first — hamburger icon — takes you to the main menu. From there you can check the status of the system and sensors, set your schedule and comfort settings, add vacation plans, set reminders and alerts, and get more information about your Ecobee3.
The second — weather icon — takes you to the weather section. Just as the name implies, this screen provides you with detailed information about your local temperature, precipitation, and more. Since your Ecobee3 can perform actions based on outside conditions as well as inside, it's important information to have in-app.
The last — hamburger gear icon — takes you to quick changes. Also as the name implies, here's where you can find convenient toggles for things like turning the fan on or off.
That makes it incredibly convenient to manage the entire system. Instead of having to get up and switch rooms or floors, I can just open the app and check the temperature and make any changes I may need.
That's especially true because it works over cellular, not just wifi. So, thanks to Ecobee3, I can now control the temperature in my house no matter where I am. All I need is my iPhone and an internet connection.
Get the best of iMore in in your inbox, every day!
Senior Editor at iMore and a practicing therapist specializing in stress and anxiety. She speaks everywhere from conferences to corporations, co-host of Vector and Isometric podcasts, follow her on Twitter @Georgia_Dow and check out her series at anxiety-videos.com.
See. What Nest should have done is cornered the market by pricing their device realistically. Now I've loads of opportunities not to buy from them. This EcoBee looks nice.

I have the previous model and it works great! Love the product and the updated UI increases function, productivity and overall look. Great job Ecobee!
Thank you for signing up to iMore. You will receive a verification email shortly.
There was a problem. Please refresh the page and try again.