How to use Google Hangouts with the Messages app on your Mac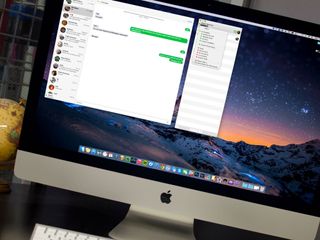 The Messages app for Mac lets you easily send iMessages and even regular text messages without ever having to pick up your iPhone. Aside from cellular messages, the Messages app can also integrate into other messaging services, including Google Hangouts. Once linked, you can easily send and receive Hangouts messages right on your Mac, no annoying browser plugins necessary!
How to receive Google Hangouts messages with the Messages app for Mac
Note: If you have two-step verification enabled for your Google account, keep in mind you'll need to generate a password specifically for your Mac if you haven't already. If you don't, you'll receive errors that your login information is not correct.
Click on the  menu in the upper left hand corner of your Mac.
Select System Preferences.
Once in System Preferences, click on Internet Accounts.


Add your Google account if it isn't already added.
Once added, turn On the option for Messages.


Get the best of iMore in your inbox, every day!
iMore senior editor from 2011 to 2015.
Much useful for android users (as daily driver) when works on an alternate machine.

Hey Ally, do you know if this works for the group video/screen sharing functions of Hangouts?

In "internet accounts", it keeps saying that internet accounts cannot connect to that account, and when I enter the password, it comes back with the same thing. I know that that account works, as it is used daily. What's going on?

I have the same issue. I always have since day one of setting up Google. I actually JUST reset my password to try and get this working. No go.

if you're using two step authentication then you have to setup an app password for it. When two step authentication is activated certain services such as calendars and whatnot need to have a unique password generated for them. Its in your google accounts settings

Thanks for the info! Been trying to do this for a while.

Is there a way to do the same on iPhone? Having two message apps open all the time gets a little confusing after awhile. Sent from the iMore App

I just wish I could get/send regular SMS from my iPad mini 2... It'll show me green bubbled conversations that are old, but I can't ever get/send them, even with all settings correct and on same wifi network as my iPhone. I also wish when my iPhone isn't on the same network, my iPad wouldn't get all my iMessages in case I went to work but for some reason left my iPad at home. My daughter has learned how to unlock it and I don't want her sending gibberish replies to my boss! Lol. (She's 2). Sent from the iMore App

Messages only works with the old google talk service, I can't get it to work with hangouts - am I missing something? Posted via the iMore App for Android

That may be my problem too. "Jabber" is added to the bottom of the "Messages" main window. I'm guessing that this is how Google Talk worked, but not Hangouts. Can't make anything happen.

I removed the google account from my Mac and then added it back. As soon as I did that, a new window with Hangouts popped open along with the Messages app.

It's only using legacy Talk protocol, which is basically deprecated. It's like using WLM to talk to a WP7.5 user before Microsoft shut that down. Going to stop working when Google decided to pull the plug on Talk in favor of Hangouts, which I suspect is soon. Does Yahoo! messenger work in the Messages app, including file transfer? Skype's Android and PC clients are pretty bad so I've actually been looking into alternative to use with people who don't have iPhones and it would be nice to have something that integrates directly into the Messages app on my Mac.

So, does this only send messages to people that use iMessage?

I know I'm late to this article - but have you experienced that this has stopped working for Google Apps (for Work) accounts?