How to use Logitech Circle 2's person detection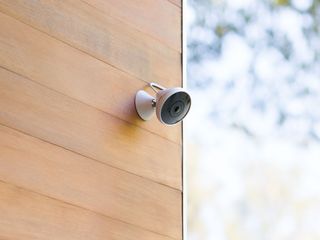 If you're looking for a home security solution, you can't get much better than the Logitech Circle 2, thanks in part to some amazing features you get if you purchase a Premium subscription, including Person Detection. Person Detection does exactly what it says: it alerts you when it sees a human. Its machine learning algorithm is even able to tell the difference between a pet and a person, so you shouldn't get a pop-up every time your dog decides it's party time. This feature works best when the camera is not obscured, is upright, and placed at a human height and in an area with good lighting (it's unfortunately not as accurate when using Night Vision). Here's how to set it all up!
Products used in this guide
How to enable Person Detection
In order to use this guide, you will need a Logitech Circle 2, the Logi Circle app and a subscription to Circle Safe Premium.
Open up the Logi Circle app.
Find and tap the settings menu in the top left-hand corner of the home screen.
If you have more than one camera, find the one you would like to update and tap and hold Event Alerts next to its name. Alternatively, you could select More Settings (also next to its name) and choose the Smart Alerts option.
If the Smart Alerts toggle is not enabled, you will need to enable it now.
Select Alert Filters.
Here you will see Motion Zones and Detection. You will need at least one Motion Zone to use Person Detection. These can be set via the web app.
Person Detection can be enabled under Detection.
Hurrah! You will now be informed if unidentified human beings are spotted in your Motion Zones. With this feature enabled, activity bubbles with a person icon and the time they were detected will appear in your Circle mobile and web apps.
Our top equipment picks
Security Camera
(opens in new tab)
See slightly more things

The biggest difference between the wired and wire-free models is the price. The wired camera also has a slightly wider FOV at 180 degrees and no limit for recording events.
Person Detection will be slightly more effective with the wider field of vision and recording time. However, the wire-free camera is still an excellent choice for your security needs. Logitech even offer bundles like their combo pack of two wired and one wire-free model.
Security Camera
(opens in new tab)
Circle 2 Wire-Free Camera
Flexible, adaptable, free

Person Detection works with both the wired and wire-free models of the Circle 2. Your preference may depend on where you need a camera. Without wires, the roof itself can be your limit.
(opens in new tab)
Logi Circle App (opens in new tab) (Free from the App Store)
Connecting to your circle is fast and simple
(opens in new tab)
Logitech Circle Safe Premium (opens in new tab) ($10+ at Logitech)
Open up your Circle 2's potential with a premium subscription.
Get the best of iMore in in your inbox, every day!
Thank you for signing up to iMore. You will receive a verification email shortly.
There was a problem. Please refresh the page and try again.