How to use Portrait Mode on an older iPhone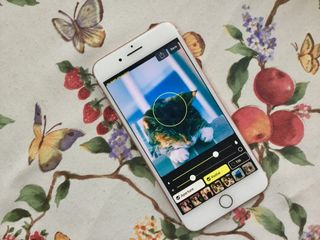 It's no surprise that blur and bokeh effect apps have been available for practically as long as the iPhone has been in existence, but when Apple launched the iPhone 7 Plus with Portrait Mode first in 2016 – which creates a faux depth-of-field so your photos look more like DSLR quality – and then came out with the iPhone 8 Plus and iPhone X a year later, developers have focused more on, well, focusing.
It wasn't just the back camera, too: with the introduction of the iPhone X, users were soon able to snap portrait mode self-portraits, changing the selfie game forever.
Now that the Portrait Mode phenomena has had a few years to bubble and blossom, it's time to take a peek at how someone who might not actually have access to all of these phenomenal features could still get in on the fun.
Here's how to use Portrait Mode on an older iPhone!
Best apps for shooting in Portrait Mode on an older iPhone
FabFocus is a dedicated background blur effects app that has a lot of options. You can adjust the bokeh shape and blur amount and even add mask feathering to create a more realistic depth effect, instead of that weirdly isolated object look that some apps have.
FabFocus uses facial recognition technology to create an automatic blur effect around the spot it identified as a face. If it doesn't find a face, it recommends you manually mask the object. It isn't perfect, but you can also manually adjust the masking after the initial effect, which makes it a lot easier to quickly add the finishing touches.
The masking brush sits about a half-inch above where your finger rests, which I'm not a fan of, but I understand why it's useful. You can't pinch-to-zoom, but you can double-tap the screen to zoom into a specific area and double-tap again to zoom out.
I didn't think I liked FabFocus at first, but once I started playing around with the advanced blur editing features, I realized it's actually the best one of the bunch.
If you want a lot of manual adjustments to fine-tune the style of depth effect your pictures achieve, get FabFocus for your iPhone.
Patch: Smart Portrait Editor
Patch is great for automagically creating the background blur, no matter what the object is (it doesn't have to be a face). It pretty much never gets it exactly right, but you can mask out the parts that you do or don't want blurred after it automatically applies the effect.
You can adjust the size of the brush, and can pinch-to-zoom and get really close, which is a huge bonus for masking those tiny little areas. You can even play around with your lighting.
There are five different levels of blur, so you can go wild, making a single image really pop, or you can tone it down for that perfect depth effect look.
There aren't very many options, other than adjusting the level of blur intensity – you can't even take a photo from within the app - but it is the best at automatically blurring the background of all of the apps I've used. Not perfect, but better at it than the rest.
If you don't want to do much work to get the Fauxtrait mode look, Patch makes it the easiest, while still looking pretty good.
AfterFocus has a unique masking mechanism. Instead of "painting" a mask inside of an object, you draw a line around the subject of your photo. Then, you draw a second line, creating the background. You can fine-tune any mistakes by adding more lines to a specific area.
You can then use either a lens blur or motion blur to create a different effect, depending on what look you want to achieve. You can also adjust the type of blur used by selecting a different aperture. Finalize the photo by adding a filter or vignette. You can even add stickers and markups, if that's your bag.
I'm not a fan of the masking mechanism. I found it difficult to use when I was trying to work with details. You can't cross the foreground and background lines, so I struggled to fit between two objects that I wanted to mask.
I love the variety of blur and aperture options. Even though I couldn't mask the objects quite the way I wanted, I was able to achieve a really good looking depth effect by adjusting the aperture and adding a filter.
If you prefer a loose background blur, but also want a lot of features and options, AfterFocus gets it right.
Depth Effects is a dedicated background blur effect app with a handful of tools and features that make it stand out. The most interesting feature is that you can manually apply stronger blur effects to different areas of a picture.
When masking, increase or decrease the brush opacity to change the strength of the effect. I love this feature because it makes it so you can gradually blur the subject of your picture, instead of having it pop out like a cookie-cutter. Feathering effects help with blur lines, but Depth Effects gives you control over what areas should have more or less blur.
It also includes a handful of glare and flare effects, which frankly are the best I've ever seen, and some filters so you can change the look of your picture.
With Depth Effects, you can alter the amount and style of the overall blur, adjust the aperture, and even play around with the RGB shift for even more effects.
If you want manual control over when, where, and how much blur effect is used to mask out your subject when creating depth effect, you'll love Depth Effects' tools.
I've listed the photo editing apps that I think best produce the depth effect of Portrait Mode on iPhone 8 Plus, iPhone 7 Plus, and iPhone X. These are a few others that didn't make my best list, but are great photo editing apps, just the same.
Fabby - Free - This funny little selfie app has a weird bokeh effect. I'm not too keen on it, but some might appreciate the fact that you can smooth the face and blur the background in one blow.
Big Lens - $0.99 - The tools are a little clunky and it doesn't do a whole lot. It's good, but just not good enough to be at the top.
Bokeh Lens - $0.99 - BokehLens is very simple to use, but it is not updated for iOS 10, so it does not belong with the big dogs.
Tadaa SLR - $3.99 - I used to use Tadaa SLR a lot, it has a fantastic automatic masking feature that works really well, but it hasn't been updated for iOS 10, so doesn't get full props.
Best apps that let you edit Portrait Mode photos
Simply put, the app does everything Portrait Mode on your iPhone does, plus a little bit more.
Through the apps settings, you can add a grid, to your photo, apply the app for your front-facing camera (if you have an iPhone 8 Plus or an iPhone X), the chance to save your original photo automatically, and a slew of EXIF data options like the ability to svae your GPS location, the photographer's name, and copyright info.
Focos also lets users save their photos in 1536 x 2048, 2160 x 2880, and 3024 x 2032 sizes, and gives users access to in-app purchases like Max Curve which is a professional photo editor which works mainly with the curve edit function, and ColorBurn which gives you access to 1,000 filters for your portrait photography.
Once you have your settings in order, it's as simple as shooting with Portrait Mode on your camera app — but the real magic doesn't happen until after your portrait photo is taken.
Using Focos, you can adjust the final photos aperture and diaphragm (to make sure that blur is juuust right), adjust highlights, saturation, softness, and so, so much more. You can even select and isolate the back bokeh and front bokeh of your Focos portrait and adjust individual color levels, sharpness, and blurring effects to tweak into perfection.
When you're done with editing your final portrait photo, save it to your camera roll and post it on your social media like the true iPhoneography pro you are!
If you're looking for a simple, straightforward app to edit, tweak, and perfect your Portrait Mode photos, then check out Slør in all its Portrait Mode editing glory!
Using the app, you can adjust your Portrait photo's aperture, radial, and tilt, perfecting and sharpening all of your Portrait Mode images. Then you hit save, allow the app to modify the original photo, and you're good to go!
Unfortunately Slør isn't an app that you can shoot Portrait Mode photos with, only edit them, so you'll have to shoot your Portrait Mode images with your original camera app and them upload them into Slør to edit.
If you're looking for an app that'll help you shoot and edit your Portrait Mode photos in a quick snap, then it might be worth it to take a peek at Anamorphic.
Not only can you shoot and edit your Portrait Mode photos straight from the app, but Anamorphic offers up a complete collection of color gradings to give you a classic film look, true depth of field, and the ability to capture your photos with depth data.
TLDR; Anamorphic is a wonderful Portrait editing and shooting app that'll cost you $2.99.
Not only is infltr an app that lets you shoot and edit your photos in Portrait Mode, but you can also edit videos, Live Photos, and GIFs (so if the $1.99 price tag scared you before, don't worry — you'll be getting your money's worth!).
With the latest updates in regards to the ability to shoot in Portrait Mode, infltr decided it would allow users to switch and swap between foreground and background in depth effect photos to make separate edits to the two layers.
You can shoot and edit your Portrait Mode photos with infltr, so you don't need to constantly be switching between your camera app and infltr for editing.
Fun Fact: Did you know infltr is short for infinite filters?
Best app for Portrait Lighting on older iPhones
Phocus: Portrait Mode Editor
While there aren't a ton of Portrait Mode editing apps that target Portrait Lighting specifically, Phocus: Portrait Mode Editor allows you to tweak and edit your lighting effortlessly.
While fixing Portrait Lighting with Phocus, you can choose to either edit with Stage Lighting that brings you to the foreground with your own colors, or Mono Lighting that'll help you achieve the perfect black and white photography.
Oh, and when you upload your creations to social media, don't forget to use the hashtag #phocusportraitlighting.
Portrait Mode vs. knock-off Portrait Mode
I tested both Depth Effects and Patch against the iPhone 8 Plus's Portrait Mode. I must admit, I was surprised at how good the two apps performed. Other than my own minor painting errors, the depth effect looked nearly as good as the effect in Portrait Mode.
One thing I like about using the apps over using Portrait Mode on the iPhone 8 Plus is that you don't have to set up the shot so meticulously. When taking a picture with the iPhone 8 Plus, you have to be a certain distance away and the lighting has to be good. Using Depth Effects or Patch, you can take an action shot in the dark from very close range and still be able to produce depth effect.
The thing that makes Portrait mode on an iPhone 7 Plus, iPhone 8 Plus, or iPhone X better than using an effects app is that all you have to do is take the picture and the software produces a near-perfect background blur that you don't have to put any work into. It is much easier to use, which is great because, it's not that often that I feel like sitting down to paint a picture after I've taken a snapshot.
In the end, I prefer using Portrait Mode on the iPhone 8 Plus to using an app, but if you don't have this particular model, Depth Effects and Patch are good alternatives.
I prefer Patch over Depth Effects simply because I love how it automatically renders the background blur. Even though you still have to fix some of the masking errors, it works fairly well. Some may prefer having the options available in Depth Effects, though. There are more tools and more customizations available.
What do you think?
Are you a big fan or portrait mode? Do you prefer to shoot portraits with your iPhone X, iPhone 7 Plus, or your iPhone 8 Plus?
Let us know what you think in the comments below — and don't forget to tag #iMore on your portrait mode snapshots so we can see how close you are to masterin' the mode!
Master your iPhone in minutes
iMore offers spot-on advice and guidance from our team of experts, with decades of Apple device experience to lean on. Learn more with iMore!
Lory is a renaissance woman, writing news, reviews, and how-to guides for iMore. She also fancies herself a bit of a rock star in her town and spends too much time reading comic books. If she's not typing away at her keyboard, you can probably find her at Disneyland or watching Star Wars (or both).